Strength-based treatment concepts are even more important in distress model peer support than in clinical settings.  Peer support should be strength-based by definition, according to Shery Mead and her partner Chris Hansen.  Shery's creation, called Intentional Peer Support, relies on mutual, equal, voluntary relationships between peers who help each other.  That is strength-based peer support, not an expert peer trying to fix a problem for an untrained peer,
But peer support  is not always strength-based and equal. Sometimes, peers fall into the pitfall of imitating their clinical health care professionals, because that's the only kind of helping behavior they know, Shery says.  Shery even objects to calling peer support "treatment," because it implies an unequal relationship between a treater and the person treated.
My Introduction to Strength-Based Treatment
In 1997, at my "intake interview" at a New Hampshire community mental health center, my new treatment team asked me about my "recovery assets." They did not talk about what was wrong with me.  No clinician had ever asked me about recovery assets before.
We found I had enough money, a reliable car, a safe, affordable place to live, great intelligence and insight into my emotional and behavioral patterns, which they called "my illness," an ability to write and speak in public, and experience as a successful newspaper writer and editor, community organizer, and activist.
That meant I was a good candidate for cognitive therapies, recovery education, and peer support.  They sent me to a Wellness and Recovery Action Plan  (WRAP) training with facilitators trained by Mary Ellen Copeland, and the second  organizational meeting of a new peer-run support agency.  Within months, I was a certified WRAP trainer myself, a mental health activist on the state level, and board chair of the new peer center.
This challenging, creative, socially useful work became the focus of my life after newspapers.  My next challenge was finding non-work people and things to add to the structure of my life.  At the newspaper, I burned out because my life was my work and my work was my job.
These steps threw my recovery, which began with a breakthrough in psychotherapy three weeks before I reached that CMHC, into irreversible high gear,  At the time (not any more), NH had the most recovery-oriented state mental heath system in the country.
I did not know it at the time, but these clinicians were practicing "strength-based treatment," focusing on my assets, not my deficits. Treatment in the past had always been about compensating for weaknesses and deficits, not building a life from my strengths.  I did not know this CMHC treated all their new clients this way.
I was thrilled when I left that session. "These people want to help me get well!"  I said to myself.  Later, I learned the expression strength-based treatment.
Clinical Research on Strength-Based Treatment
In 2006, Rangan Aarti and Sekar K, who train psychiatric social workers at the Sri Lanka School of Social Work, published research and case studies on strength-based treatment. It said, in part (italics added):
"Psychiatry uses the disease model in treating mental health problems and mental illnesses… diagnosing the deficits to prescribe pharmacology and psycho-social treatment, to help the persons with mental illness cope with their problems," the report said.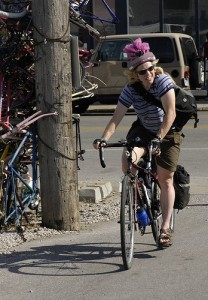 "…strength-based treatment, with its emphasis on growth and change, collaborative relationships, and the centre of change located in the client, is diametrically opposite to the disease-based approach used in treating mental illness. It still shows promise in improving [a person's well being and quality of life.  Mental health professionals can assess the strengths of clients, select tailored interventions, and help clients improve their well being and quality of life," Aarti's study said.
The report continued:  "The strengths approach … involves systematically examining survival skills, abilities, knowledge, resources and desires that can be used in some way to help meet client goals. The helping process from initial contact, goal identification, assessment and intervention to evaluation has the underlying assumptions that human beings have the capacity for growth and change, knowledge about one's situation, integration, and inclusion. The major focus in practice from the strengths approach is collaboration and partnership between social workers and clients."
Strength-Based Recovery and Wellness Tools in Daily Life
Based on my strengths, goals, and likes, I assembled what, in WRAP, we call a "Wellness Toolbox," a list of things that keep you on track, and get you back on track.  From those tools, I fashioned a daily and weekly maintenance plan to stay on track, and get back on track when things get wobbly.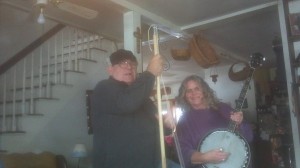 I write, edit blogs and volunteer for Wellness Wordworks every day, lead a WRAP group every week, sing, play washtub bass, talk to friends every day, am active in a religious congregation, watch classic movies and documentaries on cable TV, read non-fiction, see a trauma therapist, massage therapist, and chiropractor, go to concerts and plays, take my elderly mother to dinner once a week, and stay close to my brother and his girlfriend, who live in town, and my sister, who doesn't.
These things make me feel engaged, connected, capable, and competent.  Practicing my craft as a writer and editor first thing every day is like exercising essential muscles.  Singing and dialogue are the core of my spiritual life.  Washtub bass is an offbeat. non-verbal, "right brain" skill that people like, and I'm good at, a physical workout as well as a musical expression and human connection.  My church is all about connecting to a community.  I don't care or think much about God or what I believe.
I must get out of the house and interact with people every day because my work as a self-employed writer is solitary, and I am prone to isolation.  In July this  year, I had emotional problems when my adult education classes and choirs shut down for the summer.  I'll have to plan for that next year.  The church choir starts rehearsing again Aug. 1, and I must practice bass every day for a folk festival Aug. 17.
These same tools, intensified, are my plans for when I experience a trigger that could start a cascade of bad emotions, or an early warning sign in my feelings, inner voices, or behavior that indicate I might be slipping off track.  With years of practice, I've gotten very good at recognizing triggers and early warning signs, and putting my plan in place right away.  Often, I can stop these bad feelings from escalating, becoming severe and self-perpetuating.
Using these strengths, tools, and plans keeps me going and gets me back on track when going gets rough.  It makes me a happy person, happier than most 63-year-old men, whether they've been "mentally ill," or traumatized, or not.
What helps keep you on track and get back on track?
***
Mad in America hosts blogs by a diverse group of writers. These posts are designed to serve as a public forum for a discussion—broadly speaking—of psychiatry and its treatments. The opinions expressed are the writers' own.