When I first found the critical psychiatry movement, I thought it would be like any other social justice movement. I assumed that there were a set of core issues that members of this movement shared similar, if not identical, stances on — for example, the abolition of involuntary commitment and forced treatment, informed consent about the adverse effects of psychiatric drugs and electroshock therapy, and increased access to peer support and alternatives to mainstream psychiatry.
Leading up to my involvement in the critical psychiatry movement, I had spent a great deal of time in progressive and leftist causes ranging from criminal justice reform to campaigning for Bernie Sanders. Within each of these movements, activists shared very similar beliefs and views on the topic at hand. At protests, rallies, and organizing meetings, I would hear the same ideas, platforms, and phrases uttered by almost every individual.
So you can imagine my surprise when I discovered that not only does the critical psychiatry movement not revolve around a set of core issues or stances, but that every member of the critical psychiatry movement holds radically different beliefs and views from one another. The critical psychiatry movement is not a structured, top-down campaign but a loose coalition of individuals, each with their own distinctly unique set of opinions and values.
I was, at first, disappointed to learn this. If the critical psychiatry movement was not unified around a set of goals or agenda items — namely, my goals and agenda items — how could anything be accomplished? How would involuntary commitment and forced treatment ever be stopped? How would the public ever fully understand the adverse effects of psychiatric drugs and electroshock? How could people in distress ever be supported in a way that was actually helpful and non-pathologizing?
What I was really wondering — and panicking about — was: if the critical psychiatry movement was not unified, how would I ever really fully be safe from involuntary commitment and forced treatment? How would my friends and family ever come to realize and validate how much I had been harmed by the mental health system? Without unity, I felt that there was no hope for either of these to be accomplished.
My disappointment began to lift when I became the moderator at Mad in America. Being MIA's moderator means I spend about an hour each day reading every single comment that is posted on our blogs, personal stories, news articles, podcast episodes, and forum. It means I have the opportunity to listen to each of our commenters' unique stories, experiences, and perspectives. As moderator, I began to develop an appreciation for the richness and diversity of the critical psychiatry movement.
I have long thought that the experiences we consider "madness" — big emotions and expressions of vulnerability and pain — are the very essence of what it means to be human. Unlike the other movements I had been involved in previously, the critical psychiatry movement addresses the very thing that separates us from robots, computers, and inanimate objects: our ability to feel sadness, loss, grief, joy, shame, pride, and anger. In my role at Mad in America, I have learned that there are an infinite number of ways to conceptualize our humanity and what it means to feel these emotions to varying degrees. There are countless ideas, philosophies, frameworks, and opinions about the causes, nature, and meaning of "madness," as well as how we should respond to it. It is therefore only natural that the critical psychiatry movement is not unified.
As a psychiatric survivor myself, I especially connected with each of the stories I read from other survivors. Every day, psychiatric survivors log in to share some of their most horrific, traumatic memories of abuses that are almost never spoken about elsewhere. Some have experienced endless agonizing physical and emotional pain from the adverse effects of psychiatric drugs or withdrawal; others have lost years of memory due to electroshock treatment; almost all have felt the social rejection and shame of being called "mentally ill." No single survivor's experience is like any other survivor's experience, and no survivor's way of conceptualizing their experience is like any other survivor's way of conceptualizing their experience.
It is not easy to be a part of — much less a moderator of — such a diverse community. Each survivor's experience of the psychiatric system was real and horrific, as is the lasting emotional pain from these traumas. And so, the disagreements that result from differences between survivors' backgrounds and experiences are very real and very painful. What starts as an intellectual or philosophical debate can quickly become intensely personal. While these conflicts are highly difficult to navigate, it has felt like an immense privilege to bear witness to them.
I developed an even greater appreciation for the diversity within the critical psychiatry movement after a cult-like experience with a Large Group Awareness Training. About a year ago, I wrote an article called "Breaking Free From the Stigma Paradox" describing my involvement with a group that pathologized and shamed any kind of disagreement. In the training, my desire to leave the group and disagreement with its ideology was seen as a sign of just how much I needed to participate in it. That mentality, of course, felt very familiar to me — after all, psychiatry pathologizes those who disagree with their diagnoses and do not want treatment as "lacking insight," "in denial," or worst of all, "anosognosia."
The critical psychiatry movement's lack of unity allows it to be a space in which people are free to disagree with one another. It may not always be pleasant or comfortable — and sometimes it may be incredibly painful — but to me, that is a worthy trade-off to be able to exist in a space where dissent and debate are active and alive.
The critical psychiatry movement may not accomplish any of the goals I initially came to the movement with. Involuntary commitment and forced treatment may never be abolished. The public may never fully understand the adverse effects of psychiatric drugs and electroshock. Distress may continue to be pathologized and labeled "mental illness" for the rest of humanity.
But that doesn't mean we aren't accomplishing anything. Every day, we as a movement accomplish something truly incredible, and in some ways, more radical than any of the goals I mentioned above. Every day, we create a space where each person can freely express their own truth. Without an overarching structure or unifying platform, each individual can stand on their own. Each voice within the community is wholly unique and distinct from any other; each person is their own universe.
In a world that believes our experiences can be neatly and easily categorized into simple categories laid out by the DSM, it is pretty incredible that we have managed to reclaim our individuality and fundamental uniqueness. What creativity, courageousness, and originality that takes! I could not be prouder to be a part of it.
It is in part due to my appreciation for the uniqueness of each voice in this movement that I have decided to become a researcher. At the end of the month, I will be stepping down as the moderator of Mad in America, and I am thrilled to announce that Steve McCrea, a long-time contributor to the MIA community whose work to advance critical psychiatry ideas is greatly respected, will be taking my place as moderator. In the fall, I will be pursuing my PhD in Behavioral and Community Sciences at the University of South Florida. I will be researching the topics of mad studies and involuntary commitment under the critical psychiatry scholar Nev Jones. It is my goal that my research will capture and elevate all of the unique voices and perspectives of psychiatric survivors and others with lived experience of distress, difference, and the behavioral health system.
I am thrilled to announce my first research study, "Polyphony in Activism: Capturing the Voices of Advocates and Activists with Lived Experience of Mental Difference and/or Mental Health Treatment." The study is a survey that will seek to understand how experiences of mental difference and behavioral or mental health treatment impact activist involvement or agendas. I hope that the survey will capture the multitude of experiences, perspectives, stories, and values that make up our community. You are all invited to participate; click here or see below to find out more information.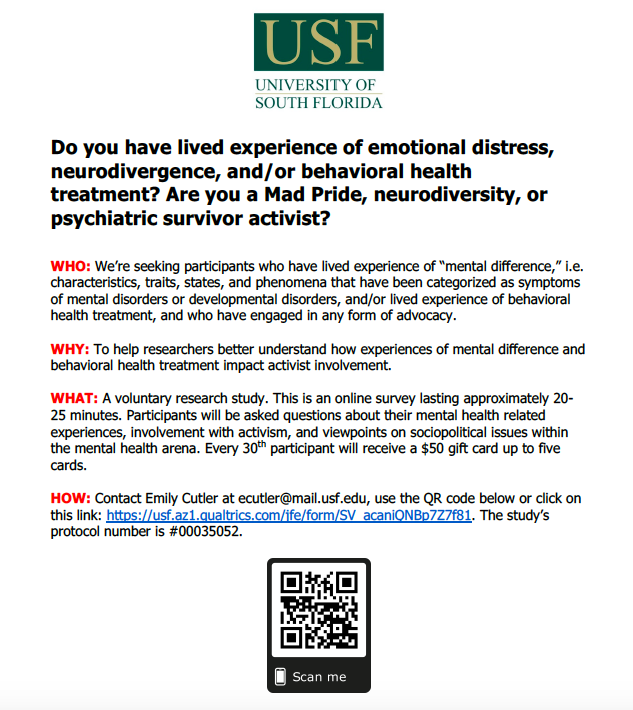 As a final note, I want to thank all of you for everything I have learned from you. One of the best things about being part of such a diverse movement is that every voice and perspective is new and unlike anything else that has come before. Every comment and forum post on Mad in America has taught me something new and helped me gain new insight into the human condition, and I cannot express enough gratitude for that. Long live the dissent, debate, and fragmentation. Long live the polyphony.