I am 37 years old and have had very little human contact in my life. The last time I experienced intimacy was when my mother would give me touch massages when I was four or five years old. I am not a recluse. I am not shy. I have, oftentimes, desperately put myself out there only to be rejected. Am I a monster?
I think first we can begin with the fact that I had a very traumatic and abnormal childhood. As I explained in my first blog, "Kids on Psychiatric Drugs: Where Are They Now?," I was a normal kid labeled ADHD, which led to forced drugging—first with Ritalin and then with the neuroleptic Risperdal—leading to painful and terrifying side effects. I was taken from my family and placed in hospitals and special schools, collecting labels and pumped with different drugs, becoming more and more neurologically and emotionally impaired. Today, I still feel damaged.
Therefore, I was not "on the same page" as everyone else when it came to coming-of-age and such. I've never learned the "rules," etiquette, or even what to expect and how to respond to even the most basic of social interactions. From this, I tend to be very open and blunt; I will tell someone I meet as much as I can about myself that I feel is important so that we can move on to him or her and why not be companions. I use negotiation as a means to try to find a housemate; whether platonic, friend with benefits, or a partner. It's all that I know to do. Please come over, I have a PS4. I promise I won't hurt you. I've failed to attract company even with promises of money.
I've had to try to learn socializing by studying people. That makes me even weirder – and gives me one-sided perspectives. The closest I came to meeting someone was crushed in a panic the moment he realized that I did not know what "discreet" means in the gay community. It turns out he had a family. Apparently, a lot of gay guys get married and have families because that's what they're supposed to do, and are terrified of how they should really be living.
But now let's flashback to the first and only "date" I ever had. It was 2002, and I met a young woman on Hotmail Ads. We had both just turned 18, and I took her to a bowling alley and was busy rolling a 220 while she hung out. I had gotten lessons as a kid as part of some recreation program when I was in custody of the state. While everyone else was messing around, I was my typical self: hanging on the instructor's every word, analyzing his every move, learning how to bowl. But now here I was on the date, and the guy who ran the bowling alley set off an alarm every time someone rolled a strike. I got so focused on the activity and so unnerved by the noise that without realizing it, I was ignoring the girl. Seeing I was no longer "with her," she demanded I take her home. So I did. And that was that.
I only figured out what happened days later, when she would no longer respond to me online. I had thought the night went well, and that it was only a matter of waiting for her to tell me to come on over. You see, my only understanding of dating was from sitcoms like "Seinfeld."
I wound up spending my prime years knocking myself out drunk, unable to move on from my upended life following my psychiatrically injured childhood. Stuck on SSI and alone, I went through one mental crisis after another, unable to move on, while rotting in my parents' attic. I've had my own place for over a year now, and things were supposed to change. My "life" just started last year, and I began coming out as both a person and a psych survivor, among other things.
Now it seems that my hope of giving and receiving compassion seems to be a pipe dream. I was rejected through my 20s and now it's just a tragic reality as I put out Craigslist ads for "housing offered" with headlines like "Seeking Companion" and such. This has all happened lately with the support of my parents, who really hope I find someone before they die.
I spend a lot of time thinking about why it's so hard to form relationships. Possible obstacles may be:
1) I come on too strong, except I really don't; I just refuse to hide my past
2) I have no friends for people to check out on my Facebook – a huge red flag.
3) I don't work; as I say, I'm on disability. Nobody likes coming home to someone that's just been doing "whatever"
4) Far from being normal, I just want a bedmate to play video games with and watch stuff with and occasionally sleep with – and no, not the Victorian euphemism for sex.
My ultimate concern: Never has there been a better time, with all these evictions and people unemployed, to try to start a life. Yet still I fail to find companionship. It becomes all the more odd when considering how many times I have "cheated" death; one might think I were blessed. My parents do. But jeez, where do I begin regarding that?
Flying down backroads on my Kawasaki Ninja in the hard thunder and heavy rain, as well as crashing it at high speed twice with no injury. Just another day at the office, so to speak.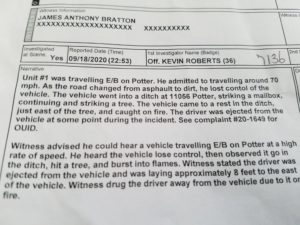 And just recently, I was driving down the road in a jank old car with a broken sway bar, and had this happen (see photo at right). I woke up with a broken ankle, lying next to my car on fire. No pain, which is why I suspect the officer thought I was on something. They took and destroyed my license, pursued charged of "operating under the influence of drugs," and took my blood with a warrant at the hospital. I haven't heard anything back. Been driving on the temporary driver's permit they gave me and have a photo I.D. coming in the mail. They're not going to find anything in that bloodwork. I've quit calling them about it.
I also lived for over a year with my hemoglobin sitting around 1.5-2.5 (normal is about 15) before losing my colon via surgery, when the surgeons were all completely reluctant to do it because of how wasted away I was. Then came the dozen-plus parastomal hernia bowel obstructions, painful beyond words. Had surgery three times before finally getting a Sugarbaker mesh.
It also might not help that I put out ads for both women and men. I have no libido, or at least, it has to be summoned and might take a few days. And I figure my medical issues aren't exactly appealing. I just want a person to love, to live for, to keep me interested and wanting to live.
Maybe I am an alien or something, and everyone can kind of secretly tell.
I believe the downfall in my 20s would have never happened if I had had money and support from people who knew I would need re-integration services and psychosocial rehabilitation (NOT psychiatric rehabilitation; psychiatry frequently steals that term for themselves). If I had had help to get my own place and start my own life. Eventually, the only way I would get one would be to grief my father into using his savings to pair with my disability pittance to rent me a house. Oh and trust me, even with just money and no services, I would have been out of there and hitting the world like a ton of bricks when I was 18. I would have made it for sure, if only there had been a government program to stop with the pittance and get me my own place at that point in my life.
I would still have my colon, too, I bet. My four years of sobriety beginning when I was 28 eventually crashed upon my despair, and then I "relapsed" and got re-addicted to alcohol during an ulcerative colitis flareup. That is what led to the need for surgery. But I was so emotionally distressed, it was either start drinking again or try suicide.
My parents, as always, just stay away. They won't interfere. I'm sure they were traumatized by what happened to me as a kid as well, I think they mourned the death of their son a long time ago. The only place to turn in this society to help a loved one is the same place that tormented us, tortured me, and destroyed my life – psychiatry.
And now they are just griefed into supporting me after I voluntarily give up my government disability pittance this coming spring. My last Continuing Disability Review was an emotionally chaotic experience that lasted nearly a year and almost killed me and my father. What will I do in the future for money? Will I wind up dead, in jail, or involuntarily committed? I burn in the pain of knowing that every second matters in regard to getting something going. Yet I keep winding up in stagnation. Even before COVID-19, I was perhaps coming on too strong, "manic," excited that I had a place I could finally invite people to for the first time ever— which never happened. And now, of course, there's COVID.
What will I do about my need for companionship? Dating apps are a complete waste of time. There's nowhere to go. At my age and with my health problems, there may only be a few people in this whole state that would want to be with me, and yet our government, our society, leaves people like me with no resources to find them. Humans are social creatures. Everybody needs to love somebody. Shouldn't there be a social service for this kind of thing? For those of us harmed by the mental health system, it's not going to be possible without assistance.
***
Mad in America hosts blogs by a diverse group of writers. These posts are designed to serve as a public forum for a discussion—broadly speaking—of psychiatry and its treatments. The opinions expressed are the writers' own.