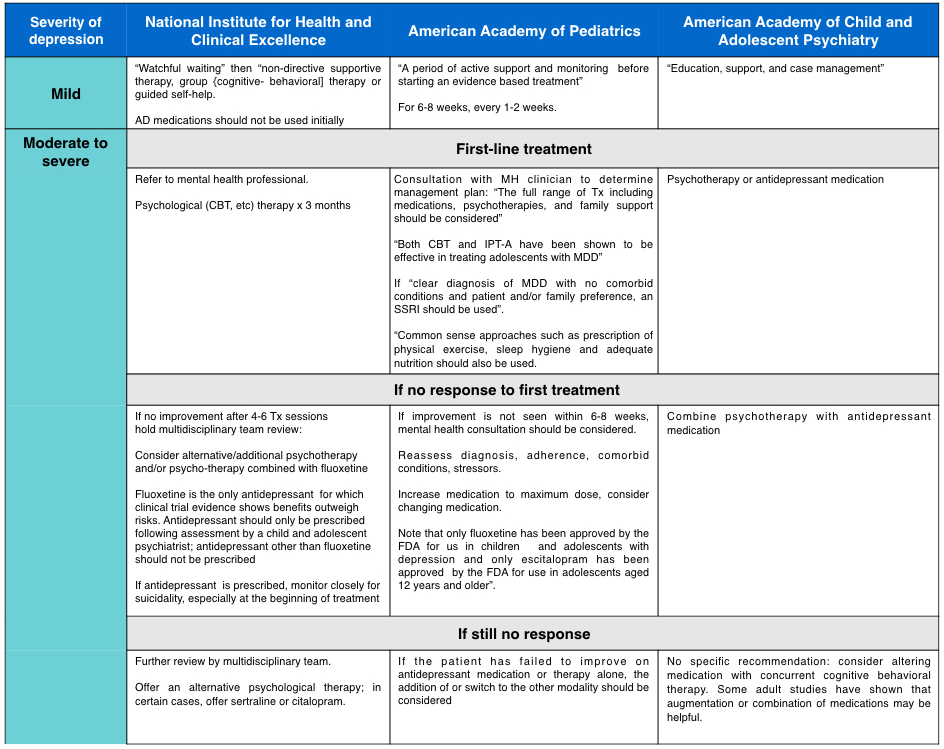 Sources:
(1) National Institute of Clinical Evidence: A NICE Guidance; "Depression in children and young people; identification and management" Clinical guideline [CG28]; Published September 2005; Last updated: September 2015.
(2) American Academy of Pediatrics. Guidelines for Adolescent Depression in Primary Care (GLAD-PC): Part II. Treatment and Ongoing Management Amy H. Cheung, Rachel A. Zuckerbrot, Peter S. Jensen, Danielle Laraque, Ruth E.K. Stein, GLAD-PC STEERING GROUP Pediatrics, Mar 2018, 141 (3) e20174082
(3) American Academy of Child and Adolescent Psychiatry. C. Birmaher, B., Brent, D. A., & AACAP Work Group on Quality Issues. (2007). Practice parameter for the assessment and treatment of children and adolescents with depressive disorders. Journal of the American Academy of Child and Adolescent Psychiatry, 46(11), 1503-1526.
For more info:
(4) Murphy, JM, et al (2014). "Alternative national guidelines for treating attention and depression problems in children: comparison of treatment approaches and prescribing rates in the United Kingdom and the United States."
(5) MCPAP depression guidelines for primary care providers.