COVID-19 has forced us all into new ways of being, new ways of relating to each other, and new ways of responding to each other in a time of crisis. These new ways reveal more clearly than ever how essential dialogue is to the human experience.
What are dialogical practitioners doing — and learning — in this time of crisis? What do these learnings suggest or make possible that might have previously seemed unattainable? What insights do people who have lived with a sense of crisis, often cut off from "mainstream" dialogues, have to offer a world in crisis?
Hosts
Kermit Cole and Louisa Putnam are inspired by Open Dialogue to respond as a team to individuals, couples and families in crisis. They have hosted many symposia in Santa Fe, New Mexico to explore the intersections between Open Dialogue, Hearing Voices, and other Dialogical approaches, and recently completed their studies under Jaakko Seikkula to be Open Dialogue trainers.
Next Town Hall – Friday, May 1, 5 PM BST, Noon EST, 9 AM PST
Mad in America, Open Excellence, and the HOPEnDialogue project invite you to an ongoing series of 'Town Hall' discussions exploring the challenges, learnings, and opportunities for personal and societal growth found through dialogical responses to crisis in the age of COVID. This panel will discuss the challenges of meeting crisis in our communities with a dialogical response, as well as how dialogue is the natural – and perhaps, for humans, most necessary – approach when we are called to face the fears of an uncertain future. What we are learning that we can build on as we move into that future together?
Please register for this 90-minute panel (with Q&A). Friday, May 1 at 5:00 PM BST, Noon U.S. EST,  9:00 AM Pacific Time.
Registration for the live Zoom is limited, but we will live-stream the video on Mad In America's YouTube channel, where it will be available for on-demand viewing after. We will email the Zoom link to registrants on May 1st.
Panelists
Alita (Markus) Taylor is an Open Dialogue trainer, supervisor, & founder of Open Dialogue Pacific, educational institute on the West Coast of the U.S.. She is a family therapist licensed in CA & WA, experienced with families going through difficult times, e.g., with what-some-may-call-psychosis and other extreme (and/or not-quite-as-extreme) states and near-death & dying experiences. She works alongside psychiatrist Fletcher Taylor, MD, at Dialogical Therapy in Tacoma, WA.
Fletcher Taylor, MD is a faculty member at the University of Washington since 2000 with published research on PTSD, sleep, and learning disabilities. He co-facilitates Open Dialogue network meetings with Alita and/or other professionals, including peers. Alita is on the board of HOPEnDialogue.
Jimmy Ciliberto is psychologist and psychotherapist and was first trained in the Milan Approach to systemic psychotherapy. He started deepening the dialogical approach in 2012 in Finland and Italy.
Today he works in Milan, where he offers individual and family therapy as a private practitioner with other colleagues, and is the clinical supervisor of an association funded by Lombardy Region, that offers a wide set of interventions to minors who are followed by child psychiatry and/or social services, where he worked as family therapist for 10 years. He is also supervisor and trainer in different family therapy courses and mental health departments all over Italy.
Dr Ramunė Mazaliauskiė is trained in psychiatry, systemic family psychotherapy and business  administration. She has worked with acutely psychotic patients and has been part of developing dialogical work and training in Lithuania since 1966. She is president of the Lithuanian psychiatric association.
Yasmin Ishaq – Is an accredited trainer in Dialogic Practice, Social worker and Psychoanalytic Psychotherapist. Yasmin has worked in mental health services in the UK for over 25 years. She has been at the forefront of developing initiatives such as Early Intervention in Psychosis Services and Primary care Mental Health Services. Yasmin has extensive management experience in mental health services and has led the first Open Dialogue Team to become operational in the UK. Recently the work of the team has been recognised by the Royal College of Psychiatrists in 2018 when they were awarded Psychiatric Team of the Year in the National Awards.
Yasmin has been interested in developing dialogical practice since approximately 2011 and trained in Helsinki, Finland to become an international accredited trainer 2016-2018. She has spoken at national and international conferences including in London, Liverpool, Scotland, Wales, Egypt and New York.
Yasmin uses her personal experience of a family member who has had mental health challenges and use of statutory mental health services to inform her practice and support her commitment to family inclusive practice.
Charmaine Harris is a Service Manager for One Place East, a user-led organisation based in the London borough of Redbridge. She manages three mental health services for the charity and is the founder of Peer Dialogue which is a trauma informed peer dialogical service offered to survivors of relational trauma.
Charmaine also works as a Peer Lead, Supervisor, and Recovery Trainer. She is also an Open Dialogue Practitioner. Within these roles she works as an in house Open Dialogue Trainer for East London NHS Foundation Trust in the London borough of City and Hackney crisis services. Charmaine also works for North East London NHS Foundation Trust as an Open Dialogue Specialist Practitioner for the ODDESSI research study and is a member of the teaching team where she is one of five Tutors of the 4 week
residential Peer Supported Open Dialogue (POD) UK training.
Her interests are in Feminist Therapy, Black Psychoanalysis, Dance Movement and Psychodrama. She has a special interest in working with individuals with trauma histories. In her free times she enjoys being
at peace with nature, writing poetry and spending time with her tribe who she describes as her nearest and dearest.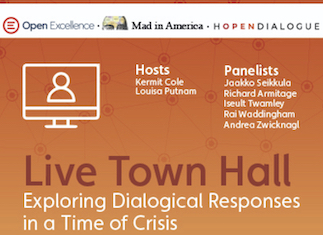 A 90 minute panel conversation and Q&A held on Friday, April 17 entitled "Are We Living in the Most Dialogical Time Ever?". Part of a series of live Town Hall discussions devoted to Open Dialogue principles.