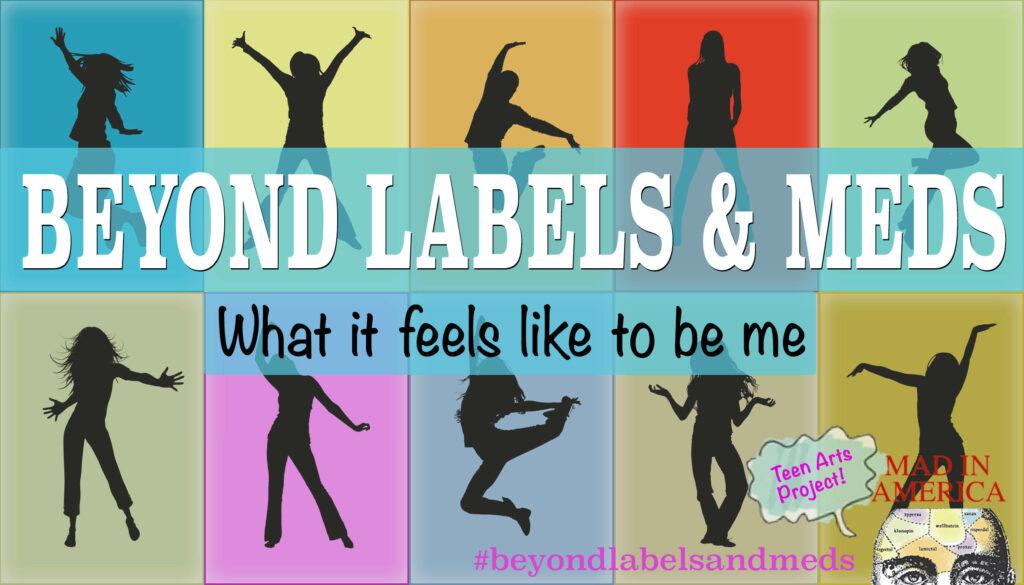 Mad in America encourages teen artists in all genres to define their unique experience, identities, struggles, and dreams on their own terms.
Mad in America's Family Resources and Arts initiatives are co-sponsoring a Teen Arts Online Exhibition open to youth aged 13-19. Artwork, which will be displayed on madinamerica.com and Mad in America social media, can be in any creative medium including visual art, music, video, dance, poetry, spoken word, or other creative media.
The exhibition's theme asks teen artists to answer the question:
"What do you want the world to know about what it is like being a teen today?" 
Show us your experience with emotional distress, labels, meds, and interactions with psychiatry.
Entry Guidelines:
There are several ways for teen artists to contribute to this exhibition.
Artwork can be submitted through the online form below (embedded). Please read and agree to all the exhibition terms and guidelines. Only artwork that meets all the guidelines will be considered.
Teens can choose to have their work published anonymously.
Another way teens can contribute their thoughts and artwork is by adding the hashtag #beyondlabelsandmeds to their social media posts on TikTok, Instagram or Twitter. MIA will monitor, retweet selected artworks, and add this feed to the exhibit's gallery page and the homepage of our website.
Submissions are open from September 1st through January 1st, 2023.
Eligibility Rules:
Call for art is open to all those with 13-19 years of age.
Artwork must be original to the artist.
Teen artists can upload one (1) piece of artwork, which can include any creative medium.
Teen artists must upload (1) hi-res (300dpi) .jpeg for images of artwork,  or (1) mp3 (for audio) or mp4 (for videos) of their work with a file size no greater than 5MB.
Artists must include a short biography (not to exceed 200 words).
Submission must abide by our community guidelines: The artwork content must NOT include illegal material, hate speech, discrimination based on identity or occupation, or calls for violence against any people.
The artwork must be relevant to the topic of the call which is answering the question:

"

What do you want the world to know about what it is like being a teen today?"
Only submissions that meet these guidelines will be considered for the online exhibition.
Artists will be notified of acceptance in November 2022.
Artist Benefits
Accepted work wi

ll be displayed on the homepage of madinamerica.com and a dedicated gallery page.
Potential inclusion in teen artist interview series.
Potential inclusion in promotional materials (including Mad in America social media and email promotions).
For questions
For general questions and concerns contact Miranda Spencer at mspencer[@]madinamerica.com
For questions or issues with art submissions contact Karin Jervert at

[email protected]