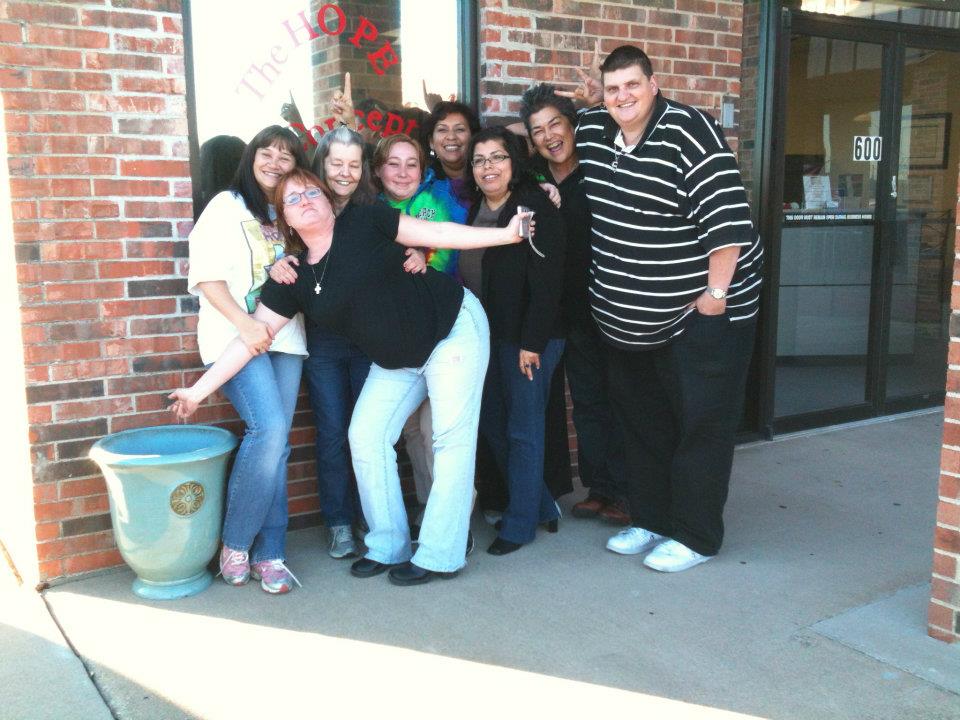 Allow me to introduce myself to you… I'm a California transplant and now live and work in the Dallas Fort Worth Metroplex where I work with Magdalena Caballero-Phillips, Founder & CEO, to The Hope Concept LLC Wellness Center and The HOPE Project c3 (our nonprofit affiliation) as the Project Manager.  We are 100% peer-led and CSX driven and in the business of saving lives.
I'm a Texas Certified Peer Specialist with a Whole Health Endorsement through via HOPE Texas Mental Health Resource Network.  When I was lucky enough and scraped up the money to take the DBSA Texas CPS 2007 training, I have to tell you that it changed my life.  A whole world opened up to me that I knew was there in the first place, but without a paddle, I couldn't find it alone.  Beth Filson and Ike Powell were 2 of my trainers.
Peers can change the world.  We help save lives.  Today, I refer to myself as a Consumer Survivor Expatient (CSX) following Dr. Daniel Fisher, MD's guidance and direction.  I have been lucky to have had opportunities through SAMHSA/CMHS scholarships to attend a handful of national conferences where I've met Robert Whitaker, Will Hall, Dr. Ford, Steve Harrington, Laura Van Tosh, Ron Manderscheid, Wilma Townsend, Paolo Del Vecchio, Loren Spiro… and they too effected a great change in my life and how I manage my chronic, episodic serious persistent mental illness.  I live with Bipolar 1 and find the toughest thing the depression but embrace it and the hypo-manic moments.
I was at my sickest in 2004 when I worked as a Vocational Rehabilitation Counselor with the Texas Rehabilitation Commission (today called the Texas Dept. of Assistive & Rehabilitative Services) in Austin, TX.  That was the summer of HB2292 which reorganized and formed the Health & Human Services Commission.  I had a caseload of over 197 and at least 80% of it was filled with other individuals living with an SPMI.
I became manic, bought a Ducati Monster Dark 620i that went extremely fast and after 5 failed attempts at my life, I received "clinically and medically necessary" invasive treatment (Electroconvulsive Therapy) for the next 2.5 years.  I don't remember much of it other than I don't recommend it inasmuch as I'm told that it "saved" my life.  I have gaps in my long-term memory and still today, it's tough to write my dissertation… something akin to a forever paper that never ends.  I'm slated to graduate this December '12 and look forward to it.
Today, after the DBSA CPS 2007 and via HOPE 2010 grandfathering in with Larry Fricks' whole health training, several WRAP (R) trainings taken through the Texas Mental Health Consumer, via HOPE, and most recently with WRAP Advanced Facilitator Trainer Lena Caballero at The Hope Concept, I'm down to one psych med which keeps me on the straight and narrow.
Groups that I participate in and push whole heartedly in any way possible, and in ways that I'm good at, are the US Psychiatric Rehabilitation Association of Texas Chapter, serving my last year of tenure this year.  I tripped into the American College of Behavioral Health Assoc., (ACMHA) and participated in their outstanding Learner/Mentor program where I first met Wilma Townsend, who just started at SAMHSA/CMHS.  She was patient with me and points me in the right direction still, for US peer services, the CPS certification and process, wellness and whole health and can recall freezing in my tracks at a reception, when I was standing across from Dr. Ron Manderscheid at last year's Summit 2 in New Orleans.
At the time, my dissertation was focusing on health disparities for the SPMI population and here was a rock hero of mine.  He's quiet but says power packed short sentences with fervor.  I have the utmost respect for him and his contributions.  Today, my doctoral work is focusing on American peer services, state by state CPS certification, process and COSP's which support a whole health and wellness outcomes (which reduce morbidity and mortality) like Optum Health's Peer Whole Health Coach Project in San Antonio, Texas and the NY Optum Health (formerly Chronic Illness Demonstration Project)… now transforming into a Health Home.
I also get to work as a Consumer Representative on via HOPE's Advisory Committee where my voice, advocacy and efforts focus on peer services, the Certified Peer Specialist certification, process and Consumer Operated Service Providers (COSP).  As Chair of the CPS Committee, I'm committed to innovation, growth and developing the most effective peer workforce which we can possibly craft.  I'd like to see CPS' used outside of just the county system (Local Mental Health Authorities) and the state hospital system as there is only benefits to incorporate a public/private workforce.
I also was recently appointed to the Tarrant County Mental Health Mental Retardation Housing Council where my last two years with the National Service Corps as a Housing Navigator has become very helpful.  Walter Taylor, MHMRTC's Housing Director, is into innovation.  I will be writing about permanent supportive housing and similar measures for the SPMI constituencies.  Dr. Peggy Swarbrick introduced me to the idea of imagining a world without group homes… and also Health Homes… a concept that I've fallen in love with because it works.
The move from Central Texas into North Texas' DFW Metroplex has been an interesting one.  The CSX base, groups, org's and stakeholders are different than working in the Capital… they're trusting and open, something I can admit readily that I'm not.  Working with our grown staff of 7 is a test of trust and faith.  THCWC and THP is a "hybrid" and it's caused a good many problems in Texas.  I find myself forever having to explain and support, defend and build alliances frequently.  We're facing the problems I believe many CSX Consumer Operated Service Providers face… Peer Supervision.  Because THCWC and THP did not qualify for TAC in-state, my Mentor Dr. Steve Harrington, E.D. of Recover Resources, will be providing THCWC Staff to get the badly needed Peer Supervision Training and Leadership Training May 9-10, 2012 at the Williamson County Conference Center.  I've decided to open up the PST and LI to the state where any peer, CPS, family member, CSX, COSP and stakeholders can participate.  I don't like "No" and I believe in transparency.
THCWC is hosting Wellness Solutions 1.0 (innovation uncensored) at the Sheraton, Philadelphia on Sept 4-5, 2012 with many of my friends coming to present on their subject matter expertise:  Robert Whitaker, Will Hall, Dr. Mark Salzer, Dr. Dan Fisher, Dr. Steve Harrington, Lyn Legere, Lena Caballero-Phillips, Peter Ashenden, Gina Nikkel, Matthew Federici, Elvia Knoll and a host of others.  Partners are many.  I'd originally attempted to host this educational opportunity in Texas but realized quickly that it demanded a national venue and so it will be offering information to ANYONE and EVERYONE interested in learning more about medication optimization, whole health and wellness "alternatives" to the prototypical medical model.  WS 1.0 is broadening into a national peer coalition building effort.  Dr. Harrington's NAOPS Preconference begins on Sept 6 which leads into the NAOPS National Conference and he assures me it's excellent and radical.
Locally, on Sept 13-16, 2012 at the University of Texas at Austin's AT&T Executive Education Conference Center, THCWC is the HOPE provider, supporting the John and Alicia Nash Conference Celebrating Caregivers and Benefit for PLAN of Central Texas.  THCWC will be hosting a screening at a local Austin cinema favorite landmark for "A Beautiful Mind" featuring Russel Crowe depicting Nash.  Alicia will be present briefly following the screening.
In this blog, I'll be writing about what I do best and what I'm most interested in:  peer services, advocacy, organizing efforts, supporting state and national initiatives to rid health disparities my community is enduring and suffering from.  Housing strikes a particular chord for me, as does unfairness, untruths and seeing how the stigma of mental illness creates pain for many.
Hope, recovery, integration, resiliency, self-advocacy, financial sustainability for peer workforce(s), peer services, COSP's, anti-stigma measures and sharing my story to help others is the name of the game here.  My shared life experience is my avenue as I believe that it's key for Peer to Peer, CSX, CPS and COSP's.
I hope you'll check back and join in the dialogue.  Thank you to Bob Whitaker for inviting me to write and share here.
***
Mad in America hosts blogs by a diverse group of writers. These posts are designed to serve as a public forum for a discussion—broadly speaking—of psychiatry and its treatments. The opinions expressed are the writers' own.
***
Mad in America has made some changes to the commenting process. You no longer need to login or create an account on our site to comment. The only information needed is your name, email and comment text. Comments made with an account prior to this change will remain visible on the site.