On May 5, 2012,  MindFreedom International is holding its Occupy the American Psychiatric Association protest at the APA's annual convention in Philadelphia.  Momentum is building for the protest and it presents a special opportunity to literally walk the talk by peacefully marching on the American Psychiatric Association.  The other contributors to this MadinAmerica.com blog, Robert Whitakers books, Mad in America and Anatomy of an Epidemic, and indeed a large number of other books, amply demonstrate the scientific and moral bankruptcy of the psychiatric industry.  In essence, when it comes to mainstream psychiatry only the two following conclusions can be validly drawn: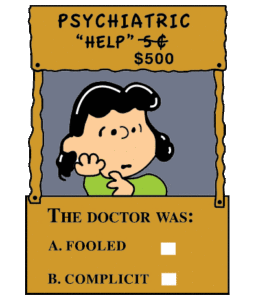 However, at this point, psychiatrists and other prescribers can only continue to be fooled if they are hiding their heads in the sand.  As I wrote in A Three Pronged Approach to Mental Health System Change, it is critical that the general public becomes aware of these facts.
The Occupy the APA Protest May 5th in Philadelphia is just such a way — with your help. If enough people come, we might be able to bring enough attention to break into the consciousness of America.  The protest organizers have erected a big tent, knowing that many adults have found one or more psychiatric drugs helpful, and even embrace their psychiatric diagnoses, while at the same time abhorring that people are forced to take drugs and endure electroshock against their will, and acknowledging the harmful effect that psychiatric diagnosing can have.
There are many reasons why people might join the Occupy the APA Protest May 5th in Philadelphia.  One is the prospect of the DSM5 and labeling, generally.  Another is opposition to coercive psychiatry.  That is my and PsychRights' core issue.  Another is the harm caused by the drugs and psychiatry's refusal to tell the truth about them.  Another is for people in the Occupy Wall Street movement to understand how psychiatry in general, and the American Psychiatric Association in particular, is inventing diseases, etc., to sell ever more drugs, that on the whole are very harmful, with horrendous consequences for society and millions of individuals.  The horrendous psychiatric drugging of poor children in this country is a national disgrace and is another reason to protest.  (30 minute video of me on Drugging Our Children: Legal and Moral Issues)  There are no doubt more.
The peaceful protest starts at 10:00 at the Friends Center, 1515 Cherry Street, Philadelphia.  The following people are scheduled to talk:
Frank Blankenship – psychiatric survivor from Florida
Ted Chabasinki – psychiatric survivor activist from California
Laura Delano – psychiatric survivor from Boston, Massachusetts
Dan L. Edmunds, EdD – dissident psychologist from Scranton, PA
Krista Erickson – cross-disability leader from Illinois
Jim Gottstein, JD – founder of Psychrights from Alaska
Daniel Hazen – psychiatric survivor activist from New York State
Harry Bentivegna Lichtenstein – MindFreedom New York City
Dr. Stefan P. Kruszewski – whistleblower Pennsylvania psychiatrist
David W. Oaks – psychiatric survivor, MFI director, from Oregon
Ann Rider – leader of consumer/survivor agency in Phoenix, Arizona
Brent Dean Robbins, PhD – concerned psychologist leader Pittsburgh
Joseph Rogers – long-time leader from host city of Philly
Susan Rogers – long-time leader from host city of Philly
Lauren Tenney – psychiatric survivor Opal Project leader, New York
Also, health guru and popular radio personality Gary Null is coming to help, in his words, lead the protest.  (link to video of Gary Null talking about it on his radio show).
A short break is planned at noon and then a peaceful march on the American Psychiatric Association, outside their convention at 12:15.  There, everyone can participate in the protest as they want with more speeches, skits, songs, performances, etc.  The protest is scheduled to end at 4:00 pm.
Robert Whitaker is not speaking at the protest, but the next day, May 6th, he, Jacki McKinney and I are speaking on Imagining a Different Future in Mental Health.
If you possibly can say that you are coming, please so indicate at the Occupy the APA Facebook Event Page.  Whether you can come or not, help support  Occupy the APA by posting your support there.  There are some ideas under the "See More" button.   I did a pretty terrible video on Why I'm Coming to Occupy the American Psychiatric Association.   You can do better.  Another suggestion is to do a YouTube video ripping up labels, using "occupyapa" (one word) as a tag.  Another is to take a picture with Amy Smith's terrific poster.  There is also an "I Support Occupy the APA Lucy Fooled or Complicit" graphic that can be used for the same purpose.  Be creative.
Whatever, I think it is a moral obligation to stand up and being counted against what the APA is doing.  Supporting  Occupy the American Psychiatric Association May 5th in Philadelphia is a way.  I hope to see you there and/or posting your support.