My last blog on this site was about how our federal and state governments are looking to make huge changes to our health care system. This is our window of opportunity to ask for everything that people on this site have said we needed to do to fix mental health care. This is our window to tell our managed care companies how they can help us, and get that locked into their state and federal contracts. http://www.madinamerica.com/2012/05/managed-care-is-a-big-deal-speak-up-now/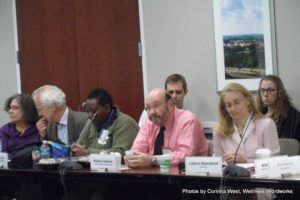 Right now 31 states have proposals in various stages to turn over some or all of the entire publicly funded health care systems to managed care monopolies. I gave links to places people could comment publicly on this information. This is our window of opportunity to ask for medication optimization, medication tapering protocols, effective mental health care menus like massage, service animals, talking to someone who's been there, help finding a job, help keeping housing, whatever our people need.
YET…. I do not see many comments on the public forums where we can suggest changes. Comment here: http://cmsideas.uservoice.com/forums/141980-medicaid-gov/filters/new
SO….Now I need to know, and I need to know in your comments below…
WHAT….is the hesitation to ask for everything we've ever wanted on this site? How can we speak up? What are the obstacles we face to spending 3 minutes of our time to make (theoretically) effective public input? (Click here to do this.) Because if people have barriers or legitimate concerns I need to know them so we can move forward from here. The federal government may or may not be really listening to you, but right now I am.
***
Mad in America hosts blogs by a diverse group of writers. These posts are designed to serve as a public forum for a discussion—broadly speaking—of psychiatry and its treatments. The opinions expressed are the writers' own.
***
Mad in America has made some changes to the commenting process. You no longer need to login or create an account on our site to comment. The only information needed is your name, email and comment text. Comments made with an account prior to this change will remain visible on the site.