The medical model of diagnosis has become a dominant idea in the field of mental health, but it hasn't always been this way. As a therapist, I will explore whether mental health diagnosis is a useful way of thinking about human suffering.
When are psychological diagnoses used?
For reimbursement for third-party payers.
Mental health professionals communicating with colleagues.
Mental health professionals communicating with clients
In the first use, insurance companies and government agencies use diagnoses because they want to ensure that people only receive a treatment if they need it and that they are being given the most appropriate treatment for their problems.
In the second use, mental health professionals are trying to convey the most pertinent information about their clients and give their colleagues the highest quality understanding of a client's situation.
In the third use, mental health professionals are trying to help clients understand what they are experiencing and why.
The natural question that arises here is whether the medical model of diagnosis is the best way to accomplish those aims. In order to address this question we will explore:
Are "mental illnesses" real?
Is thinking in terms of "mental illness" and diagnosis helpful to clients?
Defining the Medical Model
There are many ways to define the medical model of diagnosis. I will offer two. First, Gerald Klerman was highly involved in the creation of the DSM-III and was the highest ranking psychiatrist in the US government at the time. Just before the DSM-III was approved by the APA, Klerman published the following:
Psychiatry is a branch of medicine.

Psychiatry should utilize modern scientific methodologies and base its practice on scientific knowledge.

Psychiatry treats people who are sick and who require treatment.

There is a boundary between the normal and the sick.

There are discrete mental illnesses.  They are not myths, and there are many of them.

The focus of psychiatric physicians should be on the biological aspects of illness.

There should be an explicit and intentional concern with diagnosis and classification.

Diagnostic criteria should be codified, and a legitimate and valued area of research should be to validate them.

Statistical techniques should be used to improve reliability and validity.
(Klerman, 1978) 
I would distill this perspective down to two main tenants:
There is such thing as "true mental illness" or "chemical imbalance" in which psychological symptoms cannot be understood in terms of the person's psychology.
"Mental illness" can be divided up into a finite number of discrete diseases, such as schizophrenia, bipolar disorder and major depression.
The Optimist and the Weirdo
In order to properly understand where this way of thinking came from, we can look to the two men that have been most influential in creating and advocating this model.
Emil Kraepelin can be thought of as an optimist. He was a German psychiatrist, a contemporary of Freud, who first proposed the idea of "psychological diseases." In order to understand where this idea came from, we need to look at what was happening in medicine at the time. Kraepelin first published his theory just after Louis Pasteur proposed the Germ Theory of Disease. During Kraepelin's career, he saw the shift in medicine from thinking in terms of imbalances and humours to thinking in terms of germs and diseases. He saw this shift in thinking lead to enormous advances in helping people.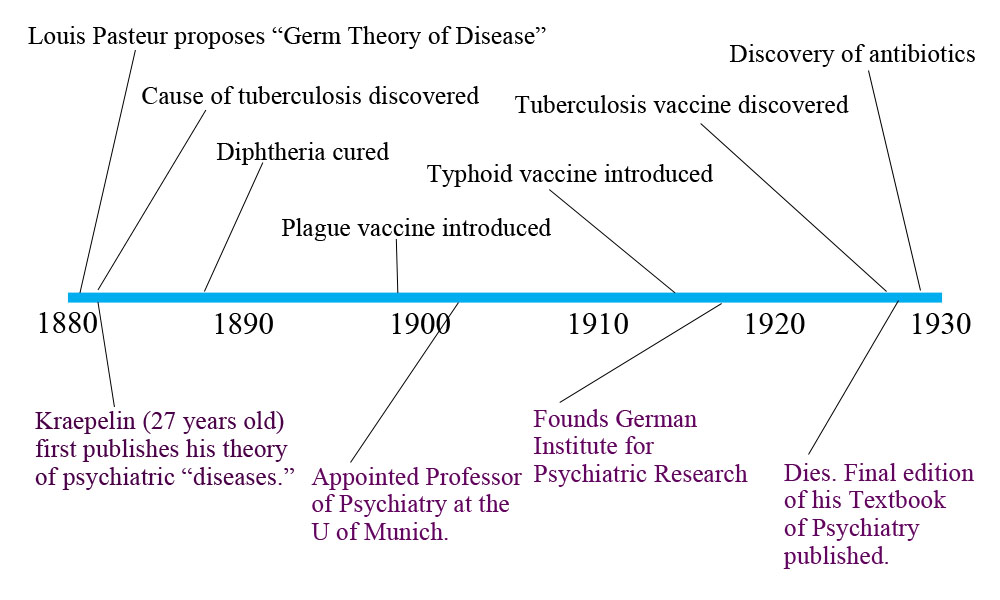 As you can see, Kraepelin saw the field of medicine discover the causes of major diseases and develop cures and vaccines. He hoped that the disease model, if applied to psychiatry, could could lead to similar advances. So he set out to try to discover psychiatric diseases.  Since every real disease shares common symptoms, etiology (cause), and response to treatment, he believed that if he could correctly group symptoms, they would also share an etiology and response to treatment.
A Real Psychiatric Disease
In order to clarify what Kraepelin meant by mental disease, it can be helpful to look at a condition that actually meets those criteria. Wilson's Disease is caused by mutations in the Wilson's Disease Protein Gene (ATP7B) which causes copper accumulation. It has a single cause. Wilson's Disease causes depression, anxiety and psychosis in addition to tremors and jaundice due to liver and nervous system damage. It has a recognizable cluster of symptoms. Removing copper from the system (through chelation) prevents further damage. Everyone with Wilson's Disease responds in a predictable way to treatment.
Schizophrenia, Bipolar and Major Depressive Disorder are examples of so-called diseases that do not even come close to meeting Kraepelin's criteria. After 100 years of grouping and regrouping symptoms, psychiatry has found extremely few diseases with symptoms, etiology and response to treatment that properly cohere. Certainly this way of thinking has not led to the kind of advances Kraepelin had hoped for. If Kraepelin were alive, I believe he would advise us to look for another paradigm.
Robert Spitzer was a Real Weirdo
Robert Spitzer was the creator of the DSM-III and chiefly responsible for taking Kraepelin's ideas from relative obscurity to being the dominant paradigm in the mental health field. The adoption of DSM-III in 1980 was the most decisive move in the history of mental health away from thinking in terms of personal experience and the uniqueness of the individual in his social context, and toward the medical model.
Spitzer's influence on the field was enormous. DSM-I and DSM-II both represented the view of psychological problems as being expressions of inner-conflict and difficult life experiences that were only able to be properly understood by understanding the individual or family. Spitzer's DSM-III was the decisive break to a view of psychological problems as being best understood as specific disorders. There is no longer a need to understand the context.
Why was the mental health field willing to listen to Spitzer? In the 1970's there was a crisis in psychiatry and the field was looking for a new paradigm. There was a broad antipsychiatry sentiment in academia and popular culture from Thomas Szasz and Michel Foucault to One Flew Over the Cuckoo's Nest. Third-party payers were demanding that psychiatry demonstrate the efficacy of their practices as they wanted to be paid to treat people with increasingly mild distress. There was pressure from the emerging field of psycho-pharmaceuticals to be able to market their drugs for specific diseases and newly deinstitutionalized patients. Conflicts between various theoretical camps, and those who viewed psychological theories as too subjective were destabilizing. And psychiatrists were feeling threatened by other professionals delivering psychotherapy (Resnick vs. Blue Shields, 1980 was a court case that prohibited Blue Shields from requiring psychologists be supervised by an MD in order to provide therapy).
Psychiatry was obviously facing huge problems and it makes sense they were looking for a savior to save them. They chose Robert Spitzer.
In a 2003 interview with NPR, Spitzer described himself as someone who is much more interested in fitting puzzle pieces into a system than he is in understanding human emotion. In fact, he said that he did not view himself as having a particularly good understanding of people. As a 12 year-old boy, he would graph his attractions toward 5 or 6 girls at his summer camp. After retiring from psychiatry, he proceeded to develop a complicated categorical system for ballroom dancing. However, the ballroom dancing community has been less willing to adopt Spitzer's categories than has mental health field.
When Spitzer began developing the DSM-III in 1974, diagnosis was an unpopular specialty. He was able to appoint himself to head all 25 committees. The development of the manual was not based on any research. Former Columbia Professor David Shaffer (who worked with Spitzer on the DSM-III) described the process as one in which a group of psychiatrists met in a small room and argued with each other loudly. He said that the loudest person would be the one whose view prevailed. In these discussions, they concluded it would be "ludicrous" to call racism a disorder, but that PMS was. Spitzer was in favor of keeping homosexuality a disorder but backed down after fierce protest. In other words, these categories were based on a small group's subjective opinions rather than discovering actual diseases with symptoms, etiology and treatment response that properly cohere.
Why Did the Rest of the Field Follow Psychiatry in Adopting the DSM-III?
It is clear that psychiatry was looking for a new paradigm to reestablish their position atop the mental health field. But why did other professions follow? For starters, the most influential mental health professionals in government and private insurance were psychiatrists. This led to private insurance companies and government agencies becoming much stricter about requiring diagnosis after DSM-III. There was also a growing shift from out-of-pocket payment for therapy to an increasing reliance on third-party payers.
So Is Diagnosis Helpful?
While a fair amount of research has been put into trying to prove the DSM's diagnoses are reliable, there has not been a single study aimed at testing whether using diagnoses increases therapeutic outcome. However, all evidence shows that mental health treatment as a whole has not improved since diagnosis has become ubiquitous. Clearly, Kraepelin's hopes have not come true.
If Not Disease, Then What?
Returning to the three main reasons mental health professionals use diagnoses: (reimbursement, communicating with colleagues, communicating with patients), we can think of other paradigms that might be more effective at accomplishing these aims.
Other possible paradigms include symptom-oriented descriptions (listing client symptoms and severity without trying to group them into a disorder) and complaint-oriented descriptions (describing the client's own reasons for seeking treatment). Consider the following:
•Communicating with clients: Giving a diagnosis vs. discussing their unique experience, reasons for seeking treatment and symptoms as ways to help people understand themselves.
•Communicating with colleagues: Diagnosis vs. one sentence describing symptoms and one or two describing history as ways to convey clinical relevance.
•Third-party payers: Diagnosis vs. list of symptoms and severity to unsure appropriateness and necessity of treatment.
I believe that we can better accomplish these aims without using the medical model of diagnosis. I do not believe there is any reason to believe that the diagnoses listed in the DSM are "real disorders" in the sense that both Kraepelin and Klerman hoped they would be.
What are your thoughts about the medical model of diagnosis vs symptom-oriented or complaint-oriented approaches?
***
Mad in America hosts blogs by a diverse group of writers. These posts are designed to serve as a public forum for a discussion—broadly speaking—of psychiatry and its treatments. The opinions expressed are the writers' own.
***
Mad in America has made some changes to the commenting process. You no longer need to login or create an account on our site to comment. The only information needed is your name, email and comment text. Comments made with an account prior to this change will remain visible on the site.