The Chinese curse "May you live in interesting times" is indeed upon us.
These past months the government has been negotiating one of its most ambitious cutbacks on the disability pensions in Danish history and now a new pension reform has come into existence.  Like the rest of Europe, the recession has cut deep and the newly (relatively speaking) elected government is looking to save money. How can it do that? Well, one of the ways has been to look at public spending and what becomes apparent is the huge number of people who are on some kind of government support and thereby not contributing to the work force.
Looking at the dry facts approximately 60%[i] of the Danish population 18 years and up are being supported by the government. If we break down the numbers to see who falls into this 60% we can see it includes all who are on a pension, both those who are on disability pensions, old age pensions, unemployment benefits of various kinds, supported work for the disabled and student grants. However, 60% on government support means that it is the remaining 40% who are the main contributors to the Danish economy and for some countries this must appear as quite an extraordinary social setup. Never the less it has functioned well and Denmark has been able to pride itself in having a very good standard of living. I will not be going into an analysis of the Danish society in general but will be looking at one aspect which is set to change due to the economic times, starting 2013.
The government needs to fill a hole in the coffers and by looking at this 60% they have singled out those on disability benefits, the group that I will be focusing on. But first let's look at how many who are of working age (15 – 64 year olds) who are on government support. It turns out approximately 22%[ii] , of the potential work force is supported by the welfare system at this point in time.  22% equates to approximately 785,000 people who are, for various reasons, not working. Out of those 785,000 people, about 310,000[iii] people are on disability benefits which equates to about 40%.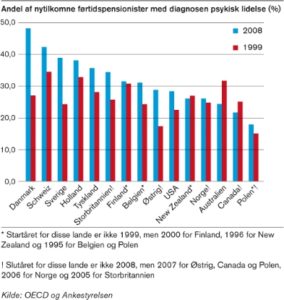 Just a few other statistics before leaving the dry and dusty world of numbers. Denmark, just like other western countries, has seen a huge increase in the number of people being placed on support due to mental health problems. However, what is not generally known is that Denmark is the world leader[iv] in the number of people incapacitated by mental health issues and placed on support.  See the table which shows the number of new cases of people being placed on disability pensions due to mental distress. In 1999 27% of pensions given were due to mental distress, in 2008 the figure had changed to 48% and in 2009 the figure was over 50%.
It is this group which has inspired the government to find ways of saving money and which has inspired them to develope their Disability Reform anno 2012.
No person under the age of 40 is to be allowed to go on early pension unless it is patently obvious that they have no hope of working. Just how that is to be defined will be interesting to follow. Instead everyone is to be offered a rehabilitation package which is, (and it is here I start to become skeptical as I will explain later) to be individualized focusing primarily on education and jobs. Psychiatric systems will be a part of this package but are not the only players in the field; for example the social services will be more involved. So far so good. The trouble is that in reality this reform is to save money, quite a considerable amount, so though the government is saying they are investing 1.4 billion kroner towards rehabilitation programs, they are in fact saving 3.5 billion kroner. They are saving by placing people on a financial rehabilitation package which many have described as being below the official poverty line especially considering that many are likely to be living for many years on this small amount of money.
So what makes me skeptical? One of the major focuses is to get people out into the job market; the problem is it has been notoriously difficult to get employment when labeled by psychiatry, so why should it suddenly be possible now when unemployment is rampant (by Danish standards) and the recession is cutting deep? This has been one of the major debates since the reform was introduced; where are those jobs? What also seems to have been ignored is that the old system has always had within it the possibility of reentering the work force via protected work schemes or leaving the pension system and entering the work force on a full time basis. Another point is why are we suddenly talking of rehabilitation now? Was not the whole purpose of psychiatry to help people get better so that they could get on with their lives? What then has psychiatry been doing until now? Neither is there any indication of what kind of rehabilitation is in the cards, other than just stating people are to be rehabilitated.
Another aspect which makes me skeptical is the issue of human rights. The rehabilitation plans will be involving other agents, specifically the social workers who will be playing two opposing roles saving money, while being part of the team. One could be beguiled into thinking this could be potentially a good thing, as it opens the door to other agents, other than just psychiatry, but there are a number of matters which raise issues for concern. Denmark is not just one of the countries with of the highest taxes in the world but it also does a good job of being in the top five when looking at psychiatric treatment. Denmark has the dubious honor of being the country that has had the most people lobotomized and sterilized in relation to population number yet has been able to maintain an aura of compassionate care until fairly recently. The last few years they have had complaints from Amnesty International for example, the use of 'Guantanamo' style belts (patients are shackled hands and feet), as well as cases of patients being restrained in belts for months on end. Instead of listening, the government has merely created laws allowing for a continuation of that form of 'treatment' and thereby circumventing human rights by  saying human rights abuse are no longer present because we have through our laws made it legal.
Recently it has become public that the social system, poised to have even more power, has been practicing a dubious form of coercion. For it has been functioning as the psychiatrists extended arm by forcing people to take drugs and even submit to ECT using financial threats as a means to this end. What happened when this praxis was exposed? It was made legal[v] (ECT was excluded).
So do I think this reform is a good idea? Well; all big changes have within them the potential for growth, and I like to dream. One of my dreams has been doors opening to other agents outside of psychiatry in the world of mental distress, and here I see a crack appearing. The question again is will those who get through the crack be agents of oppression or genuine actors capable of making true change? Interesting times do certainly lie ahead, but will it be a curse?
---