Authors note: Two friends had this dialogue about the mental health first aid program and gave me permission to reproduce their experiences.
Positive review of Mental Health First Aid:
Brooke Leonard: [Helping someone with problems that look like mental health concerns] sounds like a really big task but I believe that if it is broken down into smaller chunks and just address one step at a time, the entire subject will be easier to address. For instance, the place where someone exhibits "distress" for the first time might be the family unit.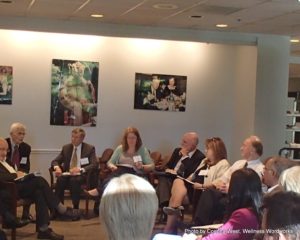 Unfortunately most families are not trained to recognize or respond to mental "distress." It is generally looked upon as a phase, hormones, bad behavior, behavior to get attention, etc. I am sure you have heard these things before. So where do they turn for help? Even if they want help. What resources are available to families? Will they seek that help?
To respond to mental health issues from a grassroots level, the state of Missouri is promoting education to aid non-mental health professionals (teachers, parents, youth workers, etc) in recognizing and supporting people exhibiting "distress." This educational course is offered through the organization "Mental Health First Aid."
Neutral Review of Mental Health First Aid:
Edward Duff: Mental Health First Aid is pretty good if you ignore the labeling system and just pay attention to the very gentle form of peer support, harm-reduction, and listening they advocate. This is a big IF since the main response of the program is to lead people into psychiatric services. It's also a form of response short of an emergency hospitalization/capture scenario. This can be a very good thing to avoid, for sure.  I liked most of it.
I live in Joplin, MO, which had as many as 158 to 160 people were killed by the tornado and around 1,000 injured. It was the deadliest tornado in America since 1947. I took the course with a herd of social worker do-gooder types doing storm/catastrophe response stuff for Ozark Center and Catholic Charities.  Some of the stuff they talk about is fairly non-toxic, like cognitive behavioral therapy and of course the family and peer support stuff.  The Australian accents in the videos were amusing and a nice respite from the cowboy/hillbilly stuff I usually have to listen to around here.  But they do also refer people into The System, which may or may not be for their own good.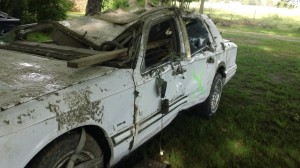 Brooke Leonard: Some of the trainings are free of charge. Contact your local Mental Health Center or Mental Health First Aid directly to find out more info.  I took this course over the summer. It was very informational and I feel better prepared for effectively addressing situations where I may encounter someone experiencing "distress" or mental health issues.
Corinna West: I wasn't sure how to judge mental health first aid. I kept asking friends taking the course but it's hard to get a good assessment if they don't understand the risks of labels and medication.  People need to understand that in order to hear how sometimes things that are intended to help can actually harm.
A quick explanation of the difference between 'disease model," and "distress model" is the idea that folks with a disease are genetically/chemically different or whether everyone can experience extreme states given some rather difficult inputs. Are our problems biological ( a susceptibility) or just a human response that could happen to anyone? If someone has a temporary problem, telling them it's permanent can all have kind of negative repercussions.
 Negative Review of Mental Health First Aid:
This is Dan Fisher's testimony about Emotional CPR at the Carter Center Symposium on Social Inclusion. This less label intensive model is found at  http://www.emotional-cpr.org/
What is your experience with the Mental Health First Aid Program?
***
Mad in America hosts blogs by a diverse group of writers. These posts are designed to serve as a public forum for a discussion—broadly speaking—of psychiatry and its treatments. The opinions expressed are the writers' own.
***
Mad in America has made some changes to the commenting process. You no longer need to login or create an account on our site to comment. The only information needed is your name, email and comment text. Comments made with an account prior to this change will remain visible on the site.