Editor's note: This is part two of a two-part essay. The first part described Jessica's personal experiences with involuntary commitment, the psychiatric system, and the courts—leading to her founding of a mad community, Madwomen in the Attic. This second part describes the timeline of Madwomen in the Attic, the challenges faced during its first year, and projects and hope for the future. The essay was adapted from a speech delivered at "Madness, Violence, and Technologies of Care," a symposium held at the Center for Disability Studies, University at Buffalo, Buffalo, NY, May 2019.
Madwomen in the Attic held its first meeting on April 17th 2017. By that time, I had been in an article in the local newspaper, portions of my story had been all over social media, and hundreds of copies of the flyer were strewn about the city—still, despite all of that coverage, attendance at our first meeting was low. We had only about ten new members physically present at the meeting. I did not know what to expect, but weighing the coverage against the stigma attached to institutionalization, I figured it would either be very well attended or barely attended.
I'm sure my wish for a mad army didn't help, but the attendance at the first meeting did not feel like defeat. There was something very special about that initial meeting—the sharing, the support, that made both Melissa and me feel hopeful and encouraged; not discouraged. The meeting was meaningful, far more meaningful than most of the meetings and conferences I have attended during my life. Something new and different, something radical, had taken place in that space.
Over the next few months, our attendance was inconsistent; some meetings were very well attended but others were not. What was consistent was the feeling that each meeting, whether we had four or fourteen, was meaningful, that it mattered, that we were doing something both subversive and important.
I reflected on Feminist Fight Club, which I had read in the months leading up to the 2016 election, and felt encouraged: their Feminist Fight Club meetings were small, sometimes just two of them, sometimes just four of them, but eventually they manifested in the thousands. The support and mass appeal was generated by a number of factors, including the timeliness with the election and the universal appeal—we would never have such factors going for us. Feminism is mainstream; madness is not. However, I held tight to mentions in the book about those early meetings—that they meant something outside of the massive popularity of the book that came out of the meetings.
Modest attendance at meetings is something that we dealt with in the first year and continue to deal with, but there have been exceptions.
Our biggest exception to the low attendance meeting rule happened in April 2018, a year after our first meeting was held, when we partnered with a local business, The Screening Room, to offer a free public screening of the 1944 film Gaslight. I paid for the event, and thought we could use it as an opportunity to generate awareness about gaslighting and about our organization. The community event was an unexpected success, bringing in over sixty-five attendees, many of whom made small donations, asked about tee-shirts, took pens and worksheets on gaslighting, and stayed for and participated in the community discussion after the screening.
It is obvious that the film's cult popularity, independent of its subject matter, drew in some of the audience, but many women attended who wanted to discuss gaslighting, so it truly was a community conversation. It, unfortunately, was not a sustainable avenue for operating because I was and am too poor to pay for these events on my own each time we hold them. This points to another challenge that our organization faces in its community-building efforts: a lack of financial resources.
We spent the first year devoting time at each meeting to discussing the pros and cons of trying to obtain financial support. We considered becoming a not-for-profit but ultimately decided against it after members raised issues about it complicating things and introducing a more formal governmental order, or hierarchy, into the group.
Hierarchy is another issue that we have had to addressed often during our first year. The issue was raised after the first-ever meeting, actually, and that was probably the most uncomfortable and discouraging part about it for me. One of the attendees wrote to complain that the organization was too top-down for her taste and that she would like us all to run it together, without a designated leader. I struggled with this early criticism but ultimately told her that we try to create a collaborative environment and that she was welcome to join us if she was okay with how we're working things out. I felt guilty about my leadership role but, thought about it some more and decided that I should not feel guilty for assuming a leadership position in the organization that I started.
It was after this first-meeting complaint that we discussed, as a group, the idea of having monthly meeting-leaders. The idea was supported verbally by a couple of our members, but when I reached out to them, they were not interested in leading the meetings; they were too busy, had other obligations, or just didn't follow-through. I have reconciled with the fact that I am the primary source driving the organization but that the organization is reliant on members to function. Without leadership, nothing would happen, there would be no organization. Without members, there would be no organization. It is a collaboration, and there are leaders who are open to members taking on as much responsibility and as much initiative as they would like, in the knowledge that we are all equals, despite what kind of leadership role we assume or don't assume.
So far I have identified three challenges that we faced in the first year of our operation:
Low attendance at meetings (between 5 and 10 attendees typically)
Limited financial support for events and advertising
Implementing shared leadership at meetings
While minor interpersonal challenges arose on occasion, major problems did not arise in the first year—in fact, they have, fortunately, not arisen in 2019, either. The first year was very successful in terms of all of the ideas and support that our members generated at meetings and all of the projects that we began initiating.
We started with just one meeting but subsequently scheduled meetings on the third Monday of the month. Our first couple of meetings generated a lot of wonderful advocacy and literacy project brainstorming, and they also provided a lot of emotional support for our members, including me.
We have had a range of people from all walks of life in attendance at our meetings. One of our local members has been experiencing homelessness, and the group has been really important to her—and she has been very important to the group. MITA cannot provide legal assistance or housing, but we have definitely been working as a group to offer support to members who experience fear of the system, mental distress, or housing issues.
There is definitely an evolving sense of family forming; though our local faction is small, the extended transnational family is large. When our local members don't show, we definitely worry. And when we haven't heard from members in other states and countries, we wonder how they are doing. We know some important things that are going on in each other's lives and we support each other in a way that other avenues for support would not be able to foster—there is something safe-feeling about the community we have been forming at our meetings, and online, over the last two years.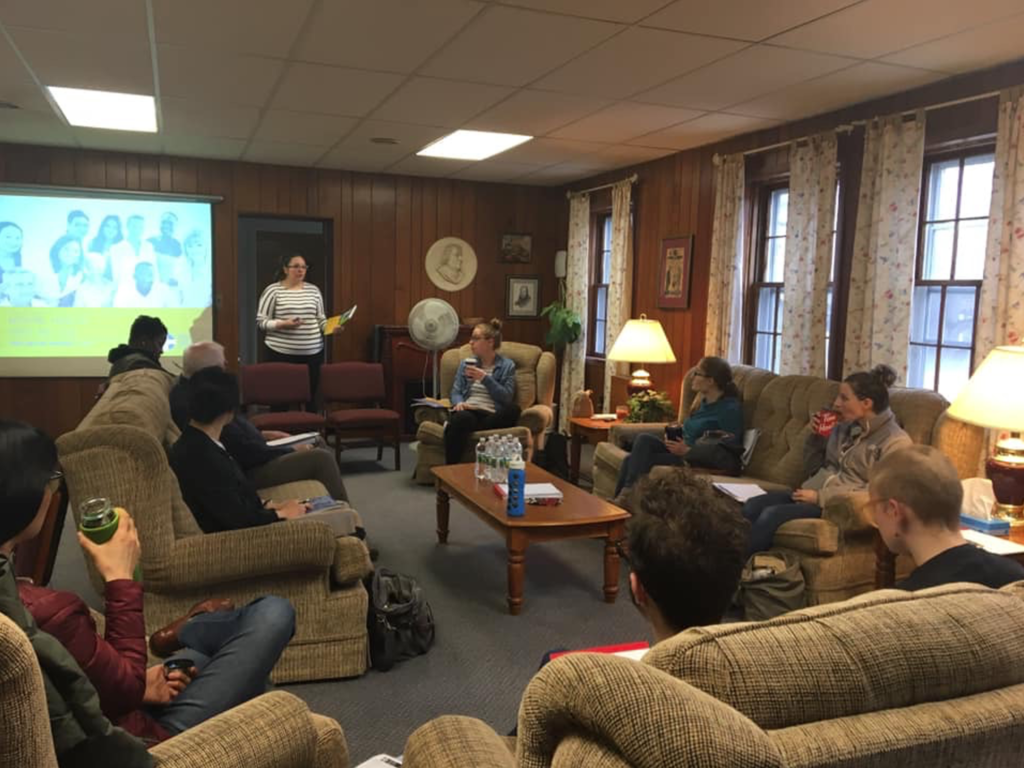 During 2019, I began seeing attendance in a less anxiety-provoking light: this is where the "From Attic to Attic" subtitle of the essay originates. This year, I started seeing MITA as providing space in physical, cyber, and figurative ways. We are a safer space. We are there for people who would like the company, the support, and the advocacy opportunities via our monthly meetings and special events and projects, but we are also there in a symbolic sense—sometimes just knowing that you are part of a community of madwomen, even if you cannot attend meetings, makes a difference.
Many of our members are unable to attend, and they are never going to be able to attend. Members who experience more severe emotional distress forms that manifest as paranoia or as fear of leaving the house or as anxiety will not likely be able to join us in person. That is where the attics come into play. The attic is a metaphor for a place in the domestic sphere or another location where one can connect indirectly or long-distance with others or with an audience, whether through letter-writing or journal-writing or electronic communication.
MITA's electronic community, which formed early on, is very strong and growing, and we have members from across the world in the group, especially those who are involved in the Mad Pride Movement, as well as those who identify as consumers, survivors, and ex-patients. We have local members who cannot attend our meetings because of anxiety and other issues but who support us from behind the scenes or who participate in other ways, we have attendees who come once and never again, and we have attendees who have hardly missed a meeting. We have members across the states and in the UK and elsewhere who comment on our posts and offer helpful suggestions and criticisms and participate in our projects. One member of MITA, who lives in Florida, writes us letters and sends us books occasionally, and our website means a great deal to her. We don't hear from her on a regular basis, but she has expressed that knowing the group exists and the writing that we produce on our site are important and helpful to her. Another member lives in Australia, and recently brought one of our projects, The December Letters Project, to Australia, where it was met with great success.
Two changes took place between the first and second year:
We changed locations. We had been holding meetings at two churches, one in Buffalo and one in the suburbs, but, as a group, we decided that the suburban location was not accessible enough and did not connect with a bus stop, so we decided to hold our meetings in the city. We also decided to start holding meetings at a coffee house in Buffalo because the upbeat, open, visible environment was appealing and uplifting—the quiet and empty church buildings were not drawing people in. The main downside to our coffee shop location is noise—it's a noisy environment. But, having weighed all of the factors, being in a lively setting was what we ultimately decided to do.
Our mission statement changed: We addressed pronoun sensitivity and asserted publicly that we are a trans- and gender non-conformity- supporting group.
As far as meeting format is concerned, we typically have three parts to each of our two-hour meetings: (1) engaging in support and fellowship, (2) sharing aloud the work of the featured writer of the month, and (3) addressing agenda items and specific project work.
Hopes and Future Directions for Madwomen in the Attic
We are now in our third year as an organization, and this year has posed new challenges. Because we do not have any money as an organization, we are freed up in some ways that allow us to ride with and out the times, whatever they bring. We have nothing to lose materially, so no one and nothing can wipe us out. Our voices are traces, we are part of a disappearing archive, of a historical memory, and our goal is to leave enough of a mark so as not to be erased completely and so that we can be part of conversations for decades to come. As long as one of the two of us is alive, there will always be a Madwomen in the Attic in Buffalo, New York; but even beyond our own deaths, there will always be some semblance of the fragmented efforts of those who come together in their marginality in order to build a community.
One of the chief lessons that we have learned in leading this organization over the last three years is that it is a shape-shifting entity and engagement; it can shift its manifestation at any moment, according to present needs and events, and it is highly adaptable. For this reason, we do not see MITA as a fledgling organization; we believe the organization is evidence of the presence of a community that has been around all along but has not always been able to connect across time, space, structural barriers in normative ways.
We are survivor organization built, not from the ground up but, from the strength of other survivors, such as Virginia Woolf, whose legacy of survival is written in the pages of her books. We do not hold hopes for the future of our organization, per se; but, rather, we hold hopes for people who have been locked into sanist narratives and for women who have been locked into the patriarchy—we hope for liberation and for changes in the social climate that will make room for neurodiversity so that communities, like ours, can come together more easily. In the future, we plan to continue to struggle together to survive and help one another, as well as to work for radical change and for better treatment within our communities and social landscapes.
Madwomen in the Attic 2017 – 2019: A Timeline Overview
January 2017 – Jessica and Melissa make a pact on Ward 4 of the Psychiatric Unit at the Erie County Medical Center.
March 2017 – Jessica and Melissa decide to start an organization.
April 17, 2017 – First Madwomen in the Attic Meeting at St. Paul's Lutheran Church in Williamsville, NY.
July 2017 – Jess writes article about Hotel Henry on the MITA page—the article goes somewhat viral, and the Richardson Olmsted Campus asks Jess to visit the campus and offers to give her a free ticket to their Patient Life Tour.
September 2017 – Madwomen in the Attic launches The Featured Writer Project and Mad Mondays, announces the 2017-2018 MITA Featured Writers Calendar and the first full yearly meeting calendar, and launches a tee-shirt sale, offering free shirts to those who would like but cannot afford them.
October 2017 – MITA holds a "Scary Stories from the Attic" meeting.
November 2017 – MITA gets PENS.
December 2017 – MITA writes a New Year's Resolutions List.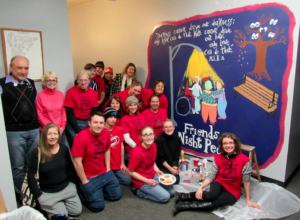 January 16, 2018 – MITA holds its first community event: the MLK Service Day event with Friends of Night People, attended by twenty members and allies. Two of our members, Vivian and Hanna, paint a mural while the rest in attendance serve the community in other ways, such as by working the clothes closet or serving food or cleaning up and organizing rooms.
February 2018 – MITA holds a letter-writing meeting aimed at working on letters individually and collaboratively to send to organizations in the community.
March 2018 – Madwomen Making History Meeting
April 2018 – MITA holds a free public screening of Gaslight and community conversation on gaslighting (partners with The Screening Room and Crisis Services). MITA also holds the monthly meeting at the Lockwood Library to begin compiling resources (photocopies of book chapter) for The Barbara Project.
May 2018 – MITA Patient Life Tour Event takes place—the Richardson Olmsted Campus offers to give members of MITA a free two-hour Patient Life Tour (a $700 value) and the tour fills up. After the meeting, at our May meeting, we work on pulling together points of constructive critical feedback to include in a thank-you letter to the ROC.
June 2018 – MITA holds an open Call for Submissions for the 2018-2019 Featured Writers Project.
Fall 2018 (General) – Jess & Jesse begin collaborating to try to bring The Barbara Project to life, meeting with area professionals and a psychiatrist from ECMC to discuss the project.
September 2018 – First meeting of the new MITA-year takes place (MITA takes summers off from monthly meetings). MITA distributes and make available online a "Cognitive Autonomy Information Sheet."
October 2018 – MITA holds The Great Mad Pumpkin Meeting but ends up too deep in conversation to carve the pumpkin (Jess carves it at a later date).
November 2018 – MITA announces the December Letters Project (university students at a school in Nova Scotia hold a letter-writing meeting and participate in the project).
December 2018 – MITA holds the December Letters Project letter-writing meeting. MITA pairs with Casey Middle School, working with two area psychiatric hospitals—the Buffalo Psychiatric Center and the WNY Children's Psychiatric Center—to complete the project. Casey Middle School students in the Social Justice Club make secular holiday cards, in addition to the cards MITA members make, and we are able to deliver 125 holiday cards to the Buffalo Psychiatric Center and 80 holiday cards to the WNY Children's Psychiatric Center.
January 2019 – MITA has to cancel the MLK Jr event and monthly meeting due to weather, but plans to do it next year.
April 2019 – MITA partners with the University at Buffalo's Group of International Graduate Students for an on-campus screening of Man Facing Southeast.
May 2019 – MITA members and interested community members attended emergency mental health training with Compeer WNY in order to learn about the training, to offer critical questions and feedback, and to prepare for work with the Barbara Project
Ongoing 2017-2019: The Featured Writer Project & Mad Monday Monthly Meetings
Projects-in-Process for 2019 & 2020:
The Barbara Project
Suicide-prevention-related project or walk
MITA Krav Maga Night
Expanding The December Letters Project in 2019
MLK Service Day 2020
Public Screening of One Flew Over the Cuckoo's Nest, followed by a community conversation on ECT at The Screening Room
Collaborations with local book shops and theatre companies
Long-term Projects:
To create a feminist mental health and madness literacy guide
To develop resources that can be given out by patient advocates at area hospitals
To engage in conversations with other organizations in and outside of the area, including those with whom we may not agree
***
Mad in America hosts blogs by a diverse group of writers. These posts are designed to serve as a public forum for a discussion—broadly speaking—of psychiatry and its treatments. The opinions expressed are the writers' own.
***
Mad in America has made some changes to the commenting process. You no longer need to login or create an account on our site to comment. The only information needed is your name, email and comment text. Comments made with an account prior to this change will remain visible on the site.