From The Christian Science Monitor: "With more than 5,000 inmates struggling with mental health issues, the Los Angeles County jail is the largest jail system in the United States. It also holds another unofficial title: the nation's largest mental health institution. That jail population has more than doubled in the past 10 years, with the imposing Twin Towers facility for men in downtown Los Angeles now devoted almost entirely to mental health inmates under 'moderate' or 'high' observation.
The men in high observation – numbering about 1,000 – reside in Tower 1.
When they are not in their cells, they are handcuffed to metal tables so they can't harm themselves or others, and many are dressed in quilted robes to prevent self-harm. They live in pods of 16 cells that are often noisy and foul-smelling. As Joan Hubbell, the mental health programming manager for county correctional health services, admits, staff can't keep up. Indeed, the jail operates under Department of Justice monitors to meet criteria for the treatment of mental-health inmates.
But three pods on the fourth floor hold out hope for more humane and effective treatment. Officials are working to expand the nascent effort, affecting about 70 men in jail, to other floors, and some see it as a model for the nation. It's a homegrown approach, developed by the on-site psychiatric technician, Sarah Tong, and taken to a new level by two 'merit masters' from the general jail population, Craigen Armstrong and Adrian Berumen. With the support of Ms. Tong and others, they created a unique role for themselves as mental health assistants – living among those who are most severely 'ill,' encouraging them to take medication (but not administering it), updating health professionals and custody officials on behavior, and adding more structure to a program that uses incentives to teach basic hygiene and other life skills.
Most important, the duo express consistent love and care toward the men. 'It's so simple, it's profound,' says Ms. Hubbell. 'They so understand how badly they want to be given a second chance and don't want to be dismissed by people's preconceived notions of them. It drives them to give [others] a second chance.'
The results are beyond the expectations of everyone, from a top assistant sheriff for the county to the mental health professionals. Self-harming is six times less, compared with other units, according to Ms. Hubbell. Discharging the incarcerated men from the forensic inpatient hospital to this program, known as Forensic Inpatient (FIP) Stepdown, has reduced returns to the hospital by 35%. Beyond the data, you can see the difference in the patients' eyes and relaxed faces, she says."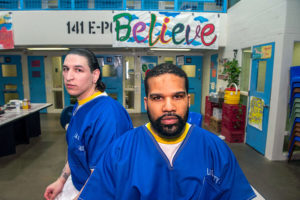 ***
Back to Around the Web