From The New York Times: "The share of American nursing home residents who are recorded as having schizophrenia has soared over the past decade. As The New York Times reported last month, the change is driven in part by a surge of questionable diagnoses.
A 2012 government effort to reduce unnecessary antipsychotic drug use in nursing homes included an exemption for residents with schizophrenia. Since then, the diagnoses have grown by 70 percent. Experts say some facilities are using the schizophrenia loophole to continue sedating dementia patients instead of providing the more costly, staff-intensive care that regulators are trying to promote.
The impact of this has been more severe on Black residents, a new study in the Journal of the American Geriatrics Society has found. Since the new rules went into place, Black Americans with dementia have been 1.7 times as likely as their white nursing home neighbors to be diagnosed with schizophrenia, said Shekinah A. Fashaw-Walters, a public health researcher at the University of Minnesota and the study's lead author.
Black nursing home residents are already more likely to live in facilities that rank lower in numerous quality measures, she said, and now face higher health risks of being misdiagnosed as schizophrenic to justify antipsychotic prescriptions. For residents with Alzheimer's disease and other forms of dementia, antipsychotic drugs increase the risk of infections and falls, and double the risk of death, studies have shown."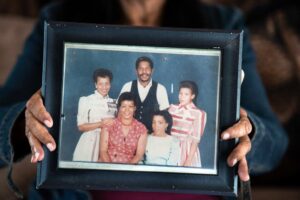 ***
Back to Around the Web