From The Washington Post: "When a fourth-grader in Florida was frustrated about having to sit out his afternoon recess, he penciled a word on an outdoor bench: kill. A teacher asked him about it, and he said it was what he wanted God to do to him.
But soon, a sheriff's deputy who was working in the school stepped in, using a controversial state law to order an involuntary psychiatric evaluation and confinement for up three days in a mental health facility. Marino, who rushed to the school after getting a call about the incident, was stunned, pleading with the officer and asking to be with her son.
The deputy drove away with the terrified boy, and Marino followed closely behind them in her car, watching her son stare out the back window, sobbing, his hand on the glass.
Every day in Florida, children and adolescents are involuntarily committed for psychiatric assessments under the Baker Act, a 1971 law. In fiscal year 2020-21, involuntary exams happened more than 38,000 times to children under 18 — an average of more than 100 a day and a nearly 80 percent increase in the past decade, according to the most recent data. The law is so deeply enmeshed into the state's culture that it is widely used as a verb, as in: The 6-year-old was 'Baker Acted.'
Some children have been taken away in handcuffs.
. . . The law's detractors say even a night of psychiatric detainment is traumatic in the life of a child. Some had never slept away from home. Some interpret it as being jailed or punished. And after the ordeal, some parents move their children into new schools, scared it will happen again.
Adding to the toll, some families are saddled with medical bills for the time their children spent in psychiatric facilities. The tab may be several thousand dollars, depending on insurance and other factors, several parents and lawyers said.
Critics say the process is traumatic without being helpful. 'Kids leave there with recommendations for treatment but no way to get it,' said Robert Latham, associate director of the Children & Youth Law Clinic at the University of Miami Law School. Standing in the way, he said, are waiting lists for therapy, insurance limitations, access problems and geographical barriers. Most of the time, nothing changes afterward, he said."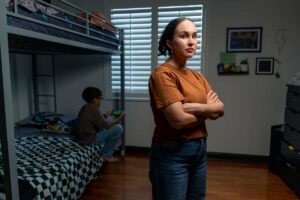 ***
Back to Around the Web