From The Independent: "A mental health charity has 'sincerely' apologised after one of its job adverts barred applicants who were receiving any kind of psychological support from applying.
In the specification section for a peer support worker role, Mental Health Matters said anyone who had 'direct engagement with mental health/other secondary support services' or had done in the past two years was ineligible.
The charity – which says on its website that it has 'over 35 years of experience in delivering high-quality mental health and social care services' – blamed the wording within the advert for the £22,000-a-year role on 'an administrative error' and said it had been withdrawn.
But this was not enough to satisfy Katy Stepanian, who spotted the mistake when she read the description at the charity's Crisis Recovery Service in Sheffield, South Yorkshire.
. . . 'I was just shocked to see such blatant discrimination, not only from a mental health charity but also for a peer worker role where the whole point of the role is to have lived experience of a mental health issue and use that to support a service user,' the 33-year-old told The Independent.
'They should have known better.'"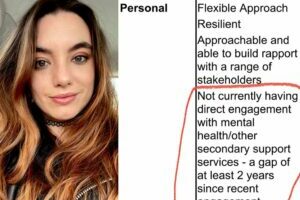 ***
Back to Around the Web