From FAIR: "Jordan Neely, a 30-year-old unhoused Black man, appeared to be in the throes of a mental health crisis and asking for money on a New York City subway train when another passenger—a 24-year-old white man—put him in a chokehold for several minutes, killing him.
The dozens of other passengers in the car of the northbound F-train did not stop the attack, although in a witness video, one bystander can be heard warning Penny he was 'going to kill' Neely. The video also reveals some passengers cheering, while two other men stood above Neely, holding him down while Penny choked him for several minutes until he went limp.
The death was ruled a homicide. The killer's name, Daniel Penny, was not released to the media for four days. Penny was not charged until May 11, ten days after the killing, and after protests took place across the city demanding that he be arrested. He was charged with second-degree manslaughter, but released on $100,000 bond. A fundraiser on a right-wing Christian crowdfunding website called GiveSendGo has raised more than $2.5 million as of May 19.
'A man in pain'
Neely, who often busked as a Michael Jackson impersonator, had a history of 'mental illness' and trauma. Before he was killed, he was reportedly yelling on the train, complaining of hunger and thirst and throwing his jacket down in a way some witnesses described as aggressive.
'I don't have food, I don't have a drink, I'm fed up,' a witness quoted Neely saying. 'I don't mind going to jail and getting life in prison. I'm ready to die.'
No witness accounts suggested he was physically violent. Even so, much of the corporate press deliberately refrained from framing Neely as a victim, and far-right media outlets have gone even further to dehumanize him and excuse the killing.
An opinion piece by Roxane Gay for the New York Times (5/4/23) rightly grouped this killing in with other recent wannabe vigilante–style assaults: 16-year-old Ralph Yarl shot for ringing the wrong doorbell in Kansas City; 20-year-old Kaylin Gillis fatally shot for pulling into the wrong driveway in upstate New York; competitive cheerleaders Heather Roth and Payton Washington shot after one got into the wrong car in a parking lot in Texas; a father and four members of his family—including an 8-year-old boy—fatally shot for asking his neighbor to stop firing an AR-15 assault rifle in his yard.
Gay writes of Neely:
Was he making people uncomfortable? I'm sure he was. But his were the words of a man in pain. He did not physically harm anyone. And the consequence for causing discomfort isn't death, unless, of course, it is."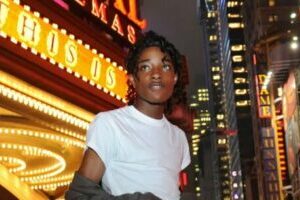 ***
Back to Around the Web