From NBC News: "Teen eating disorders have never been this rampant — or this severe.
Hospitalizations for eating disorders spiked during the pandemic, doubling among adolescent girls, according to the Centers for Disease Control and Prevention. While most teens have returned to a normal life of in-person school, sports and social activities, eating disorders, especially anorexia, remain at an all-time high, experts warn.
'The kids are not OK,' said Melissa Freizinger, the associate director of the eating disorder program at Boston Children's Hospital. 'As the pandemic started and then progressed, we kept thinking, "Oh, it's going to get better in 2022. Oh, it's going to get better in 2023." But it hasn't.'
Eating disorder-related health visits — which include hospital stays, pediatrician visits, telehealth talk therapy, and everything in between — more than doubled among people younger than 17 in the past five years, according to a recent report from the data company Trilliant Health. From 2018 through mid-2022, visits among this age group  jumped 107.4% across all eating disorders, from around 50,000 visits at the beginning of 2018 to more than 100,000 in 2022. Visits related to anorexia nervosa, which has the highest death rate of any mental illness, jumped 129.26%.
The pandemic [policies] worsened the incidence of anxiety and depression — both are risk factors for triggering or worsening eating disorders.
While eating disorder-related visits dipped slightly after a peak in 2021, they're nowhere near pre-pandemic levels as adolescents and younger teens cope with the after-effects of Covid, such as grieving for family members who have died, falling behind in school or losing touch with friends.
And the patients coming in with eating disorders are in more serious condition now, with both mental and physical symptoms appearing more urgent, experts say.
'They're sicker than before, and they're more complicated than they were before,' said Boston Children's Freizinger, noting that even after Covid, teens are being hospitalized at an alarming rate. Many require medical stabilization for malnourishment, and their psychiatric symptoms are more severe.
'We all have collective trauma from the pandemic, but many of these kids have PTSD,' said Freizinger. 'They're also younger.'"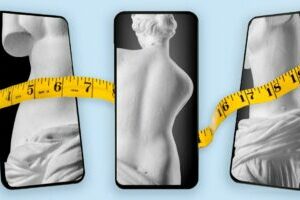 ***
Back to Around the Web