Sciences have peaceful periods and torrid times — "normal science" and "scientific revolutions", as Thomas Kuhn called them. Revolutionaries have strong feelings about their subjects but they rarely self-describe as revolutionaries, especially in science. By necessity, their focus is narrower. Young scientists (the ones with bold new ideas) defend the photo-realism of their brushstrokes more than the general impression of their canvas. The revolution is slow. Little by little, it spans an entire career and it does so unnamed.
One of these revolutions, as bold as Darwin's, has been gently smouldering for the last twenty-five years and it's about to combust. It's about our wellbeing.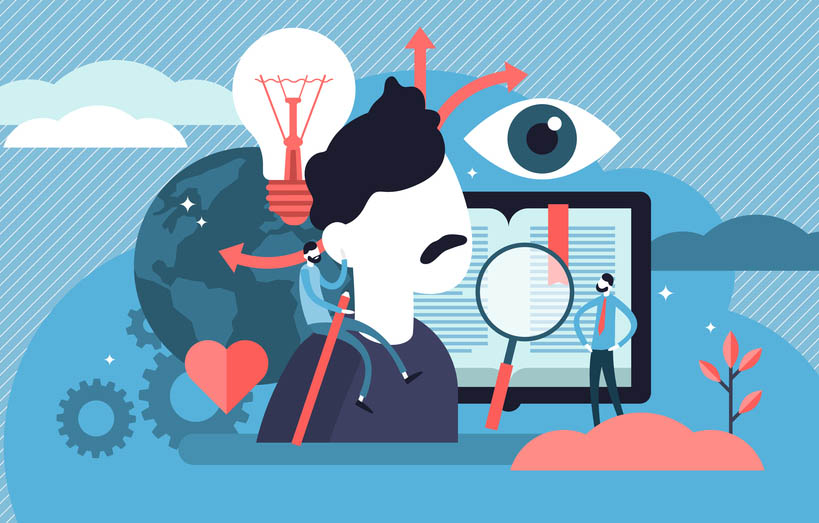 "Mental illness" and "neurodiversity" might sound like brethren ideas. They are, after all, about the same phenomena. But like fire and water fighting for the same piece of wood, they can't both succeed. In technical terms, they are competing paradigms; contestants in a scientific revolution.
In 1998, Judy Singer coined "neurodiversity". With just one word, she moved the lens — from "mental illness" and its hospital drip-trolley vibes, to biodiversity, natural, strong and dignified. Singer drew from the social model of disability, which brings attention to the disabling thing (think: stairs for a wheelchair owner or text for a dyslexic). Before that, the medical model of disability diagnosed people's distress by examining only the person, rather than the person-in-their-environment.
The medical model's lens had unintended consequences. It enfeebled the people it was tasked with empowering. It made them dependent. And their dependency became dollars for medicine. Dollars are hard to walk away from. And so it makes sense that the American Psychiatric Association and its international cousins retain that lens, even today. Judy Singer's revolution would not be over in a day.
Scientific revolutions are fought over phlogiston and oxygen, over waves and particles, background radiation, dark matter and tectonic plates. They are fought by scientists with skin in the game. They fight for their reputations and jobs. Rarely, however, are they fighting for their lives. That's what makes this revolution special. Neurodiverse people, like Judy Singer, aren't just fighting to exist in the conversation. They're fighting to exist at all.
Oxygen doesn't get to speak for itself. If it did, I wonder what it would say?
Quit boiling me off to figure me out. Trust me when I tell you who I am. I know.
How foolish would a chemist be to not listen to oxygen and keep calling it "phlogiston"? To continue to plug away in a lab when they could just ask and believe the answer.
I asked a neurodiverse crowd, "What do you feel when someone suggests you're 'living with a mental illness?'" They replied:
@Bxx: eye roll until my face turns inside-out
@Bxx: That makes my stomach drop, extremities tingle, and ears ring.
@Cxx: I feel discounted, belittled, shamed & surprised
@ixx: I feel the RAGE
@Fxx: it makes me feel like I have to explain things very slowly with very small words. I tense up, I experience irritation
@Hxx: i'm never gonna talk to you again if you say that.
@uxx: shut down, like the lid of a box is closing on my head
@Exx: Frustrated, alienated, defensive, tense.
@Cxx: I feel dread, a sense of tightness and unease in my body
@nxx: Angry, rejected, tired as all hell
@mxx: I feel discredited and written off, like all my accomplishments are nothing. Like I'm just some crazy person
@Nxx: Nauseated. Critiqued. Dismissed.
@lxx: Oof, immediately activated and sick tummy, like I want to run.
@Wxx: Nauseous, pissed, unseen, dismissed, bullied.
These people are writhing against "the Personal Tragedy model" of neurodisability. I share their discomfort at being labelled "ill". Although I experience distress acutely, I don't have a disease, a bug, or an error. I have a body. I have a nervous system. And just like everyone else, when my circumstances are untenable, my body protests.
Medical science has had great success in finding and labelling disease-causing bugs like bacteria and viruses which nobody doubts are real things. Yet in their search for such bugs of the mind, they have had so little success that philosophers publish papers and go to conferences built around the question, "are these things even real?"
There are two simple reasons why experts continue to search for psyche-bugs despite over a century of abject failure. One of those is germ theory.
Germ Theory
Germ theory is a fundamental concept in modern medicine that posits that many diseases are caused by microorganisms, such as bacteria, viruses, and fungi. The development of germ theory in the 19th century revolutionized Western medicine, leading to significant changes in our view of disease, hygiene, and public health. It became the scaffold for western medicine's ownership of "health".
Psychology and psychiatry are not the first to hunt enthusiastically for a germ that isn't there. Pellagra is a disease characterized by dermatitis, diarrhea, and dementia, which can be fatal if left untreated. It was widespread in the United States and Europe, particularly among the poor, in the late 19th and early 20th centuries. In the early 20th century, Dr. Joseph Goldberger, a physician and epidemiologist working for the United States Public Health Service, was tasked with investigating the cause of pellagra. Goldberger conducted a series of studies in search of the elusive germ that caused the disease.
However, his research led him to conclude that pellagra was not caused by an infectious agent, but rather by poor diet. He discovered that the disease was associated with a lack of fresh vegetables, fruits, and protein in the diet, which was common among poor, mostly black, populations in the southern United States. He was able to induce and cure pellagra in experimental subjects by modifying their diets, demonstrating the crucial role of nutrition in the disease.
Goldberger's findings were met with resistance from many physicians and public health officials who were reluctant to accept that pellagra was not an infectious disease. He had a fire on his hands, not unlike the fire that Judy Singer kindled one hundred years later. This time, it's not just a few medical careers and reputations at stake. It's the $36 billion psychopharmaceutical industry and psychiatry itself. These two industries together, along with hospitals, insurance, and legal infrastructure, are known as the psychiatric-industrial complex. Not exactly the same size as the military-industrial complex, but bigger than the prison-industrial complex, this giant lends its heft to the notion that distressed people have a disease.
In places where no bugs exist, medical science will even transmute parts of the human organism itself into a bug so as to fight it. Remember the Human Genome Project? "When we've mapped the entire genome, disease will become a thing of the past!" We heard this claim not from overcaffeinated futurologists but from esteemed scientists. The logic was, "if we understand the source code for the construction of a human, we can correct the bugs". If they weren't wearing a labcoat and speaking in Latin, we'd notice that they were proposing eugenics.
And then it was the human brain map — if we can just know everything physical, we can find the fault. But measuring skulls with finer and finer instruments is still measuring skulls. A $500 million version of this frenzied search was recently announced to similar promise. Many fascinating things will be uncovered, but it won't be "the bug" because the bug doesn't exist. Our distress isn't a mistake. It's us reacting as nature intended us to react when circumstances are untenable.
A thoughtful objection to this, um, objection, is, "but surely some things are biological errors. What about, say, people who are born "missing" a limb?" To which one only has to reply, "missing according to whom?" To make a mistake, there must first be an idea of what is correct. And animals aren't "right" or "wrong". They just are. Human beings, in their infinite wisdom, made up the idea of a "good" or "bad" or "correct" or "incorrect" person. Such ideals are so pervasive that even the pathologized lean into them. These are the people who gain comfort from hearing from a doctor say, "your suffering is real. It's because of your biology." In another time it was a priest saying "your suffering is real. It's because of the demon." For people whose suffering has been denied, these suggestions are powerful indeed.
Madness has long sought an explanation and many have tried it. Poets, sages, preachers, doctors, historians and judges have weighed in. Over the previous century, one of these collectives has stamped its authority — psychiatry. Psychiatric classification is king. The American Psychiatric Association publishes a diagnostic manual every five to ten years which arranges new and old "symptoms" under headings like "Prolonged Grief Disorder" or "Personality Disorder Not Otherwise Specified". Under each such heading you will find diagnostic instructions like, "must exhibit a pattern of inattention and/or hyperactivity-impulsivity that interferes with their functioning or development, with symptoms present before the age of 12." It's quite a volume:
"Over two inches thick and with a thousand pages, it's unlikely to find its way to many beaches." (https://thenewinquiry.com/book-of-lamentations/)
Dry as it may be, it sells out every time. Its theology is having a moment. But it's fast losing its prestige. Even psychiatric practitioners themselves are getting the gag. They sense the drugs they're prescribing aren't as magic as we thought. And there is the second reason the medical model is so hard to shake—big pharma:
"Psychopharmacology is in crisis. The data are in, and it is clear that a massive experiment has failed: despite decades of research and billions of dollars invested, not a single mechanistically novel drug has reached the psychiatric market in more than 30 years." (https://www.ncbi.nlm.nih.gov/pmc/articles/PMC3406532/)
Alongside practitioners' growing doubt about the realness of psychiatric nosology are their doubts about the drugs they're supplied with. As one clinical psychologist recently asked:
Whether burning about the chemistry or the "illnesses", the fire inside medical-industrial's machinery targets ever-shifting phenomena. Presentations of human distress shift across time, culture, and identity. To capture one "illness" across these spectra inside a diagnostic text is a task no more achievable than to capture the diversity of life inside one zoo. Should we even try?
Paradigm shifts
Conveniently for us, one of the most cited texts on earth sidesteps our ontological puzzle by telling science's history—by telling stories. Thomas Kuhn, in the Structure of Scientific Revolutions, reimagined the way knowledge shifts over time. Rather than progressive, in a straight line, his history describes periods of "normal science" interrupted by revolutions.
Incommensurability
During a revolution, paradigms tussle and the humans who advocate for these frameworks talk right past each other.
"…the proponents of competing paradigms practice their trades in different worlds… Practicing in different worlds, the two groups … see different things when they look from the same point in the same direction."
Kuhn labelled this feature 'incommensurability'. We know it more colloquially as 'cognitive dissonance'. Such dissonance is one thing when it's a scrap about gravity. It's another thing altogether when dignity and identity are on the line. Dissonance catches fire.
Dissonance happens over the question, "is this true?" Relief comes from asking, "what is happening?" instead. And here, what is happening is that power is shifting to a generation of people who a talking to each other at last. Escaped from the loneliness of psychiatric offices, we are now communicating with each other directly — via chat rooms in the '90s, on myspace in the '00s, and now on Zoom and Tiktok. It was an internet chat room of Autistics that brought Judy Singer to coin our clarion call in the first place.
"Neurodiversity" isn't a cute new thing. It's scientific revolution of huge importance. And unlike the revolutions before it, it is being led by the subjects of its study — by the collective power of our own voices.
***
Mad in America hosts blogs by a diverse group of writers. These posts are designed to serve as a public forum for a discussion—broadly speaking—of psychiatry and its treatments. The opinions expressed are the writers' own.
***
Mad in America has made some changes to the commenting process. You no longer need to login or create an account on our site to comment. The only information needed is your name, email and comment text. Comments made with an account prior to this change will remain visible on the site.