The Colorado Sun has this story, by Jennifer Brown, on a newly implemented mental health program that has therapists visiting teens and their parents at home or anywhere else they feel at ease: 
"The 15-year-old boy is sitting cross-legged on his couch in red flannel pajama pants, his hair looking like he just rolled out of bed. 
Because he did just get out of bed about three minutes ago. 
Now, he's sitting across from his therapist, who had to knock on the door for several minutes before the teenager's mom answered via Ring doorbell from the grocery store. 'It's open,' she told Bobby Tyman, a family therapist and clinical program coordinator with Paragon Behavioral Health Connections. . . . 
This is what in-home mental health treatment for adolescents looks like. The teenager, who recently stole and crashed his mother's car and has been using drugs to cope with depression, is groggy and shy, but tells Tyman that he applied for three summer jobs and is choosing a new high school for the fall. 
'I love that for you,' Tyman says after pulling a stool from the kitchen so he can face the boy on the couch. Later, they sit on the floor around the coffee table and draw how they are feeling with colored pencils on construction paper. The teenager, who agreed to let The Colorado Sun attend part of the therapy session but did not want his name published, sketches a large head with tired eyes attached to a slender body. . . . 
The new in-home therapy program, which has served 200 kids and their parents since it began in January, is an extension of the Colorado Boys Ranch. The ranch opened in 1959 as an orphanage in La Junta, then closed its residential program about a decade ago. But its foundation — Colorado Boys Ranch Youth Connect — has continued, pouring its resources into behavioral health care for kids in their homes."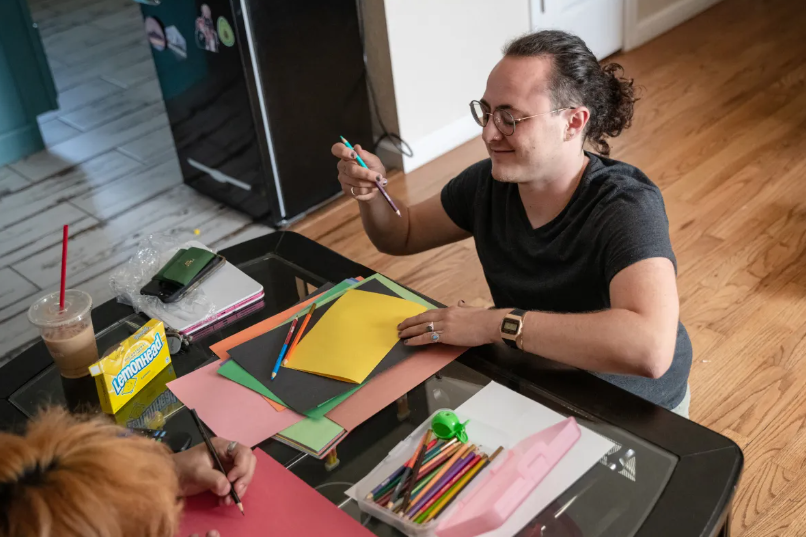 ***
More from Around the Web
More from Mad in the Family