From Reuters: "Nicholas England, a healthy 22-year-old from Virginia, shot himself in the head in 2017, less than two weeks after he started taking an allergy medicine that had been linked for years to episodes of depression and suicidal thinking.
His parents soon started exploring a lawsuit against Merck, the developer of the blockbuster asthma and allergy drug, Singulair, along with the manufacturer of the generic version their son took. Nicholas had no history of mental-health problems, they said.
The Englands were shocked to learn from legal advisers that they had no case. Like countless other potential plaintiffs, they had run into one of Corporate America's most effective liability shields: the legal doctrine of preemption, the principle that federal law supersedes state law.
Armed with U.S. Supreme Court rulings on preemption starting in the 1990s, companies increasingly argue that federally regulated products or services should be immune from lawsuits alleging state-law violations. In a new reading of an old constitutional principle, judges have held that federal law, including the decisions of U.S. regulatory agencies, should preempt, or override, state statutes that seek to hold companies accountable for harming consumers.
State laws historically have provided the legal basis for some of the most common lawsuits against U.S. companies alleging injuries, deaths or illnesses caused by negligence or defective products.
These legal dynamics left the England family with no legal remedy at all. A pair of U.S. Supreme Court rulings, in 2011 and 2013, essentially barred lawsuits against generic drugmakers based on state laws that enabled claims over design defects or a failure to warn consumers of potential dangers. The court's reasoning: Such claims were preempted by federal regulations preventing generic drugmakers, when copying name-brand drugs, from changing the formulation or the warning label.
That meant Merck had written the warning label, with federal approval, on the generic version of Singulair that Nicholas England took. But his parents couldn't sue Merck, either, because their son had never taken its name-brand version of Singulair.
'The emotion of losing your child is so difficult on its own,' said Jennifer England, Nicholas's mother. 'It is very frustrating to realize that's a loophole. I'm a small person in southwestern Virginia, and that's a loophole there to protect companies much bigger than we could fight.'"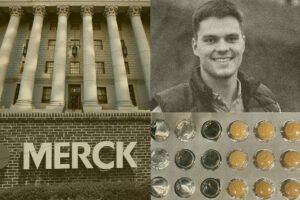 ***
Back to Around the Web