It was at the age of twenty-seven when I experienced my first 'psychosis'. I worked as a financial analyst of banks and portfolio manager at a nice company in Amsterdam, and from the outside, my life looked pretty good. I had a cool job, lived in the center of the gorgeous city of Amsterdam, and was a member of the best sports club. I was living a dream life.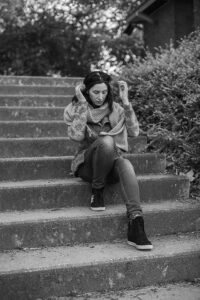 Due to my extremely difficult teenage years in my native Russia, the disaster would probably have struck eventually, but when it arrived, it came unexpectedly. Till the age of 27, I was suffering from awful stomach pain, constantly and terribly, which prevented me from forming a meaningful relationship with anyone. It was the stress of huge abandonments and losses in my youth, that was storing in my stomach, to release, I assume, when the time was right. Yes, I do believe that any manifestation of what is called 'mental illness' is the trauma acquired when growing up. I suffered, felt unloved, and was absolutely insecure deep inside.
At the age of 27, however, I fell in love with a gorgeous French man, who, unfortunately, was in Amsterdam only for a couple of months. He did hint at the possibility of staying with me, but what could I offer, besides my constant stomach pain? Nothing. And so he left, because I was too scared to tell him the truth, that I was constantly experiencing terrible pain.
Once he left, I went to the Chinese medicine center to help me to find something to ease my pain. I knew I couldn't carry on like I was. I received a prescription of a very strong tea, but instead of following the recommended dose, I just drank almost all of it in one go, so desperate I was for my pain to go. I was also smoke free then from my cigarettes, and spending all my evenings in the gym, to wake up at 6 in the morning for a run, before my job would start, where I was often the first in the office, at 7:30, or 8 at the latest. The portfolio of shares I was supervising was doing well, while my mental health was getting worse and worse.
I stopped sleeping, and on the eleventh day of no sleep, I ended up in a 'psychosis'. It was a liberation for me, from how I experienced it. I saw angels, I saw the manifestation of God, I felt liberated and so happy. I never thought that this kind of feeling was even possible in a human life.
However, I ended up in a psychiatric hospital, where I was injected with some stuff and ended up sleeping for three days.
When I woke up, I was a new person. I felt I was Buddha, I felt total liberation, I felt loved by the universe, and so much in love with life. My stomach pain was totally gone.
The counteroffensive against my happiness started as soon as I saw my doctor. He looked at my proclamation that I was Buddha (I wrote it on the drawing wall in my room) and told me that I was psychotic, and needed to be on the drugs for at least six months. I was put on 10 mg of olanzapine, as a welcome package into my psychiatric journey.
Those who have never taken any anti-psychotics don't understand the 'fuss' the patients make about them. You really need to try it yourself to understand the nightmare of this 'medication'. Basically, you feel like you are restricted from pleasures of life, you put on weight, you feel miserable, you feel constantly tired, with all creativity killed in your brain.
Obviously, I stopped olanzapine almost as soon as I started it, due to its 'effects'.
Two months later I ended up in another 'psychosis'. It was more serious then. Because of the lack of places in the hospital, I had to first spend a couple of days in a hospital attached to prison. I had to stay the whole day in my room except for twice a day, when I was allowed into the lobby. I was told I couldn't refuse my medication. I was then driven to a hospital attached to a university, and ended up there for a month. The doctor there told me that I had schizophrenia, and I was put on risperidone, which had effects that were even worse than olanzapine.
I decided to stay on my new medication, as I was seriously terrified. While what I experienced in my 'psychoses' was extreme pleasure from life, it was considered as an illness, and a serious one. I had to take the advice of the doctor seriously, because he was speaking from the state of authority, he knew his stuff. Who was I in comparison?
Just a patient.
I stayed on risperidone for a year. I still have pictures of me at that time. I put on lots of weight, and I had pimples covering my face. I stopped going out. I continued to work, without deriving any satisfaction from it anymore. It was an enormous effort to wake up in the morning.
One evening, I started to contemplate the possibility of dying. It was clear to me that I couldn't continue like I was: overweight, unhappy, miserable, weak, and sad. But the very same evening a friend called me and said that she would come to my house to pick me up on my bike to go to a party, and that she wouldn't take 'no' for an answer. I went with her, and at a party, a girl approached me who had studied for the same master's degree as me, and asked how I managed to be so successful. She meant my job. I almost laughed…if only she knew how unhappy I was. Instead, I offered to help her to improve her resume to apply for a job at my company.
After that evening, I decided to give life another chance. I decided to stop my 'medication'. It took only two weeks for me to immediately feel better, to start enjoying small pleasures in life, to be again happy in the morning. I lost all the extra weight and was more or less happy, until two years later I ended up in another 'psychosis'. I really don't know anymore: is it an illness? Does it matter that I don't feel ill? Does it matter that it's in my 'psychoses' that I feel tremendous joy from life? Is it an illness, is it?
Schizophrenia was changed to 'bipolar disorder', and I was put on Seroquel, and the effects of it on the dose of 300 mg a day are a disaster. Basically, you sleepwalk through your life. You might become overweight, and devoid of any vitality and vibrancy of life.
By that time, I was more prepared with how to deal with psychiatry, and the fact that it was psychiatry that dictated how the unusual experiences of life should be interpreted. I was officially 'bipolar', prone to 'psychoses', but while I read everything about it by then, I also read other stuff. I discovered Mad in America, I talked with other patients, I read, and I read a lot. No one was happy on the drugs they prescribed and therefore, I decided to do my own experiment. I cut the dose of Seroquel to 50 mg a day.
I spent a few years like that, while being relatively happy. I got a bursary to do a PhD in England, I met the father of my child, and I gave birth. Being on Seroquel, however, meant that I was always very tired in the mornings, and therefore, I missed on enjoying so many beautiful moments with my son. Still, I had very happy five years when he was growing and while I was with his dad, in England, a country I fell in love with. I finished my PhD; I started to work at a university, on a casual contract, but it looked promising.
The relationship, however, fell apart, and when my son was 5, I ended up as a single mum, with 'bipolar' disorder, in a foreign country, despite feeling in it like it was mine. Some doors are just closed on you, as a result. I had to always work harder to prove that I was worthy. Worthy of a job, worthy of love, worthy of being a citizen. I ended up unwell, was sectioned three times in a row, and was put on aripiprazole, which resulted in another, this time 'real' psychosis. I had to spend two months in the hospital.
My life since then became a big test to show to the outside world that I am capable. I wasn't invited for an interview at the university where I worked in England after I had disclosed my diagnosis in my application letter. I was an excellent teacher, I could do it, but my diagnosis preceded. It didn't matter how good I was. I had a 'bipolar disorder'.
Eventually, I found a good job in the Netherlands and moved here with my son. It was here that I finally met a very nice psychiatrist, who helped me. Together we searched for a golden mine. What would help me to experience my life fully, while still being 'protected' from my 'psychoses'? Of course, I ended up in another hospital. Who wouldn't? I was in a new place, with a child, during covid, isolated and not having any friends when the pandemic started.
I was put on injections at first, and for a year I just wanted to die. I was again put on aripiprazole and ended up in a psychosis almost at once. We again tried olanzapine, which didn't work because of its terrible side-effects, and finally, my psychiatrist put me on the third generation of an anti-psychotic, on which I am doing well now for more than a year. He took me off Seroquel as a sleeping aid, and my life changed. I am again happy in the mornings, I enjoy life. I want to work, I love the moments with my son, I want to write, to travel, to explore.
The Netherlands treats me well. I am one of them. I was offered a permanent contract at my job when I was in the hospital. They know about my diagnosis. They know how difficult it was for me here in the beginning. They gave me time to heal, and regain some rare moments of the almost non-existent self-confidence.
But it's all precarious, of course. Every day I am terrified: but what if it happens again? What will I do then? Every day I am terrified that my son will grow up with a mum who is in and out of the hospital. Every day I am scared that I will probably not have any other relationship: who will want me with my bipolar disorder, and such a big vulnerability for 'psychoses'?
And so I repeat sometimes, as some sort of a mantra: I lived in four different countries, I have a PhD, two master's degrees, and I speak four languages. It's just a small reminder in my otherwise, very difficult and often miserable life. It's something that justifies my existence and my claim at my job that I truly love. It's a reminder that I am still worth something, just so that I don't give up totally on life.
And so life goes… I need to raise my son.
***
Mad in America hosts blogs by a diverse group of writers. These posts are designed to serve as a public forum for a discussion—broadly speaking—of psychiatry and its treatments. The opinions expressed are the writers' own.
***
Mad in America has made some changes to the commenting process. You no longer need to login or create an account on our site to comment. The only information needed is your name, email and comment text. Comments made with an account prior to this change will remain visible on the site.