From Greater Good Magazine: "Sensitivity can come in different flavors, argue [Jenn Granneman and Andre Solo, authors of the new book Sensitive: The Hidden Power of the Highly Sensitive Person in a Loud, Fast, Too-Much World]. It can mean having strong emotions—'crying for joy, bursting with warmth, wilting from critique'—or having physical sensitivities to temperature, odors, or sounds (or all of the above). Overall, sensitivity is a heightened 'ability to perceive, process, and respond deeply to one's environment,' which means sensitive people absorb more sensory information (often unconsciously), think more deeply, and find more interconnections among disparate things than less sensitive people typically do.
'If you are a sensitive person, your body and mind respond more to the world around you,' the authors write. 'You respond more to heartbreak, pain, and loss, but you also respond more to beauty, new ideas, and joy.'
. . . Being sensitive can sometimes mean that you shut down when facing stressors or difficult transitions. But it can also mean that, given the opportunity, you're skilled at learning how to handle challenges in the future. For example, research found that sensitive kids benefitted from a depression-prevention program more than less sensitive kids. Similarly, in one study, married, sensitive adults got more out of a relationship-strengthening program than less sensitive spouses.
This is because sensitive people take in information—good and bad—and process it more deeply. As long as their sensitivity is valued and supported, it can be a bonus when it comes to personal growth and achievement.
'Sensitive people get a bigger boost from the same things that help anyone: a mentor, a healthy home, a positive group of friends,' write the authors. 'This boost allows them to do more and go further if they are given a nudge in the right direction.'
The particular strengths of being sensitive
Sensitivity can come with other 'superpowers,' write Granneman and Solo, that help sensitive people experience the world deeply. For example, they tend to have high levels of the following:
Empathy. 'Sensitive people have empathy in spades, so much so that the difference can be seen in brain scans,' write the authors. This means sensitive people tend to 'feel for others' more than less sensitive people, which can encourage them to be more compassionate and take action in the face of suffering.
Creativity. 'A mind that notices more detail, makes more connections, and feels emotion vividly is almost perfectly wired for creativity,' write the authors. The brains of sensitive people can grow and change in ways that may allow for more creative associations.
Sensory intelligence. Sensory intelligence means taking in more information from your environment and making good decisions based on that information—a defining characteristic of highly sensitive people. Great athletes, for example, often have this same ability—to sense what's going on around them and to rapidly process it—allowing them to make intelligent plays in the heat of competition.
Depth of processing. Not only do sensitive people take in more information, they also process it more deeply. This means that they often see patterns that others don't see and are able to 'connect the dots,' which can make them good planners. They prefer to engage in deeper, more meaningful ideas and activities, as doing so calls upon their strengths.
Depth of emotion. While many would see this as a hindrance, a sensitive person's depth of feeling makes for a richer life and is a boon for forming strong relationships—one of the keys to happiness . . .
This combination of abilities can make sensitive people good leaders, as they combine their hearts and heads in the service of others. As the authors note, slowing down to reflect and lead with compassion is 'exactly what our divided, rushed, and too-much world desperately needs.'"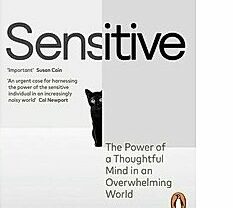 ***
Back to Around the Web