A curated listing of international critical psychology conferences and events. Email us at [email protected] if you'd like to suggest an event.
Mind Medicine Australia WEBINAR: Doing More Harm than Good – Why current medicines are not working for the majority of patients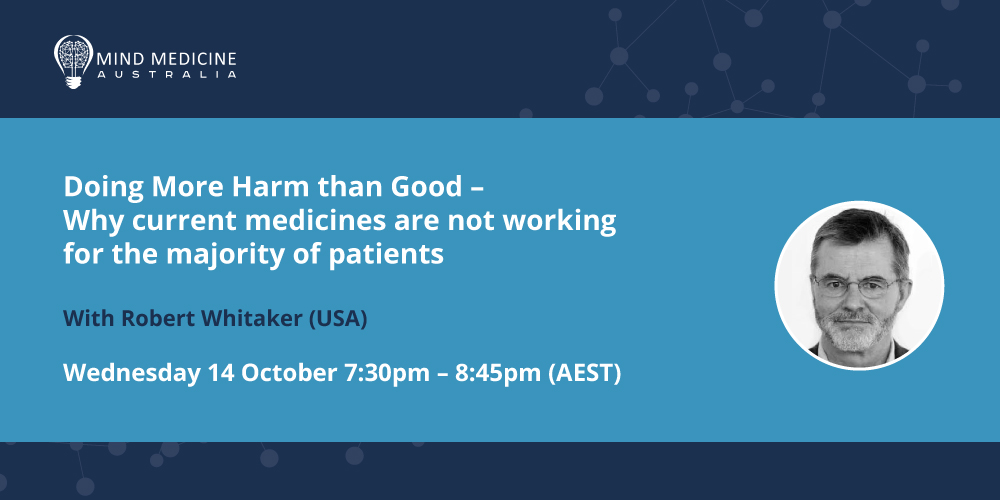 Join this free, 60-minute online webinar to gain access to insights and learn about groundbreaking treatments to chronic mental health conditions.
In this webinar Robert Whitaker (USA) will explain why current pharmacotherapy treatments for chronic mental illness fail over the long term and the need for innovation to introduce new treatments to combat mental illness.
Robert Whitaker is a journalist who has specialized in covering medicine and science. His articles on psychiatry and the pharmaceutical industry have won a George Polk Award for Medical Writing, and a National Association of Science Writers' Award for best magazine article. In 1998, he co-wrote a series on abuses in psychiatric research that was a finalist for the Pulitzer Prize in Public Service. 
WEBINAR SESSION
Date: Wednesday 14 October 2020
Time: 7:25pm for 7:30pm start – 8:45pm (incl. Q&A) (AEST)
Location: Online. A link will be emailed to you with the viewing details once you have registered.
Following the presentation there will be a Q & A panel with Tania de Jong AM, Robert Whitaker (USA) and Peter Hunt AM.
Book your ticket now! https://buff.ly/3hVtNGO 
#MMA2021 #MentalHealthAwareness #trauma #ptsd #MDMA #addiction #depression #psilocybin #psychiatry #psychology #mentalhealth #psychedelictherapy #psychedelics #medicine #innovation #neuroscience #event #webinar #charity @MindMedicineAU
Mind Medicine Australia WEBINAR: Doing More Harm than Good – Why current medicines are not working for the majority of patients