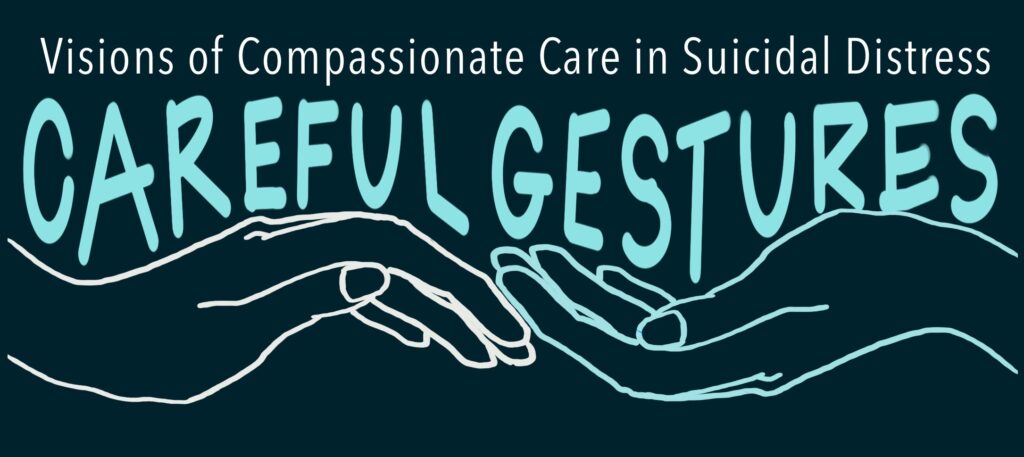 Mad in America is seeking submissions for an online Art Exhibit titled "Careful Gestures: Visions of Compassionate Care in Suicidal Distress" which is an extension of Mad in America's Suicide Hotline Transparency Project. This ongoing call aims to create a space for survivors of harmful suicide interventions to envision what their care could have looked like – focusing specifically on depicting in visual (including film), audio (including spoken word), sculptural, or photographic media, a simple gesture that would have changed everything for them in that moment. By "gesture" we mean care-filled actions or words of those meant to be helpful to people in suicidal distress. For example, an artwork could depict a reimagining of a harm-filled moment, as a care-filled one.
The call is open to all those who identify as having struggled, in some manner or another, with suicidal distress. This is an ongoing call with no specific deadline. Eligible entries will also be shared on Mad in America's homepage and on Social Media.
To submit, scroll to bottom of this page.
The Guidelines
Criteria for Eligibility:
Call for art is open to all those with lived experience of suicidal distress.
All submissions must be submitted through the online form below.
Artists can upload one (1) piece of

visual (including film), audio, sculptural, or photographic media

envisioning

a gesture that would have changed everything for them in a moment of intervention during suicide distress

.
Artwork must be original to the artist.
Artists must upload (1) hi-res (300dpi) .jpeg images, (1) mp3 (for audio) or mp4 (for videos) of their work with a file size no greater than 5MB.
Artists must include a short biography (not to exceed 100 words) and a statement about the submitted piece and how making it affected them (not to exceed 300 words).
Submission must abide by our community guidelines: The artwork content must NOT include illegal material, hate speech, discrimination based on identity or occupation, or calls for violence against any people.
The artwork must be relevant to the topic of the call which is envisioning

a gesture/action that would have changed everything in a moment of intervention during suicidal distress.

Off-topic artwork will not be included.
The first 100 submissions that meet these guidelines will be displayed in our online exhibition.
Artists will be notified of acceptance in April/May 2022.
Artist Benefits
Display on the homepage of madinamerica.com.
Potential inclusion in survivor interview series.
Potential inclusion in promotional materials (including Mad in America social media and email promotions).
For questions and concerns please contact Karin Jervert at kjervert[@]madinamerica.com