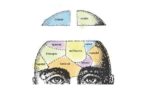 The "388" is a psychoanalytic treatment center for psychotic adults. The Center's services are available 24 hours a day, 365 days a year. The 388 treatment program is offered in partnership with the Capitale-Nationale University Integrated Center for Health and Social Services (CIUSSS-CN). It reports to the Department of Mental Health and Addictions.
The center is for adults with schizophrenia or related psychoses. It offers a comprehensive and intensive treatment based on a psychoanalytic approach to psychosis developed and ensured since 1982 by the Freudian Interdisciplinary Group of Research and Clinical Intervention.
Intensive monitoring and comprehensive treatment in the medium and long term are offered by a multidisciplinary team. It is headed by a psychiatrist who provides psychiatric follow-up in accordance with the progress of psychiatry.
The treatment is based on state-of-the-art practices ensuring continuity of care in all phases of treatment including the treatment of seizure and psychotic decompensation on the spot as an alternative to hospitalization. For this purpose, the Center has intensive treatment beds.
A team of clinical workers provides daily clinical follow-up to accompany, supervise, support users and intervene with them on an ongoing basis.
The approach aims to encourage the user to understand and manage what is causing their difficulties so as to make the changes that allow their return to autonomy and active citizenship.