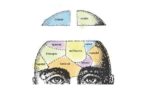 Greer spent over 20 years of her life on psychiatric drugs and knows the tapering & withdrawal journey well. She is a yoga teacher, Functional Medicine Certified Health Coach, Martha Beck Life Coach and Coach for Dr Kelly Brogan, MD. She intimately knows the darkness that comes with years of believing in an inherent brokenness but has come to see and wholeheartedly believe that NO ONE is the exception to the rule when it comes to deep, soul level healing.
Greer serves a global community and offers:
-1-1 Tapering and Withdrawal support sessions &
-1-1 'Access Deeper Healing' Life coaching sessions.
"In my experience, one of the most difficult parts of the tapering and withdrawal journey was feeling like I was going it alone. I remember thinking, that no one could possibly be enduring the extent of what I was. Convinced I was the special case of broken, I hid from the world in shame and pain.
It's now my honour to walk this path with you! You don't need to do this alone. The 1-1 sessions are an opportunity for you to be seen and heard by someone who "gets it" – me! In my experience, talking to someone who has come out of the other end can offer a lot of hope in a difficult times."
Find Greer on Instagram @greer.adams