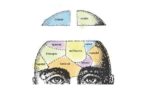 Dr. Ruby earned his Ph.D. in 1995 from the Florida State University after a 20-year career in the U.S. Air Force, working in counterintelligence and criminal investigations.  He is a member of the American Psychological Association (APA), Society for Humanistic Psychology (SHP), Psychologists for Social Responsibility (PsySR), and he is the Executive Director of the International Society for Ethical Psychology and Psychiatry (ISEPP).  In 2012, he resigned from the American Psychological Association in protest of its refusal to enforce a 2008 member referendum which prohibited psychologists from participating in "enhanced interrogation techniques", considered torture under the Geneva Convention. In 2014, he resigned from the Maryland Psychological Association for similar, and other, reasons. In 2016, he reinstated his APA membership in order to assist in ensuring the implementation and enforcement of a 2015 APA Council of Representatives resolution prohibiting psychologists' involvement in these national security roles. In his work with PsySR and ISEPP, he has also been involved in efforts to rectify this situation and ensure ethical behavior by psychologists who support national security operations.
Dr. Ruby's psychotherapy work is exclusively with adult clients. His approach is described as humanistic and existential. In other words, he approaches emotional and behavioral problems as natural human reactions in life, rather than as dysfunction or disease.  He helps people use their inherent abilities in reorganizing and reconstructing their lives in order to help them find a sense of contentment.  He rejects the idea of "mental illness" as it is a misleading metaphor that creates diseases and disabilities out of basic human struggles and feelings.  He likewise disagrees with, and strongly cautions against, the use of psychiatric drugs as they do not correct any so-called chemical imbalances of the brain, and they have many harmful effects.  Dr. Ruby recognizes that as humans we all share the difficult challenges of finding meaning, accepting our limitations, connecting with others, and taking responsibility for the ultimate direction of our lives.
Dr. Ruby is currently the Director and General Manager of The Pinnacle Center.