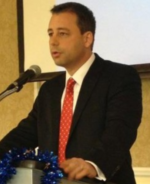 Dr. Paterno is the founder and Clinical Director of Park Ridge Psychological Services. He is also the author of three published works, including the parenting book Desperately Seeking Parents.
Dr. Paterno is a licensed clinical psychologist. He received his Doctor of Psychology (Psy.D.) at the Illinois School of Professional Psychology, Chicago. He completed his doctoral internship at The Arlington Center for Attention Deficit Disorders in Arlington Heights, IL, where he assessed and treated children, adolescents, and adults.
Dr. Paterno was a staff counselor at Lutheran General Hospital for several years on the Child and Adolescent Inpatient Psychiatry unit, performing individual, milieu, psychoeducational, and group therapies. He also developed a journaling therapy, resulting in The Take-Home Therapist. He also worked at Laureate Day School in Niles, IL and Pine Rest Christian Hospital in Grand Rapids, MI, after completing his B.A. at Calvin College.
Dr. Paterno's Philosophy
Dr. Paterno affirms that all people are biological, social, and spiritual beings. He believes that all of these are relevant in assessing and responding to a person's struggles. To ignore any of these facets of the personality, then, would be to ignore an essential facet of a person's being, functioning, and suffering.
He adamantly denies the currently held myth that emotional disorders/problems are the result of genetically transmitted, biochemical imbalances. While he recognizes that biological factors are relevant to psychological/social/emotional problems, he sees "symptoms" as meaningful and purposeful, within the holistic context of the person. This means that almost all problems are essentially normal responses to abnormal situations.
Dr. Paterno denies that psychotropic medications are necessary, effective, or generally safe. While he sees plenty of clients who choose to remain on psychiatric medication, he utilizes non-medical alternatives, which have been proven — in an ever-expanding body of research and also in his professional experience — to be largely more effective, safe, and humane.
Contact Dr. Paterno
Phone: (847) 692-6692 – Ext. 1