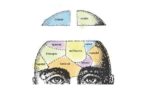 Mr. Buck has been in practice as a licensed Marriage and Family Therapist in Davis and Sacramento for 19 yrs. He has been an Advanced Candidate and Doctoral Candidate at The Psychoanalytic Institute of Northern California in San Francisco. He obtained his Masters in Psychology at New College of California in San Francisco in 1989.
Mr. Buck went on to extensive post-graduate training including Dual Diagnosis(aka Co-Occuring Disorders), Personality Disorders, Trauma –Psychosis Spectrum, (including Anxiety and Dissociation) and treatment of Aspbergers Spectrum Disorders. He has developed a sub-specialty in the nexus between Learning Disorders and Personality Disorders of the self.
My work is focused on making the unconscious conscious and helping people become more integrated. In simple terms this means that healing can come from linking thinking with feelings, inner with outer, past with present, beliefs with behaviors and emotions, fantasy and reality, waking states and dream states. This is particularly important with patients who have suffered trauma or abuse of various kinds or who are extremely sensitive.