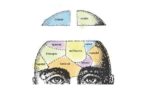 I am a licensed psychologist and author located in the San Francisco Bay Area. My main office is in the Rockridge District of Oakland, close to the Berkeley border and easily accessible by public transportation. My other office is in Hayward.
I enjoy being a psychotherapist because it provides me the opportunity to help people resolve the issues that are causing them distress. I work with adults, children, and families, and understand that each person is a unique individual with his or her unique life circumstances, history, and social and cultural context. A goal of our work together will be to help you identify and understand the conflicts that may be causing you difficulty, and to help you overcome them. Or perhaps negative thinking patterns cause you to experience sadness, loneliness, hopelessness, fear, or other unwanted emotions.
I will help you create satisfying personal relationships, improve your self esteem, and help you remove barriers that create difficulties in achieving your personal and professional goals. After our initial sessions you will feel understood, and I will articulate a strategy to help you achieve your goals.