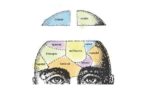 Do you see a woman who:
Feels purposeful, energetic, and capable?
Eats real, healthy food – looks and feels great?
Doesn't rely on uppers, downers, or other pills?
You probably don't imagine a woman who:
Is stuck with prescriptions for life.
Relies on caffeine by day, wine by night.
Feels sad, fatigued, helpless, or hopeless.
Many of us are far from our ideal vision of health. Meanwhile, mass media, drug companies, and the food industry hope we stay there – reliant on them.
I'm here to tell you that you have choices and the power to change your life. You can get healthy and live happy – without drugs.
I know, not just because of my medical training, but also because I've been where you are.
On a beautiful day in NYC I got some bad news. The reason for my brain fog, why I'd repeatedly lost my keys, was literally losing my hair, and going through an excessive amount of cocoa butter lotion, along with other symptoms: postpartum thyroiditis, or Hashimoto's disease.
Despite many years earning my medical credentials, I was not ready for a life dependent on pharmaceuticals. So, I searched for an alternative – and I found the gentle, hopeful world of natural self-repair.
Two-and-a-half years and one pregnancy later, I was symptom free – and prescription free.

But, more importantly, I'm on a mission. Now, in addition to my training as a psychiatrist, I'm also board-certified in integrative and holistic medicine, helping women get healthy and happy – without drugs.
Get Happier and Healthier – Without Drugs
I help women break down the myths and misconceptions of an outdated and broken health care system that is keeping them sick, confused, and dependent. And, instead, give them the knowledge and tools to return to the happier, healthier person they were born to be. Naturally.
Are you feeling like you are:
Trapped by depression, anxiety, and other mood issues?
Missing out on living to your full potential because of depression, stress, anxiety, and other mood issues?
Frustrated that the medical advice and solutions you've been given are not working for you – and maybe even making you sicker?
What I Do
Comprehensive history with treatment recommendations and plan on initial consultation.
Diagnostics including insurance-covered laboratory testing in addition to sophisticated specialty lab evaluations.
Careful review of evidence-based alternatives to medication with an eye toward eliminating symptoms by treating their root cause: gut, hormone, immune, and related neurochemical signaling imbalances.
Counseling around diet and environmental influences that impact health and wellness.