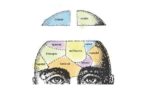 I am a mental health counselor who specializes in working with people who have the sorts of problems that get diagnosed as "schizophrenia," schizoaffective disorder," "bipolar disorder" and other "psychotic disorders." Much of my method is drawn from the approach known as "cognitive therapy for psychosis."
What about the relationship between this kind of therapy and medications? Many people are already taking antipsychotic medications, but they find that big problems continue despite the medication, and they would like some other way to deal with those problems. Other people would like to reduce or get off antipsychotic medications, or have never started medications and want to try a psychological rather than a medical approach. Cognitive therapy has been shown to be possibly helpful in all of these kinds of cases.
What to expect from cognitive therapy for psychosis:
Respect. I do not assume that I know everything about what is going on or that I can tell you what to do or think. Instead, I ask you to join with me in carefully observing and thinking about what is going on, and then you decide what you want to do to move forward.
Goals are structured around what you want, to make your life work for you..
Understanding. I will work together with you to find ways to make sense of what happened and what is happening. Cognitive therapy assumes that what is happening to you and what you are thinking and feeling always makes some kind of sense, even if it takes some time to decipher it.
An active role for yourself: Often people diagnosed with psychosis are simply told that there is something wrong with their brain, and that nothing can be done about it except to take medication.
Cognitive therapy is different: you and I will work together to find alternative ways of looking at things, thinking about things, and acting, so that your problems will be reduced or resolved.