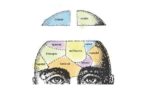 Dr. Tia Trivisonno is a naturopathic physician and licensed acupuncturist who graduated with high honors in classical Chinese medicine from the oldest accredited naturopathic medical school in North America, the National College of Natural Medicine (NCNM), located in Portland, OR. During her six-year course of study at NCNM, Dr. Trivisonno received certification from the New England School of Homeopathy and completed a two-year mentorship in women's health. Her study of Chinese medicine emphasized a return to its classical roots through a deeper understanding of the ancient medical texts of China as well as a focus in the tradition of five-element acupuncture and practitioner cultivation through the practice of qigong.
Dr. Trivisonno's passion for natural medicine began with a strong desire to offer guidance for health and wellbeing to patients and their families by emphasizing individualized prevention, education and empowerment. She is trained through the art and science of natural medicine to blend the conventional wisdom of biomedical diagnostic techniques with preventive strategies that utilize a wide variety of therapies including herbal medicine, diet and nutrition, counseling, acupuncture, and homeopathy.
During her time as an undergrad, Dr. Trivisonno studied yoga and Ayurvedic medicine for a semester in India. After earning a B.A. in environmental studies from Hobart and William Smith Colleges in New York, she spent two years doing environmental work as a Peace Corps volunteer in Paraguay. There she developed a love of service and a deep respect for cultural traditions and indigenous medicine. She believes that working to improve the health of each individual will contribute to a healthier planet.
Dr. Trivisonno's special interests include:
Women's health
Gastrointestinal disorders
Endocrine imbalances
Anxiety
Depression
Insomnia
Fatigue
Diabetes
Lyme Disease