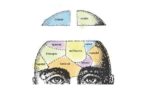 Dr. Mabee has over 20 years in private practice and as a professor who teaches graduate level courses in Counseling Psychology. In his work he sees individuals, couples, and families over a wide range of issues including, but not limited to: anxiety, depression, unreasonable fears, stress, assertiveness, family problems, and other relationship difficulties.
He does NOT advocate the use of medications to impact what may be the result of struggles living with other human beings in often complicated situations. Instead, Dr. Mabee prefers to help people explore their lives through a humanistic solution oriented approach.
To help achieve these outcomes he is a careful listener who often asks difficult thought-provoking questions that help persons explore their lives and to lead themselves where it is helpful to go.