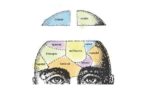 Dr. Murray is a psychotherapist, consultant, speaker and spiritual adviser in the field of self-development.
Dr. Murray has developed an expertise in working with artists and other creative individuals that is free from the pathologizing so often experienced by those who live on the edges emotionally, spiritually and psychically. While many mental health professionals and psychiatrists may want to "normalize" the "creative maladjusted"–so named by Rev. Dr. Martin Luther King, Jr.–, Dr. Murray works by the adage that normal is just a setting on the washing machine. Instead, he creates a space of acceptance, understanding and challenge to promote transcendence.
Murray holds a doctorate in Marriage and Family Counseling from the University of Florida. In addition to being licensed in North Carolina as a marriage and family therapist and professional counselor, he holds board certification as both a forensic mental health evaluator and clinical hypnotherapist. Dr. Murray has taught courses in personal growth, psychopathology, marriage and family counseling, psychopathology, legal and ethical issues in mental health, and substance abuse at several institutions including the University of Florida and the University of North Carolina-Greensboro. Currently, Dr. Murray holds faculty affiliations with Wake Forest University's Department of Psychiatry and Behavioral Medicine and Walden University. In 2011, Dr. Murray completed a post-graduate certificate in health care administration from East Carolina University and applies this to his work as a university counseling center director at a major performing arts conservatory.
Professionally, he has published in a variety of peer-reviewed journals on topics related to spirituality, social justice, fibromyalgia, and psychopharmacology. More, he has presented at numerous local, state and national conferences on the aforementioned topics, as well as having appeared on ShrinkRap radio and within other forms of print media. Currently, he is working on his first book, tentatively titled, A Spiritual Guide to Coming Off Psychiatric Medications.
Dr. Tom Murray brings a zen quality to much of his work with individuals and organizations. This temperament evolved despite a childhood on welfare in central Pennsylvania, which allowed Dr. Murray to overcome many obstacles in the pursuit of his dreams. Often, this was possible because of his innate sense of understanding people, their emotions and motives. Today, he integrates teachings from many spiritual and psychotherapy masters in his work, as well as furthering collaborating with creative individuals in finding meaning to their life circumstance.
Ultimately, however, Tom views himself as a father, first, to his two sons in Greensboro, NC. During down-time, he enjoys singing for the Greensboro Choir Society and Unity in Greensboro Choir. He has taken lessons from Marion Pratnicki and Elena DeAngelis.