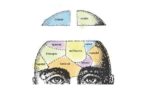 What We Offer
Peers helping peers with crisis aversion as well as diverting from psychiatric distress that may lead to hospitalization. A comfortable, clean, and furnished four-bedroom house in a quiet and safe neighborhood. Self help and proactive recovery tools to regain and maintain wellness. Trained peer companions who are compassionate, understanding, and empowering.
Why Peers?
Peers have all experienced what it is like to be on the verge of crisis, if not surrounded by it. We  understand the need for support in these difficult times, which is why we offer strength, hope, and knowledge about recovery to those individuals who need a supportive and healing environment.
How It's Done
This program is strictly voluntary and free of charge. You can self- refer or be referred by a health professional or a family member. There is a registration process to ensure the appropriateness of the program for each individual as well as for the comfort of other guests.
We offer a free stay of up to five days.
Peer companions staff the house twenty four hours a day.
Staff can maintain contact and support at your request after you finish your stay.
You must be 19 years or older.
You must not have any known physical illness (fever, flu symptoms, intestinal distress, etc.)
You must be able to maintain acceptable personal hygiene.
You must be responsible for preparing your meals and cleaning up after yourself.
You must understand and sign a safety and responsibility contract.
You must have permanent housing after your stay.
You must follow the house rules which are explained when you enter the house.
The word "Keya" means "turtle" in Lakota, a Native American language. Keya is believed to be a symbol of good health and long life. Keya demonstrates the ability to adapt to changes and new surroundings by living in and out of water—a trait symbolizing the power of individuals to adapt to healthier activities and a new lifestyle.
Keya is also accepting and uncomplaining, and it moves with a slow and steady pace forward— another trait symbolizing an individual's realization that health improvements don't happen quickly and it takes a steady pace of growth and change in order to recover and attain a state of wellness.
Who Qualifies?
Keya House is for adults with mental health and substance abuse issues who live in the Region V Systems service area. You must have transportation to and from the house.