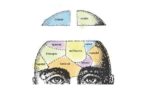 I work toward ending the dominance of biological determinist hype over mental health discourse, and toward supporting a liberation psychology which helps people see themselves as proactive free agents with a meaningful role in creating a just, loving, and peaceful world. I am a writer of fiction, poetry, and songs striving toward the same goals.
A note re: insurance: Yes, a variety of plans accepted, but people have to submit to pseudoscientific 'labeling' in order to receive their benefit.
A note re: supporting people tapering off medications: I've worked as a therapist with people titrating off multiple psych meds, but do not guide the process. I do provide psychoeducational info regarding med side effects and aid in self-advocacy toward reducing/eliminating use of meds with all of the below.  Regarding opiates: a 'special case'—I use behavioral methods to help people with chronic pain but also help people advocate for opiates when they're not being responded to adequately or being psychopathologized in relation to genuine physical ailments and illnesses.