The Thomas Jobe Fund
The Thomas Jobe Fund has been created in memory of psychiatrist Thomas Jobe, M.D., and is a dedicated fund in support of our original journalism efforts, which we publish as MIA Reports.
Together with Martin Harrow, Dr. Jobe led the Chicago Follow-Up Study, a groundbreaking research project that documented the long-term outcomes of people diagnosed with schizophrenia and other psychotic disorders. Harrow and Jobe found that the long-term recovery rate for those off antipsychotic medication was eight times higher than for those who stayed on the drugs.
Their long-term study was the most thorough that had been conducted since the introduction of antipsychotics in 1955, and it completely belied the conventional wisdom, which emphasizes the maintenance use of these drugs for people diagnosed with schizophrenia.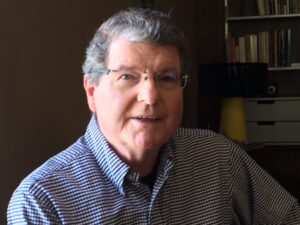 This finding was a primary reason that we founded Mad in America. Martin Harrow and Thomas Jobe published their first report in 2007, which told of this eight-fold higher recovery rate for the off-antipsychotics group, and yet no mainstream media in the United States reported on their results. Similarly, the NIMH, the American Psychiatric Association, and other advocacy organizations, such as NAMI, did not publicize these findings. The public was left in the dark precisely because the outcomes belied conventional beliefs and prescribing practices.
Mad in America's mission is to inform the public of such research. Our ongoing coverage of the Chicago Follow-Up Study is representative of that: Even as their work remained ignored by mainstream media, we reported on every paper they published since that initial 2007 study.  We also incorporated their findings into our in-depth reports about the merits of antipsychotics and our resource pages for these drugs. Together, Harrow and Jobe taught a Mad in America Continuing Education course on "Psychiatric Medications and Long-term Outcomes for Schizophrenia."
Thomas Jobe was a Phi Beta Kappa, Cum Laude graduate of Vanderbilt University, where he majored in philosophy and biology. He earned his joint medical degree in psychiatry and neurology at the University of Chicago Pritzker College of Medicine. Subsequently, he did his psychiatric residency at SUNY Upstate Medical Center in Syracuse, NY, where Thomas Szasz was on the faculty.
Szasz was an ardent critic of psychiatry, having published The Myth of Mental Illness in 1961. A Hungarian-American, he saw compulsory psychiatry as a gross infringement on human freedom. With Szasz as one of his mentors, Jobe gained a passion for critical thinking and challenging accepted wisdom.
During his career, Jobe authored more than 180 articles and four books on such topics as brain imaging, brain modeling, traumatic brain injury, stroke and neurodegenerative diseases. While serving as a Professor of Psychiatry at the University of Illinois Chicago, UIC, Jobe spent weekends serving underserved populations in communities on the West and South sides of Chicago. In 1997, UIC graduating residents in psychiatry honored Dr. Jobe with the Merton Max Gill, M.D. award for mentorship and excellence in teaching. 
Jobe, who was born in Virginia in 1943, died on March 16, 2022 in a Chicago-area hospital. He had suffered a bout of shingles, which was followed by abdominal complications – apparently a case of enteric zoster that went undiagnosed. It was that medical failure that led to his death.
The research by Martin Harrow and Thomas Jobe told of an optimistic possibility, and even likelihood: that people diagnosed with schizophrenia can get better and recover without the use of antipsychotics. Unlike many in his field, Jobe never accepted money from the pharmaceutical industry.
This dedicated fund is infused with that same spirit: it helps Mad in America publish in-depth reports that are designed to help readers "rethink" psychiatric care in this country and abroad.
***
Mad in American Foundation was established as a 501(c)3 as a tax-exempt organization in 2015. If you wish to honor Thomas Jobe, M.D., with a donation to The Thomas Jobe Fund, please do so here.
Donor Tributes:
Donation from the PBF fund: "I think it is a wonderful gesture that you have started a fund in honor of Thomas Jobe, M.D. I am providing my support as a tribute to Dr. Jobe's incredible research and equally important findings. Dr. Jobe was both staggeringly brilliant, and equally kind and compassionate. I hope my donation will inspire others to honor his unique and unparalleled legacy.  –AFW
"Continuing Dr. Thomas Jobe's research is so important to the mental health community, so please consider donating to Mad in America." — Helen and Buzz Kinnaird