Hi, I'm Corinna West, a psychiatric survivor.  I was very ill one time and now I'm not. That's the short story. The slightly longer story is that I have recovered from 12 psychiatric diagnoses, 6 suicide attempts, 5 hospitalizations, 7 shock treatments and 29 medications, up to 6 at a time.
Now I no longer carry a diagnosis or take meds. Now I own my house, my business, a car, and the sweetest brown AND black spotted dalmation mix in Kansas City. Now I ride my bicycle across the Midwest for work trips to places like Omaha, Wichita, and Jefferson City (last week.) I ride across the city to meet homeless guys and visit places most people didn't know existed, like our double decker train bridge, the concrete canyon blooming beyond with street art, and the worldwide ultraglobal top secret super headquarters.
I'm engaged to be married in May to an awesome guy and I am finally getting the chance to be a parent. This was taken away from me the first time around by my diagnosis. I'm now a regionally recognized artist, have retirement savings, almost no debt, grow much of my own food, and have really awesome friends and hobbies and community connections. As Arlo Guthrie says, "I'm not proud, just tired."
Tired of seeing my brothers and sisters in recovery dying. Tired of seeing them give up on their dreams. Tired of seeing people get a permanent diagnosis for a temporary problems. And mostly, I'm tired of hearing about the problems without the solutions.
My thought is that if people that were in emotional distress could pay for all of their own treatment, we can eliminate the middleman. We can eliminate the need for long charity funding searches or futile lobbying for government funding when its dominated by institutional recipients. We can create a model with a very minimal need for professional "help" by people with 4-10 years of student loans to pay off.  In our business, Wellness Wordworks, peers share factually verified recovery information, inspirational stories, profound artistic statements, challenging exercise opportunities, and engaging community building.
Wellness Wordworks is a type of business called a social entrepreneurship. A social entrepreneurship is a business whose main goal is benefit to our community, not profits. But we have a better chance to solve our problems if we can make enough profit to simply pay for all our own expenses. Then the growth of our business only depends on the demand for the business, and we all can feel deeply and sorely in our hearts the huge unmet need right now for honest mental health information. Here is a description of 12 priniciples of mental health social entrepreneurship and how our program fits those. We would love to hear in the comments below about how your business fits into these 12 principles.
Our Mental health social entrepreneurship uses Google Fiber's 100 times faster internet: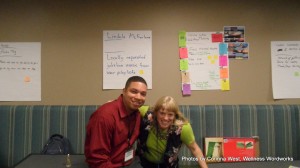 We were a semi-finalist for $350,000 from Google since we are in Kansas City and figured out a possible way to use the 100 times faster internet that Google is building here. Kansas City was selected as the only city out of 1200 cities to apply for Google Fiber and it's huge to bring the recovery movement into this project. What can you do with 100 times faster internet? Imagine getting your 40 hour workweek done in 24 minutes. Imagine driving your car across the country not in 7 days but in 1.68 hours. That's what 100 times faster means. We are on top of something huge, so huge we haven't even really figured it out. It's kind of like when Edison invented electricity – no one knew how to use it. What do you do with a light bulb, anyway? And I, personally, don't even know whether a server in KC means someone gets 100 times faster internet in North Dakota or not.
If you want to help us figure this out, please, please volunteer. Here's our application form from two months ago when we only had 9 volunteers. The response has been incredible but we still need more help.  Currently we have 54 volunteers working on projects like grant writing, medical research, video editing, making surveys, researching software programs, writing blogs for us, going to advocacy meetings, and creating artwork. Our economy is now the gig economy, the new economy, the rise of the creative class with up to 25% of people in the US self-employed. You CAN build your own job, and anyone in the world can help us from anywhere on your own time. When you help us, you gain skills, connections, and approaches for increasing your own income, including with our rapidly expanding programs.
Wellness Wordworks' mental health social entrepreneurship has two main focus areas:
A: First is spreading the disease vs. distress model of emotional struggles.
This will be done by various art programs and research functions. By the way, both the disease model and distress model ARE biochemical models and are evidence based. Remember that looking through medical literature is like reading the Bible. Anything can be taken out of context to support ANY conclusion, but the important thing to look at the overall story.
The distress model looks at science saying emotional suffering causes brain changes after really tough life events, not the other way around. Some studies have shown a 90% correlation between trauma and later development of "mental illness." The disease model says genetic or chemical brain differences come out of the blue with no relation to life events at all.  The overall scientific story is getting weaker and weaker on this one. If the distress model makes more sense for you, please vote for it NOW until March 5 on SAMHSA's stakeholder forum. Let's make this the top "behavioral" health story of the year.
And check out our video on the distess model: http://www.youtube.com/watch?v=rootXP-DZl4
Art is the most powerful tool that I, personally, have to spread awareness because it reaches people's hearts. We use art programs like UnDiagnosing Emotional Distress, Poetry for Personal Power, the Chocolate Fairy, and Create your own Reality to share this idea. Tell me, please, in the comments below, what is your most powerful tool to get the word out? For you, personally? What gives you personal power? [Credit to Pat Deegan for this adaptation of personal medicine]
B: The second focus of our Mental health social entrepreneurship focus is to solve those problems.  We are envisioning a website that might be called Connect Power that would be able to fix mental health care for pennies on the dollar. We are also going to expand to all chronic diseases like arthritis, lupus, cancer, diabetes, etc. in reasonably short order. The Connect Power Website will have three main functions:
1)Peer support: people volunteer or get paid by membership fees to help share knowledge with each other via phone text, email, video, online forum, in-person etc. People can make profiles to list what they know, want to learn, and what hours and how they are available. If the video work is done locally it might use the Google Fiber network.
2)Crisis care: people volunteer or get paid to let folks in urgent need of help come over to their house and couch surf for a while. People again put up profiles with what kind of crises they know and can handle, and what kind of space is open in their house. We did a survey of people in recovery to see if they felt like this would work. We got about 100 responses, with roughly 25% saying that guests are not allowed in their house at all due to space or hygiene or landlord issues, about 50% saying people could come over if they were already some kind of friends, and 25% saying that they already bring strangers in crisis into their house. So this is a workable respite care model, with much lower costs.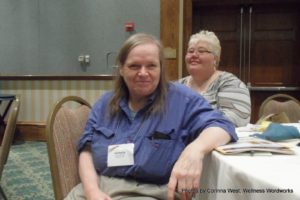 3) Health care: people can hook up with alternative health care providers and get unlimited group help like exercise, yoga, therapy, or self-improvement classes. If these clases were hosted with video on the web it would again tie in to the Google Fiber network. A higher level of membership fee would included unlimited 1:1 help like therapy, case management, massage, Reiki, or medication advice. This recognizes the huge expense of 1:1 help, especially with people who have degrees and student loans to pay off.
The Connect Power website will be grant funded initially and then paid for by membership fees. If people can't afford membership fees they can count some of their volunteer time above for the membership fee. We'd like to start by focusing nationally on the peer support part of the website, but the maybe locally in Kansas City market for the crisis care and alternative health care providers. Then later expand nationwide or worldwide. Or maybe you want to do some parallel development in your own town?
So this is my recovery story, and the causes and solutions to emotional distress in 1500 words. Please talk back to me in the comments below. I especially love hearing (politely) from people from whom I DISAGREE because then I keep on learning. And I am still kinda critical sometimes even though I try not to be.
***
Mad in America hosts blogs by a diverse group of writers. These posts are designed to serve as a public forum for a discussion—broadly speaking—of psychiatry and its treatments. The opinions expressed are the writers' own.
***
Mad in America has made some changes to the commenting process. You no longer need to login or create an account on our site to comment. The only information needed is your name, email and comment text. Comments made with an account prior to this change will remain visible on the site.