ENUSP, the European Network of (Ex-) Users and Survivors of Psychiatry, recently put out a press release on horrifying practices in psychiatry in the Czech Republic.  On January 20, 2012, according to reports in the Czech press, a 51-year-old woman hanged herself in a caged bed.  The woman's death exposes the extreme abuse and neglect being endured by people inside Czech mental hospitals and clinics.
At least five other people have met unnatural and violent deaths while being restrained in cages in Czech psychiatric wards in recent years according to ENUSP's research.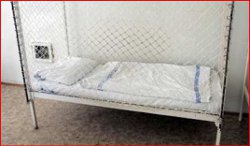 In this blog, I intend to focus on practices in my country, Belgium, but I wanted to make this exception, because of the level of violence displayed and because it resonates with certain aspects of my own experience of  Belgian psychiatry.
I have been voluntarily admitted on three different occasions (1996, 2006 and 2008). Each time I ended up in the seclusion room.  I was in extreme distress and very confused at the outset of my admission. In response to my anxious state, I was secluded. My distress clearly deepened when I was left all alone, with only my demons for companions and a camera to heighten my paranoia. I don't know how many hours it was later when, as a response to my worsening distress, I was surrounded by 6 to 8 different people, forcibly injected with a neuroleptic and restrained (arms and legs) against my will. It felt like rape.
This is not care; this is inflicted trauma.
There is obviously something blatantly wrong with a system that treats human beings worse than animals, secluding them, restraining them and even caging them.
I must add that I have the personal impression that a lot of caregivers, especially those who are younger and new to the 'system', feel bad when they 'have to' resort to these practices. Still they feel powerless because that's the way psychiatry goes… After years in the system, I guess the initial shock of the caregiver wears off and numb resignation installs itself.
I have the impression that what is happening now in the Czech Republic is torture and neglect one level above what I went through.
I would encourage you to read the ENUSP press release "Czech Republic must Stop Caging Human Beings". ENUSP urges the international community to take action by sending messages of protest to the Czech Ministry of Health.  (You can find a sample message in the press release.)