At the end of my recent presentation about psychiatric drug withdrawal, a single comment was made aloud: "This is dangerous. Are we going back to Haldol?"
The person who asked this question was the chief of a psychiatric department, and I believe he was referring to one of the arguments in favor of drug withdrawal that I had made. There was, I had said, "not enough evidence to affirm that the new antipsychotics, the so-called atypical or second-generation antipsychotics, are more effective than the 'classic' or first-generation antipsychotics in alleviating psychotic experiences."
At that moment, I am afraid that I did not dare, nor had the instinct, to ask what danger he was referring to. Danger to the patients if they were to be treated with classic drugs, denying them the advantages of the newer ones?  Danger to our professional status should the standard prescribing practices of the last 20 years be questioned? Danger to the pharmaceutical industry if it turned out that the efficacy of current treatments was no better than the previous ones—even though they were much more expensive? Danger to society if the fabulous investment by developed countries in new antipsychotics for controlling symptoms were to prove inefficient, or even harmful to the population?
The Case for Withdrawal
I have been working as a psychiatrist for the last five years in Toro, Spain, a semi-rural community in the province of Zamora with a population of about 10,000 people.  This represents about 5.7% of the province's total population. Though there has been little support among Spanish institutions for withdrawal from psychiatric drugs and few initiatives focused on reducing psychiatric medications generally, I have been pursuing this practice for several years now.
The main reason for supporting withdrawal, in my opinion, is for the sake and safety of the patient. In modern medicine, the concept of doing no harm is often described as "quaternary prevention," which is defined as action taken to protect individuals from medical interventions that are likely to cause more harm than good.
A second reason is that by trying to avoid the excessive medicalization of the difficulties present in daily life, we allow a space for patients to develop a stronger sense of personal agency and autonomy. This would enhance the healing role that can be played by the local community as well as the processes of re-empowerment that are so critical to recovering from the experience of mental suffering.
In short, good mental health care should protect a person's safety and security and provide adequate information to allow that patient to make the best decisions for his or her care.
There is also a potential benefit to society from psychiatric drug-withdrawal efforts. Unnecessary and prolonged treatments lead to chronicity, disability, and a never-ending increase in economic burden, all of which challenge the sustainability of health systems. Society should discuss and make decisions about how to reallocate resources currently spent on medical interventions that have not proven to be useful or have even been shown to be ineffective and harmful.
 What Evidence Supports Current Prescribing Practices?
Although psychoactive drugs have become the main,  and in many cases the only therapeutic tool to alleviate the population's psychological malaise,  their massive use by prescribing physicians is not justified or based on robust scientific evidence. Furthermore, there is increasing evidence that long-term exposure to psychiatric drugs worsens the prognosis of so-called mental disorders as well as the functionality and quality of individuals' lives.
Some examples:
The benzodiazepine group has been shown to be better than placebo for the relief of insomnia and anxiety, but only in the short term. Most professionals would agree that their use beyond six to eight weeks presents greater risks than benefits due to the phenomenon of tolerance, dependence, and multiple side effects, especially in the elderly population. Nevertheless, benzodiazepine use has persisted. Indeed, the prescribing of benzodiazepines has continued to increase even after the introduction of SSRIs and later on the new antipsychotics and antiepileptics, whose sedative effects were supposedly going to replace the use of the "old and dangerous benzodiazepines."
Neuroleptics have been demonstrated to be more effective than placebo in alleviating the anxiety accompanying psychotic experiences, but mainly only in short-term studies (12-18 months). In the longer term, there is no evidence to justify their widespread, chronic use.
SSRIs have only been shown to be superior to placebo in short-term studies (of less than six months) and only in cases of severe depression. This "superiority" means a  reduction of two to four points on the Hamilton-D scale used in clinical trials to measure depressive symptoms. This reduction may be considered statistically significant, but, given that HAM-D is a 60-point scale, it does not seem to have much clinical relevance for the patient in daily practice.
In short, there is currently not enough evidence to justify many of the prescribing practices commonly used throughout the world today, including:
prolonged use of benzodiazepines, antidepressants, and neuroleptics
use of polypharmacy (several drugs of the same category)
use of supra-therapeutic doses (above the maximum approved dose for a drug)
chronic or permanent use of drugs for relapse prevention (life-long treatments)
the use of antiepileptic drugs and lithium as mood stabilizers
the use of atypical drugs instead of the classic ones
the use of antipsychotics for neuro-protection (to avoid the "neurotoxic effect" of psychotic symptoms)
the use of antipsychotics for treating negative symptoms
Indeed, increasing evidence suggests that chronic use of psychotropic drugs not only fails to improve long-term outcomes but also increases overall morbidity and mortality as well as worsens the general functioning of people exposed to them.
My Experience with a Psychiatric Drug-Withdrawal Program
As I said, I have been working as a psychiatrist for the last five years in Toro. In addition to providing primary care services, the community provides psychosocial care, which is managed by the INTRAS foundation. The facilities here consist of a residential center, supervised homes, and a day-care center serving about 50 people diagnosed with "severe and prolonged mental illness." The typical user profile is low income with minimal education and scarce social and familial support. Most patients have some sort of disability or dependence benefit and have no legal capacity to make decisions about their lives.
The average age of this user group is about 50 years. Many of them have required multiple admissions since their youth. On average, they have been in continuous psychiatric treatment for more than 15 years. It is common for them to be prescribed multiple drugs (combinations of several antipsychotics, mood stabilizers, benzodiazepines, and antidepressants) at doses in the highest maximum range.
In 2015, in coordination with the staff of INTRAS and the residents' primary care doctors and nurses, I began a psychiatric drug-withdrawal program with an initial duration of five years. The objective of the program was two-fold:
reduce spending on psychiatric drugs by 50%
reduce the users' exposure to psychiatric drugs by 30% as measured in daily defined dosages.
At first, the effort was aimed at reducing antidepressant and antipsychotic prescriptions. The data on drug usage was provided by the pharmacy department of the Health District Area of Zamora, which compared the community of Toro with the rest of the province of Zamora.
During 2015-2018, almost 500 people were invited to participate in the program. Three-hundred-fifty accepted (70%). The main reason for refusing to participate was fear of relapse, as well as previous negative experiences with changes in medication. In many cases, people refused to try withdrawing from their medication because they had been told they should continue their treatment forever.
Around 50 people abandoned the program because they could not tolerate the withdrawal process or decided to drop out for other reasons. The main symptoms that made the withdrawal process difficult were anxiety and insomnia, which reversed when they were put back on the drugs at a higher dose. None of the 350 people in the program needed to be admitted to the hospital as a result of withdrawal or relapse symptoms.
To achieve the objectives of the program, and after reviewing the limited literature on the subject, I was guided by the following principles:
Always consider the possibility of not initiating unnecessary treatments (what psychiatrist Alberto Ortiz Lobo calls the indication of no intervention).
Keep in mind the concept of quaternary prevention (avoid being harmful as far as possible).
Upon initial use of a drug, offer a gradual decrease in medication once the patient feels he or she has recovered (between 6 and 12 months, depending on the case).
Offer a gradual reduction in medication to people with chronic, persistent symptoms, despite–or perhaps as a consequence–of chronic treatment. When I spoke with someone from this group, I thought it was  important to discuss with them the possibility that chronic persistent symptoms–depression, dysthymia, and so forth–could be due to chronic treatment with antidepressants (late dysphoria), and thus it was necessary to assess whether a dose reduction could alleviate their symptoms.
Try to avoid polypharmacy and supra-therapeutic doses, asking the patient's opinion about which drug and what dose he or she considers the most effective.
Always check pharmacological interactions, especially in elderly and poly-medicated people, to guide the process of de-prescribing and/or substitution of drugs. In complex cases of multiple drugs, lack of response, or paradoxical or very striking secondary effects, I have used pharmacogenetic tests to support changes in treatment.
Facilitate coordination with professionals, family members, and caregivers.
Inform people, to the best of my knowledge, the balance of risks and benefits of the withdrawal process and facilitate the participation, collaboration, and cooperation of the person and of his family and caregivers in the decision-making process.
Guarantee accessibility and establish a safety net in case of need for immediate attention by telephone, e-mail, and mobile phone.
Establish with the user flexible and reviewable objectives in each review consultation.
Be alert and inform the patient at the potential first signs of withdrawal or relapse.
Gradually and progressively reduce the dose of only one drug at a time. As a guide, do not decrease more than 10% to 20% every six to eight weeks. This means that to completely stop a drug, it may take more than 12 months.
In cases where multiple drugs are used, try to select with the patient the order for the process of dose reduction. Consider the time of exposure, the risk of withdrawal or relapse, and the patient's experience using a particular drug.
Ask the patient about reasons to take the drugs, his or her opinion about their utility, and preferences regarding the method of administration (tablets, solution, long-term injectables). Most people on chronic antipsychotic treatment have said they did not remember being informed about the risks and benefits of the drugs or the duration of treatment. They were also not given the opportunity to decide the method of administration. Most people asked to choose between continuing their injectable treatment or switching to tablets opted for the latter and expressed openly that they did not like the shots.
Finally, refuse any relationship with the pharmaceutical industry that could influence my prescribing practices.
Preliminary Results (2015-2018)
Three years after starting the drug-withdrawal program, I was able to document:
a reduction of 40% in spending on antipsychotics
a defined daily dose (DDD) reduction of 23% in use of antipsychotics
a reduction of 13.5% in spending on antidepressants
defined DDD of 12.5% in use of antidepressants
These results are illustrated in figures 1-5, below. (Please note that the bars in figures 2-5 represent the periods 2015-2016, 2016-2017, and 2017-2018.)
The lower reduction in antidepressant expenditure, as well as the upward trend in 2015, could be explained by the introduction of new antidepressants (desvenlafaxine and vortioxetine) as well as the fact that these drugs are also prescribed by other doctors (family doctors,  geriatricians, neurologists, physicians, and anesthetists in pain units).
In global terms, as a result of the drug-withdrawal program, an accumulated savings of more than 150,000 Euros has been achieved in three years. These results contrast with the trends in spending and defined daily dose in the province of Zamora, which remained stable over the same period.

Fig. 1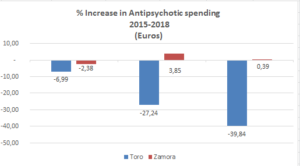 Fig.2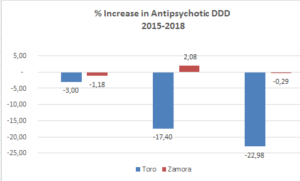 Fig.3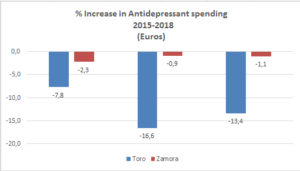 Fig.4
Fig.5
Barriers to the Drug-Withdrawal Process
I encountered various barriers, forms of resistance, and difficulties during the drug-withdrawal  process:
On a personal level, it has been quite difficult to handle the uncertainty of making decisions that could put the patient at risk of suffering from withdrawal or relapse symptoms. This is particularly so given that the medical literature on the subject is scarce and this line of work contrasts or even comes into conflict with standardized guidelines.
Trying to do things differently can create distrust and suspicion or even generate open rejection by one's colleagues. From a conventional point of view, only withdrawal cases that have "gone wrong" will be evident—that is, when patients are admitted to hospital.  A patient admission is usually considered a failure to be avoided, is taken to meant that something has been done wrong, and thus that someone is to blame. In this context, I can be seen as responsible for the admission of any patient from my area, regardless of the reason and whether or not that patient participated in the drug discontinuation program. I could even be accused of malpractice for not joining the generally accepted guidelines and protocols.
On the other hand, the patient and the family may also face fear and uncertainty, which in itself can be a stressor or destabilizing factor. Many people on chronic treatment have internalized the widespread reductionist notion that their problems are due to a mental illness of biological origin, and that pharmacological treatment is essential and forever. Breaking this conceptual frame can be liberating and hopeful, but it can also be very distressing.
Finally, due to this uncertainty, any minor change in a person's mood, thinking, or behavior tend to be attributed to the decrease of medication (even though it might be quite usual with regular drug treatment), and either the patient, the family, or other professionals would apply pressure to resume the previous drug treatment.
The preliminary objective conclusions of this study are that it is possible to decrease both spending on psychiatric drugs and patients' chronic exposure to them, and that this can be done with no serious harm to the participants. In fact, no person in our study had to be admitted to hospital due to a dose reduction or treatment change.
My subjective assessment is that, in general, the drug-reduction process has been well-tolerated and has had good acceptance among those treated. Not surprisingly, patients have positively valued being offered a chance to participate in decision-making about their medication.
 Questions for Further Discussion:
Can a withdrawal program be of benefit for the patient?
Can it have an economic impact on the overall efficiency of the mental-health system?
There is evidence that the use of low doses of antipsychotics, and for the shortest time necessary, may be better for the patient in terms of recovery and functionality. However, this result comes from studies of people suffering from a first psychotic episode. It is not clear whether a dose-minimization strategy would also be useful for patients on long-term treatment as is the case in this study. There are already important initiatives in progress in other countries (for example, the RADAR program of the NHS in the United Kingdom) so we will have to wait for the results.
Is the potential damage caused by chronic psychiatric drug treatment reversible?
For how long would it be worth trying a harm-reduction strategy?
And if we assume that it is never too late for recovery from such damage:
Who is to define the benefit and how are we to measure it?
How do we define and best measure symptom reduction, improvement of functionality, quality of life, personal satisfaction, recovery of family and social life, access to work, and so forth?
Regarding the economic consequences of a drug-withdrawal program, in the Spanish public health system (at least at the management level of a psychiatric service or a hospital), the reallocation of resources is not possible.  Thus, the savings in pharmacy spending will not go toward investment in more staff, training, research, or new assistance programs. Most likely, the money saved on pharmaceuticals will end up simply countering the excess of pharmaceutical spending in other areas or services.
It seems illogical that the healthcare system approves and finances very expensive treatments of doubtful long-term effectiveness (and with increasing evidence of their negative impact on public health) while community and social resources remain scarce. It is also absurd that doctors have to manage a crossfire of pressures from Big Pharma on one hand (which is trying to maximize sales) and the healthcare system on the other (which has approved new drugs yet strives to contain prescription spending and promote the "rational use of medication"). Yet neither the pharmaceutical companies nor the healthcare system will encourage or support a drug-withdrawal process.
In Spain, most people with disabilities due to mental illness have very low income with which to conduct a decent life. In Toro, many subsist on only a few euros per day, just enough for coffee and tobacco. Yet they are considered "lucky" for being prescribed, often without information or consent, the latest approved drug—usually the most expensive one. That is, money goes toward drugs but not to pay for other essential psychosocial, community, and economic support.
Maybe we should ask the patients what their needs are and what they would choose to do. Thus, they could share in at least part of the savings from unnecessary or even dangerous long-term medication.
***
Mad in America hosts blogs by a diverse group of writers. These posts are designed to serve as a public forum for a discussion—broadly speaking—of psychiatry and its treatments. The opinions expressed are the writers' own.
***
Mad in America has made some changes to the commenting process. You no longer need to login or create an account on our site to comment. The only information needed is your name, email and comment text. Comments made with an account prior to this change will remain visible on the site.