The 17th International Conference on the Treatment of Psychosis began on a Wednesday evening. One hundred and twenty-three people were enrolled.  Attendees were primarily from Finland and the Scandinavian countries but there were people from Germany, UK, Poland, Lithuania, the US, and one lovely, intrepid young woman from Tasmania, Austalia.  The group included  nurses, psychologists, psychiatrists, and other clinicians as well as several persons with lived experience and at least one philosopher, anthropologist, family member, and chaplain.
I will try to summarize what I learned and experienced. I knew I would be writing about this  but I did not have a clear plan for what I would write or how I would approach this. My notes and recollections are better for some areas than others so I apologize in advance if I do not cover this as well as I might have.
The conference began with a welcome session during which we were asked to talk with our neighbors about topics we wanted to discuss during the next days' workshops. The next day we began with a Plenary Session in which we discussed the status of reflecting therapies and the plans for the next few days; the remainder of the day was spent in workshops. On the third day, we attended Open Day.  This was held at a local school and was open to the general community.  On the fourth day, we heard presentations on various research projects and in the afternoon, we observed a meeting with a family and members of the team.  Out of respect for confidentiality, I will not write too much more about this other than to say we had the opportunity to observe Jaakko Seikkula talking to this group about what they had each experienced in the course of their work together.  We had the chance to see how Jaakko approached each person and asked questions.  This was not a treatment session but it had same the pace and, as with Open Dialogue,  each person's voice and perspective were respected and valued.  On our final day, we broke into groups according to our native languages and talked about the program and the ways in which we might each move forward with this work in our own communities. We then reconvened as a large group to report back on this.
I realized quickly how much the style of Open Dialogue infused this conference.  Mia Kurtii and Timo Haaraniemi (yes, for those of you who have seen the Daniel Mackler documentary, the Mia and Timo), were the leaders for most of the conference. They began by asking us what we wanted to discuss. They often reflected back to one another what they were hearing. There was time for a fair amount of input from the larger group at each step of the way.
I attended a workshop that was prompted by the question, "What do we mean when we use the word schizophrenia?"  (I am not going to attribute comments to individuals since I did not ask for permission to do so. If anyone sees this and believes that I have gotten this wrong or should be giving credit, I am happy to correct this).  In this group we talked about the distinction between recognizing that a person might be responding to reality in a psychotic way vs. giving this person a label of schizophrenia. People talked about how devastating this label can be because it implies for some that a person is sick, will never get well, and will require medications.  Although some members commented that they used the term in a pragmatic way, i.e., as a label to say that a person had certain kinds of experiences, others felt that once the label is given, one does not have control over how the person will hear it.  Some people opined that schizophrenia is a construct that was created 100 hundred years ago and that it is too broad to be useful. One person talked about the attitude of curiosity and how therapeutic this can be.  Rather than work to label the problem, the clinician is primarily focused on not knowing and not understanding and remaining very interested in a person's life and experiences.  I have always felt that being curious was an important part of being a good clinician. In my practice, however, although my curiosity serves to foster understanding and connection with someone it also serves to help me identify symptoms and thereby come to a diagnosis and treatment recommendation.  In reflecting therapies, the curiosity is the "treatment".
Another workshop I attended was on the topic of how to teach Open Dialogue and other reflecting therapies. We talked about the challenges of bringing this work to other communities.  We discussed the key principles of Open Dialogue:
More than one therapist is involved in every meeting.
There is a network approach – multiple people are involved.
One has an open, questioning, curious attitude as opposed to a problem solving attitude.
There is tolerance of uncertainty.
Clinicians drop their "clinical gaze" and are not looking for "crazy things" in the family.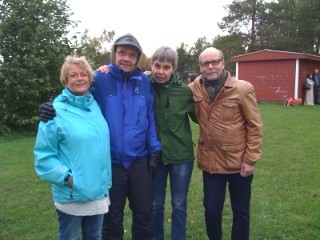 It has been emphasized that this is not a method and it can not be put into a manual. The sense is that the best way to learn is to work with other people and to observe others.  People shared their experiences and challenges in bringing this work to other regions.  We also discussed the skepticism with which the Open Dialogue outcome data are met in other areas – even in other parts of Finland.
Open Day included lectures from Professors Yrjo Alanen, Jukka Aaltonen, and Jaakko Seikkula.  They laid out the intellectual history that led to the development of Open Dialogue.   I do not believe I could do justice to the breath of these lectures but the work is important and I would encourage anyone with an interest in this area to seek out their work.  In the afternoon we learned about the work being done in the adolescent clinic in Tornio.  There is on average, only three weeks between the time when a young person first experiences psychotic symptoms and meets with a team in Tornio. There is one point on which the Finns are in agreement with the rest of the world – it is good to get help as soon as possible. The difference is that the group in Tornio does not consider treatment synonymous with drugs.  The final speaker of the day was our very own Robert Whitaker. I do not think his talk requires much exposition on this site.
The fourth day was focused on research.  We heard about plans to study  an approach that is highly influenced by Open Dialogue in  Massachusetts.   Mary Olson talked about her work with the University of Massachusetts Medical school to develop fidelity scales.  Pablo Sadler talked about the Parachute program in New York City.  There was much discussion on the question on whether it is possible to capture the essence of this type of work with research.  Jaakko Seikkula who has published the most on Open Dialogue talked about his view that there is a need for further research.  He has articulated his ideas on this and the value of naturalistic research in the book he co-authored with  Tom Erik Arnkil,  Dialogical Meetings in Social Networks. If there is a tension within this group – many of whom have been meeting together since the beginning – it is in the role of research.  My own opinion is that if the research had not been done, I would not have been in Tornio. I am persuaded by Jaakko Seikula's opinion that research is vital but at the same time, we do not need to limit ourselves to randomized controlled trials to have valuable, important,  legitimate,  and respectable contributions to the literature.
On our final day, we met to review the meeting events with people who shared our native language.  My group discussed our various hopes and obstacles in bringing this type of approach back to our respective home clinics.  This seemed to be the sentiment shared in other groups as well. The Finns reflected on what they had learned from others and one area they would like to improve is in incorporating persons with lived experiences into their work. 
Next year in Norway.
***
Mad in America hosts blogs by a diverse group of writers. These posts are designed to serve as a public forum for a discussion—broadly speaking—of psychiatry and its treatments. The opinions expressed are the writers' own.
***
Mad in America has made some changes to the commenting process. You no longer need to login or create an account on our site to comment. The only information needed is your name, email and comment text. Comments made with an account prior to this change will remain visible on the site.