Martin Luther King, Jr. once said that the "salvation of the world lies in the hands of the creatively maladjusted." He believed that it is not the conforming and unquestioning majority, but the disciplined and positive nonconformists, acting from a place of love and nonviolent revolution, that often bring about needed change in our society.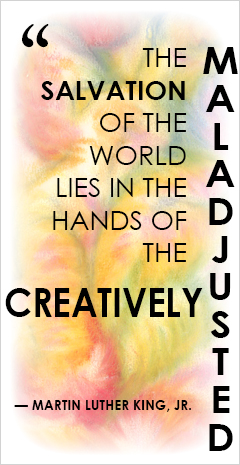 These are the same anti-authoritarians that might be labeled with "oppositional defiance disorder," "conduct disorder," borderline personality disorder," or simply as MAD. Certainly they see things differently – they see our society as it truly is (with all its problems), and they have a vision of society as it might be, could be, ought to be.
Some of the most creatively maladjusted go further than just vision; they aim to realize that vision.
It is these individuals and their inspirational actions that we would like to share with you over the coming months in our "Profiles in Creative Maladjustment" series.
And it is the spirit of creative maladjustment that drives their varied activism and projects that we are gearing up to CELEBRATE this July 7-14 during the first annual Creative Maladjustment Week. (Learn more at: www.cmweek.org and www.facebook.com/iaacm)
Will you join us?
***
Profile in Creative Maladjustment:
AL GALVES
Creatively maladjusted to the ideology of the "chemical imbalance"
A LEGACY OF ACTIVISM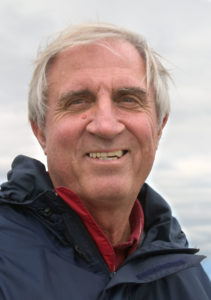 My path to becoming an activist began at a young age. My parents were both visionaries in their own ways. They both saw the possibility of creating a world in which all people would be able to live satisfying lives. They both were strong supporters of the Civil Rights Movement. My mother and father were early financial supporters of the Southern Christian Leadership Coalition which was the organization that supported Martin Luther King's work. My mother provided a home for a high school junior from Mississippi who spent a year going to high school in our home town of Nyack, New York.
My mother was also a social worker who helped immigrants get settled in the New World. Although my father was a businessman who benefited financially from war time, both he and my mother were vehemently opposed to the Vietnam War.
As a college student I was very concerned about the problem of workers being displaced by automation and the need to provide them with retraining and relocation help. When I went to work for the City of Albuquerque with a freshly minted Master's degree, I quickly got myself transferred over to the Model Cities (antipoverty) program where I was in charge of employment and economic development programs.
MENTAL HEALTH ACTIVISM
The seeds of my mental health activism were sown when I fell into a severe depression at age 25. When I went to quit my job my boss fortunately got me hooked up with a classically trained psychoanalyst. I started getting better after the third or fourth session. Since then I have been helped by 12 psychotherapists and attended two personal growth programs and received training in a variety of psychotherapeutic approaches. I also practiced as a psychotherapist for 9 years. So I'm a big believer in psychotherapy. It has helped me a lot and I think I have used it to help many of the people I worked with as a therapist.
A BATTLE AGAINST PSYCHOTHERAPY
I became aware of the battle against psychotherapy in the late 1980's when the National Alliance for Mental Illness (NAMI) began to gain some traction with its belief that "mental illnesses" were caused by chemical imbalances and genetic anomalies and that drugs were good treatment. Since that time, there has been a steady increase in the amount of psychotropic drugs that are being taken by Americans.
I knew this was wrong and that it was going to hurt a lot of people. It was going to hurt people because it was going to give them a horribly wrong message: "What is going on with you is just a chemical imbalance or some genetic dynamics. It doesn't have anything to do with you or your life and how you are reacting to it. Just take these pills."
Thinking this way, people would be deprived of the opportunity to become more accepting of what was true about themselves, to develop some compassion for themselves and to get on the path of learning how to use their thoughts, emotions, intentions, perceptions, reactions and behavior to build better lives for themselves.
I knew this was wrong because I had benefited so much from psychotherapy.
How had it helped me? It helped me see that my symptoms were caused by deep concerns I had about myself and my life. Was I going to be successful in the kind of work I wanted to do? Did I have what it takes? Would I be able to satisfy my wife sexually? Why was it so important for me to be better than other people, to win the race? Where did that come from? Was it OK that I hated my father? I had been under a lot of stress for a long time and using lots of energy to hide those concerns from myself and others. The depression was a protective move by my bodymind and a wake-up call that I had better do something about this.
Psychotherapy helped me see how I used my thoughts to stop myself from getting what I wanted, how various kinds of fears, including the fear of success, kept me from living the way I wanted to live. It also helped me develop some compassion for myself. I wasn't born this way. Where did this "bad" stuff come from? It also helped me to become more clear about what I wanted and what I would have to do to get it, how I would have to change some of my thinking, intending, reacting, perceiving and behaving. So psychotherapy was very helpful to me.
HELPING HEALTHY PEOPLE LIVE BETTER LIVES
When I started studying for my Ph.D., I wanted to find ways in which psychology could be used to help healthy people live better lives, not just as a tool for helping "sick" people get better.
As I began practicing as a psychotherapist I focused on learning various ways in which I could help patients. I wanted to be able to use different approaches. As I learned and worked, I became more able to help people. All of the time I was practicing many of my patients were taking the drugs. I realized that I couldn't do much about that. I would recommend that they not take the drugs but many of them continued to use them.
PROMOTING LIFE-ENHANCING APPROACHES
When I was ready to retire I wanted to get involved in the movement to stop the use of the drugs and to promote more safe, humane, life-enhancing approaches to helping people. I knew Peter Breggin was a psychiatrist who was opposed to the drugs and electroshock. So I Googled him, called him and spoke with his wife who told me about the upcoming conference of the International Center for the Study of Psychiatry and Psychology (ICSPP). I went to the conference.
One of the speakers was David Oaks. He opened my eyes to the problems of human rights violations and the relative powerlessness of psychiatric survivors. In 2003, I went to the MindFreedom protest of the American Psychiatric Association convention in San Francisco and then helped with the hunger strike. I met some of the board members and later that year was asked to be on the board. That was a great step for me, to become associated with David and the board members. I also became more involved in helping ICSPP and eventually was elected to the board of directors [Learn more about MindFreedom International at: www.mindfreedom.org].
AGAINST THE IDEOLOGY OF "CHEMICAL IMBALANCES"
To me, the biggest issue is the slow demise of psychotherapy and other safe and effective approaches to helping people. Also, there's the horrible message people get that their symptoms are just caused by chemical imbalances and genetics and there's not much they can do about it except take pills. Those ideas are dehumanizing and wrongheaded and so hurtful to people.
When you add the harm that is done by the drugs, the damaging side effects and the fact that people who use the neuroleptics die on average 25 years younger than other people, it is a national tragedy. And it's amazing that people don't realize that.
I also hate the belief that people who are diagnosed with "serious mental illnesses" don't know what's good for them and can't be trusted to make good decisions about themselves.
So I've been extremely fortunate to have found MindFreedom and the terrific people who make it up and move it along. It has given me a group of passionate, committed, smart, powerful fellow travelers with whom I can go into battle. That's the way I see it. It is a battle for the hearts and minds of people, for the victory of truth over error and for saving lives.
MY CREATIVE MALADJUSTMENT
To me, creative maladjustment means seeing what is wrong in the world and saying "This is wrong. This is unjust. I'm not going to adjust to it or say 'Oh well, that's the way it is and we can't do anything about it.' No, I'm going to do what I can to change it.
The first step is helping other people to see, to become aware of what is wrong and unjust."
To me, there are three great injustices and wrongs in the United States.
1. The horrible way in which we "treat" people who are diagnosed with mental illnesses.
2. The presence of millions of people who are poor and discouraged through no fault of their own and our unwillingness to do much to help them. One of the results of this failure is the great inequality of wealth and income that hurts our country a lot.
3. The oppressive and inhumane environment of the typical public school in the United States. Our public schools are very hurtful to the millions of children and adolescents who don't fit into the very narrow range of abilities and behavior which the schools value. Our children spend their days in educational institutions which don't care what each individual student wants to learn, how s/he wants to learn it and when s/he want to learn it. What a waste.
What we can do about these injustices and wrongs is sound the alarm, shine the light, join with others who want to fight, draw more others into our fold and eventually make a difference through protest, teaching, public information, public advertising, and eventually taking over the institutions that can do something about this – the mental health system, the local, state and federal governments and the public school system.
***
What are YOU creatively maladjusted to? And what are YOU going to do about it during Creative Maladjustment Week (July 7-July 14)?
Tell us at www.cmweek.org/endorse
***
Mad in America hosts blogs by a diverse group of writers. These posts are designed to serve as a public forum for a discussion—broadly speaking—of psychiatry and its treatments. The opinions expressed are the writers' own.
***
Mad in America has made some changes to the commenting process. You no longer need to login or create an account on our site to comment. The only information needed is your name, email and comment text. Comments made with an account prior to this change will remain visible on the site.