On October 1st the Connecticut State Legislature's reactionary response to the tragedy at Sandy Hook Elementary school went into effect. Public Act No. 13-3 requires all people that voluntarily admit to a hospital for mental health reasons (not solely for drug or alcohol treatment) have their names placed in a database administered by the Department of Mental Health and Addiction Services – for the purpose of automatic suspension of Second Amendment rights. This database will link with a database held by the state police that includes all gun permit holders, registered gun owners and anyone who has applied for a gun permit. If there is a "match" between the two databases a letter will go out informing the individual that their Second Amendment rights have been suspended (letter below). Although you will not receive a letter from the state police, if you are not a "match" you will be notified of your name being put in the database and of the suspension of Second Amendment rights sometime after voluntary admission. The law does not require notice be given to people prior to admitting themselves into a hospital.
I wonder if this database will be used for reasons beyond the already unacceptable intended purpose.
I wonder how people that carry a gun for a living and/or first responders will be impacted by this law.
I wonder if the law documents people as unfit to enjoy Constitutional rights without due process.
I wonder if this law will create yet another reason for not seeking support.
I wonder if some providers will follow in the Veteran Administration's footsteps and refuse to comply with this law.
I wonder why the legislature passed this law when seemingly most of the people they represent are opposed.
I wonder why they explicitly excluded people seeking drug or alcohol treatment.
I wonder how people will feel, receiving one of the following letters upon returning home from a voluntary hospital stay: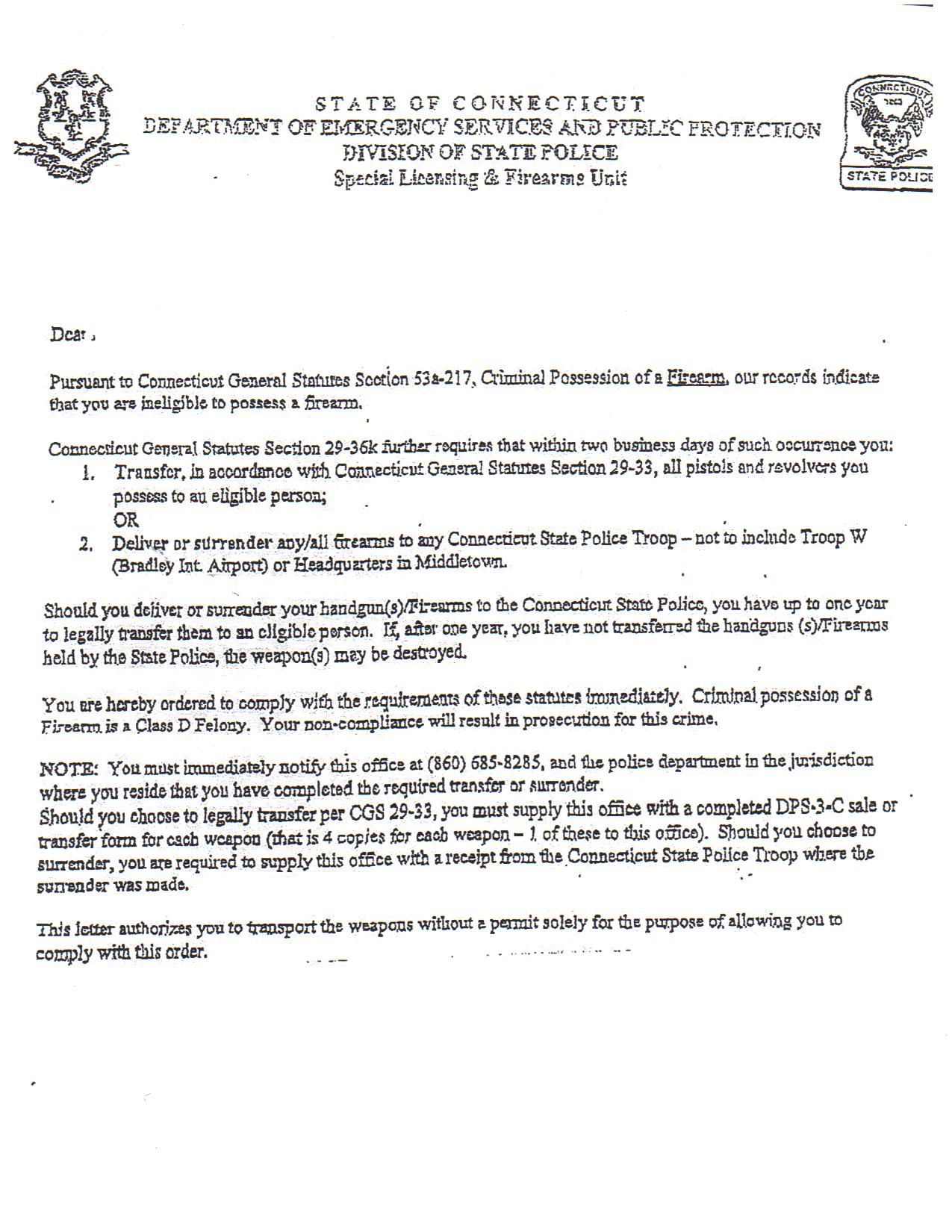 I wonder if seeking support is an "incident" to be "investigated."
I wonder if the Miami Dolphin football player that recently checked himself into a hospital for emotional distress resulting from bullying and racial discrimination would have sought help if he lived in Connecticut.
Nationwide, discriminatory practices have me wondering if we are moving towards repression and marginalization versus building community and mitigating violence. I started writing paragraphs detailing what I perceive as issues with Connecticut's database. I planned on writing anecdotes about police officers seeing unspeakable tragedies, our military folks coming home from Afghanistan, or people losing a loved one who are understandably struggling with their experience and reach out for support only to end up in a database. I decided to primarily let the letters and the law do the talking.
People have suggested that I advocate for the purpose of persuading the state police to write a "friendlier" letter. I am going to focus on the problem and not the resulting symptoms. The legislature brought law enforcement into a realm that it does not belong. Efforts should be aimed at overturning this blatant violation of human and constitutional rights.
***
Mad in America hosts blogs by a diverse group of writers. These posts are designed to serve as a public forum for a discussion—broadly speaking—of psychiatry and its treatments. The opinions expressed are the writers' own.
***
Mad in America has made some changes to the commenting process. You no longer need to login or create an account on our site to comment. The only information needed is your name, email and comment text. Comments made with an account prior to this change will remain visible on the site.