From Philosophy Break: "The 'banality of evil' is the idea that evil does not have the Satan-like, villainous appearance we might typically associate it with. Rather, evil is perpetuated when immoral principles become normalized over time by unthinking people. Evil becomes commonplace; it becomes the everyday. Ordinary people — going about their everyday lives — become complicit actors in systems that perpetuate evil.
This idea is best understood within the context of how [German philosopher Hannah] Arendt viewed our relationship to the world. We live and think not in isolation, Arendt argues, but in an interconnected web of social and cultural relations — a framework of shared languages, behaviors, and conventions that we are conditioned by every single day.
This web of social and cultural relations is so all-encompassing in shaping our thought and behavior we are barely conscious of it. It only becomes noticeable when something or someone doesn't conform to it.
For example, if you were invited to a formal dinner, and proceeded to forego cutlery and eat your meal with your hands, you'd draw many a strange and disapproving look — perhaps you'd even be asked to leave by the more militant guests, for whom 'eating with cutlery at formal dinners' is such a deeply ingrained principle as to be worth defending with vigor.
But do we ever take the time to truly challenge the principles we've inherited, to ensure they stand up to our own individual scrutiny? Are we even aware of our biases and learned behaviors? For Arendt, the answer to these questions is largely no — and it is precisely our tendency to adopt judgements without thinking that allows evil's banality to flourish.
For, if we're not careful, evil principles can gradually emerge to become the new normal, and like the militant cutlery-using guests at the formal dinner party, we'll defend those principles not necessarily because we've independently concluded they're worth defending, but because they're 'normal'.
In relation to something as heinous as the crimes of Nazi Germany, this uncomfortable conclusion caused quite a stir in Arendt's day. It implied the crimes of Nazi Germany were not the responsibility of a handful of purely evil men. Those men kickstarted it, but society enabled it: a lack of critical thinking, a desensitization, a human susceptibility to totalitarianism — this is what led to the murder of millions.
Arendt had Nazi Germany as her template, but argued systemic oppression and the gradual normalization of evil can occur anywhere, any time, and at any scale.
Can you think of anything you're desensitized to today?"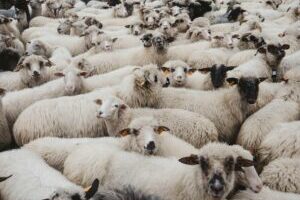 ***
Back to Around the Web