From Steamboat Pilot & Today: "A pattern of 'severe, life-threatening' prescription errors by the troubled mental health center responsible for treating 10 Western Slope [Colorado] counties put many of its patients at risk, according to the findings of an official investigation that three state agencies withheld from the public for more than nine months.
The problems only came to light this month as reporters for the Colorado News Collaborative were investigating.
State officials kept the June 2021 findings secret despite mounting public concerns about the Grand Junction-based Mind Springs Health and its psychiatric hospital, West Springs. ​​Mind Springs patients remained in the dark even though problems were so acute that the state's Medicaid contractor would not authorize payment for newly admitted hospital patients for three months until Mind Springs agreed to make wide-ranging changes.
The state's hidden investigation found that of a sample of 58 Mind Springs outpatient clients, nearly half received a quality of care so poor that it was categorized as having potentially 'severe, life-threatening impact.' Two died.
. . . As of this writing, state regulatory agencies did not answer reporters' questions about why they didn't alert the public to the potentially fatal prescribing errors once last year's investigation was complete. And Mind Springs executives have not commented about what the findings say about the center's quality of care.
Mind Springs CEO Sharon Raggio and two of its other top executives have resigned since December, when the Colorado News Collaborative (COLab) exposed the organization's long pattern of failing to provide safety-net care for which it is paid tens of millions in state and federal tax dollars each year.
. . . The Department of Health Care Policy and Financing officials . . . as well as Colorado's Department of Human Services . . . spent weeks this winter blocking efforts by COLab and The Gazette to obtain information through Colorado's Open Records Act about the whistleblower investigation and other complaints about Mind Springs.
The Colorado Department of Public Health and Environment . . . has not mentioned on its website Mind Springs' potentially fatal prescription errors, nor the deaths of two of its outpatient clients uncovered during the investigation. That website was created to give the public access to information about mental health provider prescription errors, fatalities and licensing citations so prospective patients and their families can assess the safety of a clinic or hospital.
The three state departments have long been criticized for overlooking and downplaying problems at Mind Springs and some of the 16 other regional community mental health centers that are supposed to serve as the core of Colorado's behavioral health safety net. As COLab has reported, the state has given the centers non-compete contracts and a privileged rate status for nearly 60 years, without meaningful oversight, and state officials have a long pattern of caving to pressures by the centers' lobbying group to avoid closer scrutiny of their operations.
The Department of Health Care Policy and Financing released the letter detailing Rocky Mountain Health Plans' findings only after its executive director, Kim Bimestefer, learned that news reporters were obtaining it another way.
For its part, the Department of Human Services has not released documents about the investigation's findings despite several requests under the state's open records law and the many times its executive director, Michelle Barnes, has touted her agency's commitment to ensuring more transparency and accountability in Colorado's mental health safety-net system. As of this writing, Barnes and Dr. Morgan Medlock — the crisis psychiatrist Gov. Jared Polis recently appointed to oversee that system by leading a soon-to-be-launched agency called the Behavioral Health Administration within the Human Services department — have declined to be interviewed."
Investigation: This Mental Health Provider Is Failing 10 Colorado Counties
Mind Springs Health lacks financial transparency, called a "black hole" for neediest patients
From The Denver Post: "In a state where the mental health safety net is plagued by a lack of financial transparency, competition, and the inability or unwillingness to serve the neediest patients, local leaders say one mental health center and its top executive stand out as worse than the rest."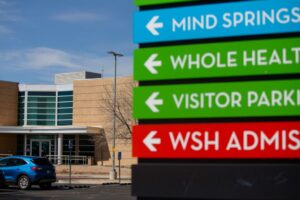 ***
Back to Around the Web