From CalMatters: "One in three California prisoners has a 'diagnosed mental illness.' The state's solution for some? Move them around.
On the last day of Adam Collier's life, he had breakfast in his cell in Kern Valley State Prison. He wrote two letters, one to his mother, the other to the guard who would later find his body.
During the previous four years in prison, Collier had been hospitalized for mental health crises 14 times. His many letters to family and friends wobbled between lucidity and gibberish. His medical records proffered graphic descriptions of self-harm. Collier had originally landed in prison for exposing himself to women in public while high on meth. Ashamed and delusional, he tried to castrate himself with a broken plastic cup because he believed it was God's desire.
The prison system's response to Collier's increasing anguish?
Transfers.
Between 2016 and 2020, the California Department of Corrections and Rehabilitation transferred Collier 39 times, ping-ponging him between mental health crisis beds and increasingly high security prisons at a pace so fast he told his mother, Susan Ottele: 'I'm fucking dizzy.'
On Oct. 17, 2020, at age 43, he killed himself.
Three decades after California's prisons first came under court monitoring for rampant abuse and neglect of prisoners with 'mental illness,' the system is still failing to protect its 'sickest' inmates. For many of these men (the vast majority of people behind bars are male) prison is not a place to heal. It is a place to disappear.
. . . 'It's meant to grind you to dust,' [said Jennifer Hoff, whose 29-year-old son Matthew has a diagnosis of 'schizophrenia,' has been in at least nine different prisons and has been transferred numerous times in the past decade].
. . . 'It's like being strapped to a chair watching your child being tortured,' [Ottele] said. 'Once you get in the prison system, there isn't much you can do.'"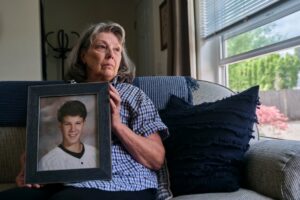 ***
Back to Around the Web