From The New York Times: "On the second day of the annual convention of the American Psychiatric Association in 1972, something extraordinary happened.
While the assembled psychiatrists, mostly white men in dark suits, settled into rows of chairs in the Danish Room at the Adolphus Hotel in Dallas, a disguised figure had been smuggled through the back corridors. At the last minute, he stepped through a side curtain and took his place at the front of the room.
There was an intake of breath in the audience. The man's appearance was grotesque. His face was covered by a rubber Nixon mask, and he was wearing a garish, oversized tuxedo and a curly fright wig. But the outlandishness of his outfit diminished in importance once he began to speak.
'I am a homosexual,' he began. 'I am a psychiatrist.'
For the next 10 minutes, Henry Anonymous, M.D. — this is what he had asked to be called — described the secret world of gay psychiatrists. Officially, they did not exist; homosexuality was categorized as a 'mental illness,' so acknowledging it would result in the revocation of one's medical license, and the loss of a career. In 42 states, sodomy was a crime.
The reality was that there were plenty of gay people in the A.P.A., psychiatry's most influential professional body, the masked doctor explained. But they lived in hiding, concealing every trace of their private life from their colleagues.
'All of us have something to lose,' he said. 'We may not be under consideration for a professorship; the analyst down the street may stop referring us his overflow; our supervisor may ask us to take a leave of absence.'
This was the trade-off that had formed the basis of the masked man's life. But the cost was too high. That's what he had come to tell them.
'We are taking an even bigger risk, however, in not living fully our humanity,' he said. 'This is the greatest loss, our honest humanity.'
He took his seat to a standing ovation.
The 10-minute speech, delivered 50 years ago Monday, was a tipping point in the history of gay rights. The following year, the A.P.A. announced that it would reverse its nearly century-old position, declaring that homosexuality was not a mental disorder."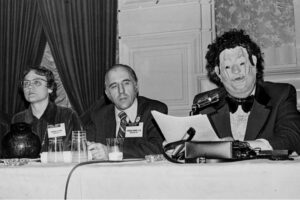 ***
Back to Around the Web